The New ColourPop Lip Colors Are SO Affordable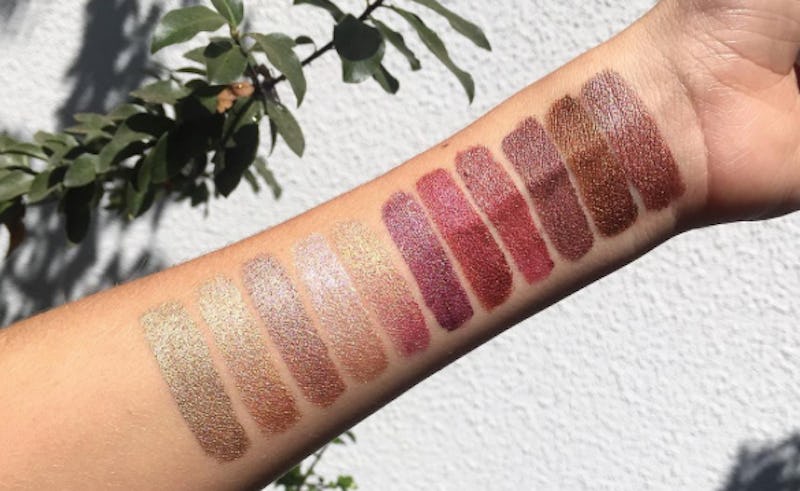 If you haven't heard the big news, ColourPop Cosmetics is restocking their Ultra Metallic Lip Colors on August at 10 a.m. PST, so brace yourselves! These liquid mattes are the prettiest of ColourPop's selection yet. The new ColourPop Ultra Metallic Lip colors are only $6 each, which means you can definitely stock up on several colors out of the 11 different shades.
From the brand's Instagram account, you can watch a video of how the shades look and shimmer on the skin — you won't want to take your eyes off of them! Oh, and If you're weary to try a metallic shade, you can always mix it with a more subtle shade to mute the hint of metallic.
If you've been looking for the perfect neutral lipstick this summer, you can probably find one out of the 11 shades, which includes a large spectrum of colors from a deep ruby red to a light gold hue.
The L.A.-based makeup company also offers highlighters and a rainbow-spectrum of eye shadows, but the liquid lipsticks are hard to beat for $6 a pop, especially if you've been waiting to buy a Kylie Cosmetics Lip Kit that go for $29 each.
To get one of the Ultra Metallic shades be prepared for the limited restock at 10 a.m. PST on August 10.
The metallic shades offer the perfect amount of shine.
The three newest shades are a red, a golden-orange, and a light-gold color.
Images: colourpopcosmetics/Instagram (3)