Will 'Scream Queens' & 'AHS' Soon Be Connected?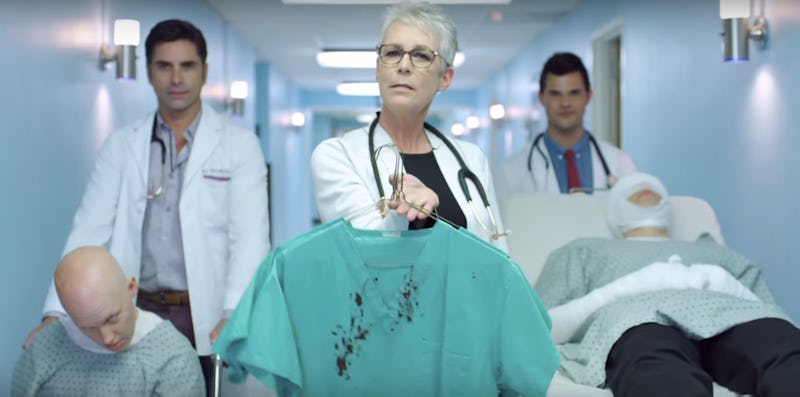 The Chanels have moved on from their sorority house and into their new stint at an eerie feeling hospital in Season 2 of Scream Queens . Between Dean Munsch getting the ladies to scrub up and the addition of some hot new doctors — played by John Stamos and Taylor Lautner — nothing is holding the Chanels back from staying stylish and on top of their usual fashion game. However, there's something other than the Chanels' working style that is capturing the attention of fans. In fact, the new Scream Queens trailer could be paying homage to American Horror Story.
For one, the overall change of the show's theme from season to season is a style often associated with Murphy's other horror series. Despite the cast remaining relatively the same — as opposed to the ever-changing roles in AHS — the comedy series also happens to be taking on an environment yet to be explored in the world of AHS: a hospital. (Though, to be fair, the hospital environment is still in the running as a possible theme for AHS ' sixth season.)
And there's one specific moment in the new Scream Queens promo that really seems to be getting fans talking while they wait for an official AHS theme announcement. At the three-second mark of the clip, fans can see a close-up of one of the patients' head scars.
The question mark-type scar not only matches one of the symbols that's appearing in conjunction with the promos for AHS Season 6, but it also appears to be an almost exact copy of one of the characters seen in a sneak peak of the Emmy-winning mini-series. Could be a character crossover? Or could it even just be Ryan Murphy's subtle way of teasing AHS fans and getting them to tune in to Scream Queens?
The AHS promo clip in question was released on July 28, is titled "Post Op," and features an unknown character getting their head stapled to show a similar backward question mark and what appears to be the number six. Just watched the promo clip for AHS to see what I'm talking about.
When looking at both of the scars, it's hard to not see some kind of connection. The fans have definitely taken notice.
Ryan Murphy better start releasing more hints soon. With American Horror Story set to premiere on September 14, and Scream Queens premiering on September 20, answers should be on their way.
Images: Scream Queens/YouTube