When Will We Learn The 'AHS' Season 6 Theme?!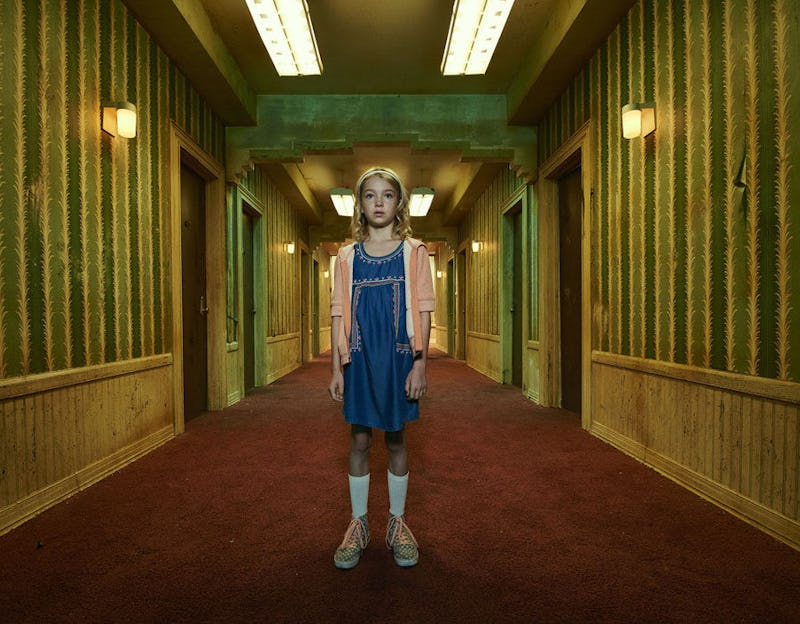 Have creepy, strangely unsettling videos been popping up on your Facebook feed? Despite what you may initially think, it's not a new Creepypasta — instead, it's the new teasers for American Horror Story Season 6, and the seconds-long clips should be enough to make you want to sleep with the door open. As per usual, American Horror Story has released sneak peeks at the new season of the anthology series that any diehard AHS fan will spend entirely too much time analyzing. Though the teasers don't incorporate literal scenes from the new series, the images are meant to evoke the same themes as their upcoming season — except, this time, we have no idea what the theme of American Horror Story Season 6 will be, and we also have no idea when we'll find out what it is. Which is making me wonder: will we ever learn the show's theme?!
American Horror Story's sixth season debuts on Sept. 14, meaning that the premiere is just over a month and a half away. Previous seasons would tell fans months ahead of time what the theme was, and even tease character and plot points we could look forward to. Now, the people involved in the new season are staying mostly quiet when it comes to talking about what to expect from the new season — and that seems to be the point. The new teasers don't hint much about the series, but the one unifying theme in each teaser is the appearance of the twisted "question mark." It seemingly suggests that the new season is just that — a big, fat question mark for fans.
Perhaps the idea for this season is that we won't learn the show's subtitle or theme until the day the episode airs — perhaps in order to keep the plot on lockdown for fans. It would definitely be a different approach than the previous seasons, and given that this is American Horror Story's sixth installment, I would hardly blame producers for wanting to set up a big surprise for its fanbase. What could build anticipation more than having fans have to watch the live episode in order to see the show's season subtitle?
Of course, AHS fans aren't totally in the dark about what to expect from the new season. We already know former cast members Cheyenne Jackson, Angela Bassett, Evan Peters and Matt Bomer will return to the series, though who they'll play has yet to be addressed. Lady Gaga will reportedly return for a "mystery role," and she even reiterated the top-secret nature of the project during an interview with Z100: "I can't promise you how or when or anything like that... Ryan [Murphy, the show's creator] will kill me if I tease anything."
According to creator Ryan Murphy, children will play a role in Season 6, which made some people wonder if the show would go to the Thatcher Boarding School, which two characters from American Horror Story's fifth season, subtitled Hotel, ended up attending. FX boss Jonathan Landgraf stated that the series would be set in "two time periods," not unlike Coven. Another big clue emerged from Comic-Con, which set up fans in a virtual reality experience that had them on a stretcher in a room with gross things in jars (a throwback to Asylum?!). You can watch the experience below:
Whether we end up learning the truth about the theme for this season prior to the premiere or not, there's no doubt in my mind that this season could be the creepiest one American Horror Story has offered.
Image: FX; jamessmarch/Tumblr