A Famous Murderer Could Be Coming To 'AHS'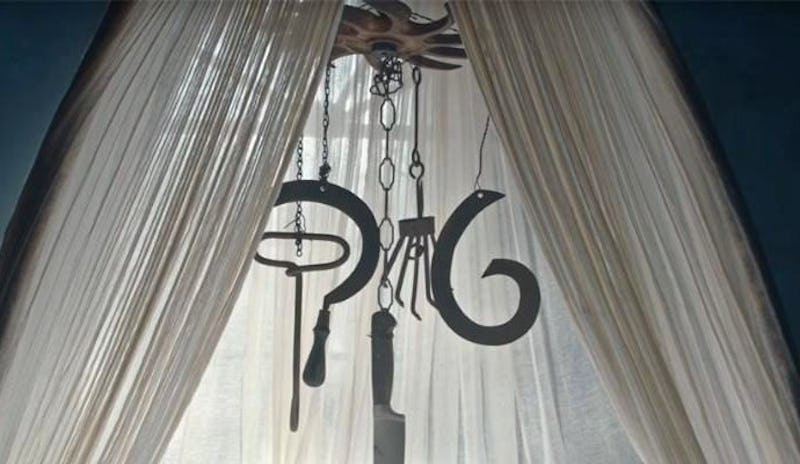 Like everyone else, I have no idea what American Horror Story Season 6 is about, but that doesn't mean I'm not trying to figure it out. Clearly, I'm not the only one. With all of this season's new teasers, posters, and trailers, oh my, fans are starting to form their theories on what exactly this season will be about. Even if the CEO of FX revealed that these hints and clues may actually just be a kind of misdirection. According to the Huffington Post, only one of the recent revealed teasers for AHS Season 6 is actually real, which means what you think you know, probably isn't true. Or could, be, who knows, since the show is clearly just trying to trick everyone by making fake trailers. But now, fans have come up with a brand new theory: that AHS Season 6 is about Charles Manson.
Diehard fans are still fighting that good fight, trying to read into every little thing that's been released or said so far to find anything that could reveal this secret season's plot. Based on the facts (yes, facts) that have been confirmed about this season from creator Ryan Murphy and the network, such as it will be about children and will take place in two different time periods, some (including myself) wondered if it will be a throwback to season 2 Asylum . With all the farm imagery in the trailers for this season, some wondered if it would be about the creepy, but true story of the Roanoke colony during the 16th century that disappeared mysteriously. Now Charles Manson's name is in the running.
There are some legitimate clues that make this theory seem pretty plausible. Some have noticed that, in one teaser of a creepy looking mobile filled with sharp farm tools, you can make out the word "Pig," the same word that was written on the wall of actress Sharon Tate's house in 1969 after her brutal murder. Manson was not present for that tragic killing, which led to the deaths of Tate's four friends and her unborn baby; instead those murders were committed by Family members Linda Kasabian, Tex Watson, Patricia "Katie" Krenwinkel, and Susan Atkins. Not to get ahead of myself here, but, since a story about Manson would most definitely include his Family, Lady Gaga, who is already signed up to appear this season, does bear a resemblance to a young Atkins.
Not to mention that a photo of American Horror Story mainstay Evan Peters has surfaced on Reddit that has him looking a lot like Manson. The resemblance is uncanny. Unfortunately, it's been reported that this photo wasn't taken from the set of AHS, but from a movie he recently filmed called Where the White Man Runs Away. The photo actually appeared on Peters' Instagram back in April, but still, he sure does look a lot like Manson.
Whether Peters is playing Manson or not, Vanity Fair has already pointed out there are a quite a few cultish theme that permeate throughout the AHS teasers. The red "6" being used in the season's posters definitely points to the idea of a satanic cult, which is the best way to describe the Manson Family, which didn't live on a farm, but did spend some time on an abandoned movie ranch called Spahn Ranch in Los Angeles. The magazine even wonders if the Manson storyline could be connected to the Roanoke colony, making for a very ambitious season.
A new teaser poster showing a woman's spider-filled eyelashes also has some connecting the dots to Manson, who during his time in prison has taken up art. His muse was the spider. Coincidence? Possibly, but it would be a strange one. Huffington Post wrote that Manson became so prolific in prison that they confiscated his arachnid art so it wouldn't be sold, meaning the teasers are already playing with time, showing clues from the '60s and more recent years.
Now, if these clues still don't have you seeing a Manson connection to the new season of AHS, perhaps the fact that Murphy has wanted to do a Manson-centric American Horror Story season since the very beginning will convince you. In 2013, Murphy told Deadline, he wanted to do something on the Manson family, but, out of respect for the victims, he would not. But he also did say in that interview, "We might go back to the Manson thing in some regard one day." This could be the day that in some regard Manson will play a role in season 6.
Manson is having a bit of a pop culture moment, from Emma Cline's new novel The Girls to the David Duchovny series Aquarius to the podcast You Must Remember This, which dedicated a whole season to Manson. The time seems right for Murphy to put his own twist on the story, one that will likely be very, very scary. But, being that the CEO of FX revealed that American Horror Story will not be giving away the theme before it airs, get ready to see a lot more theories before the show premieres on Sept. 14.
Image: FX