Everything We Know So Far About 'AHS' Season 6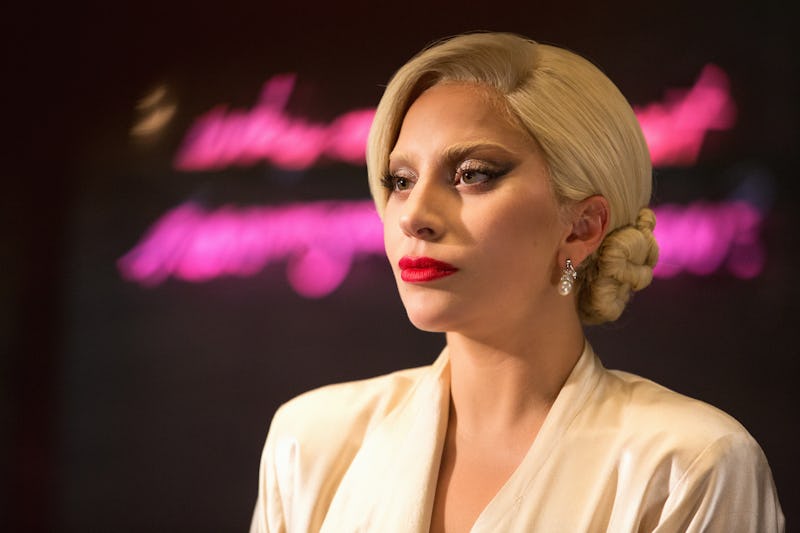 Lady Gaga has officially left the hotel, but she will be returning for American Horror Story season 6. Since Ryan Murphy has a habit of re-casting AHS favorites, Gaga is not the only one returning for the new season, reportedly set to air this fall. (It will most likely be in October, since that's the month it's premiered the past five seasons.) While Jessica Lange won't be back, AHS mainstay Angela Bassett was the first to confirm she was in for Season 6. Sarah Paulson, Denis O'Hare, and Evan Peters, who have been with the show since the beginning, have also been invited to return, along with Hotel stars Matt Bomer, Finn Wittrock, Cheyenne Jackson, and Wes Bentley. No word yet are if they will sign up for the next anthology, but rumors have been flying. To help us figure out all this and more, we need to look at everything we already know about American Horror Story season 6.
Leslie Jordan has confirmed his return. He was last seen in Coven as Quentin Fleming, a member of the Council of Witchcraft. Murphy's already revealed that every season of AHS is connected, but, since Quentin didn't last too long on Coven (oh, his poor, poor face), it's got to make you wonder whether he's reprising his role or coming back as someone new. And, if he is reprising his role, that makes you wonder where Season 6 falls on the show's timeline. We already know AHS: Freak Show was a prequel of sorts to Season 2, Asylum , but what about the rest?
Murphy has been staying pretty mum about the next season of the show, but he did tease back in March at the FX Paleyfest that this upcoming installment may be double the fun. "The interesting thing about this season is we've been working on two ideas at once, which we've never done," he said. "Both things that we're writing right now — we haven't declared a winner — will have a different form, so we're excited about that. We'll talk about it soon, but we haven't landed on it yet." This non-spoiler followed Murphy's comments that Season 6 would take place in two different time periods, but would remain "principally in the present."
While Murphy may not be confirming anything, he certainly seemed to be teasing possible Season 6 ideas throughout American Horror Story: Hotel including the Thacher School, a California boarding school where AHS: Hotel 's Will Drake's son and Jon Lowe's daughter Scarlett both end up going that was mentioned twice in the finale. Could the sequel to Hotel be American Horror Story: Boarding School where we get to see the school's past and present? The school, which is in fact real, has been around since 1889 so there is definitely a lot of spooky history to work with.
This idea of the story focusing on a school, whether it's Thacher or another boarding school like it, seems like a serious possibility since Murphy also said back in March that children would play a large role in the upcoming season. "If you look at horror tropes, the innocence of children, that sort of wide-eyed entryway into some world is always very dramatic and satisfying," Murphy said. This means let's expect some adorably sinister children to show up on the cast list very soon. May I suggest Room's Jacob Tremblay as a possible star? I guess we'll have to wait for more details to emerge.
Image: Doug Hyun/FX; Giphy (2)