The Justice League Needs A Hero Like Lois Lane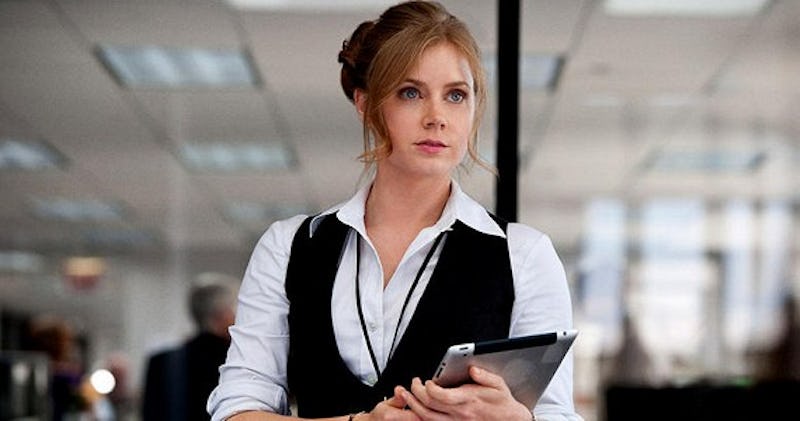 Spoilers ahead. Following Superman's unfortunate demise at the end of Batman V Superman: Dawn Of Justice, the rest of the Justice League has to pick up the slack until Clark Kent (Henry Cavill) is revived in time for 2017's Justice League and Man Of Steel 2. Until then, Wonder Woman isn't the only woman who could be rolling with the male-dominated superhero team. In DC Comics' recent issue of DC Universe: Rebirth, another superhero was proven worthy of the spotlight — Lois Lane's Superwoman. After Superman's death in the comics, Lois Lane has emerged as Superowman and, as far as I'm concerned, Amy Adams needs to play Superwoman and take her spot alongside Wonder Woman, Batman, the Flash, Aquaman, and Cyborg in the DC movies.
Not only would Adams' Lois Lane totally kick ass alongside the likes of Diana Prince and Bruce Wayne, but the timeline of the Rebirth comics also perfectly align with the film franchise's current set-up. Lois Lane gains the powers of her fallen lover at her disposal after his death, and, after Batman V Superman, Superman is flying no more. The way the comics have gone is story arc I would love to see play out on the big screen to expand Adams' screen time as Lois Lane in the films so far.
I know that Adams would totally be on-board for Lois Lane's Superwoman as well. The Trouble With The Curve actress mentioned Lois' strengths in Batman V Superman in an interview with Collider , "Lois is still sort of like the key to the information, you know? She's the girl going out and getting it and figuring it out and putting it together and all of that, so she's very much involved." However, Adams then went on to say that Lois leaves "the heavy lifting to the boys," something which definitely played out in her arc in the films. It's when looking at Adams' favorite part of playing the iconic character where it sounds as if Lois' role not only can change, but maybe it should. "I love that she's fearless," Adams said in an interview with Good Morning America . "I'm not that way so it's really fun that she really is not afraid of the consequences."
There's definitely room for growth with the character. But, of course, if DC Entertainment does plan on incorporating this new storyline, some changes from the Rebirth series are going to have to be made. For one, we can't have Superwoman's reign ending as soon as it begins. In the new Rebirth comics, Lana Lang trains Lois Lane, but isn't quick enough to save her, leaving Lois Lane to face her untimely death almost as soon as she's introduced as Superwoman. We just can't have that happening so soon in the Justice League, even if, as many fans suspect, this turns out to be some sort of misdirect or trick.
As of right now, Adams is only listed as Lois Lane in the upcoming films. However, Superwoman could be the perfect addition to the male-dominated team, and, perhaps, she could take over Superman's spot until he's ready to rejoin the team. Bonus points if she stays there even after his return. Anything is possible.
Images: Warner Bros. Pictures; Giphy (2)