'The Get Down' Opens With An Amazing Rap Song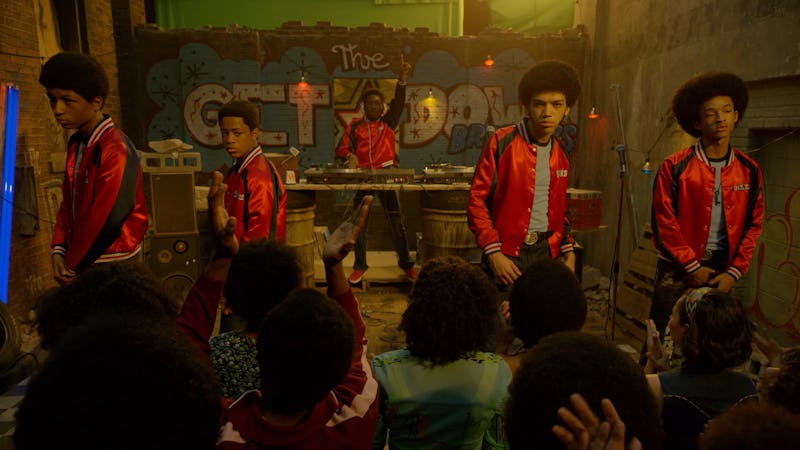 Baz Luhrmann's new Netflix series The Get Down is all about a musical revolution that began in 1977 New York City, so it's only appropriate that it kicked off with a rap song from the adult version of Zeke. To make this opening scene even more exciting, Hamilton star Daveed Diggs plays the role. The rapping was top notch, but what was the rap song from the opening of The Get Down ? I have a feeling that I'm not the only viewer who is clamoring to download it STAT.
According to my trusty Shazam app and The Get Down soundtrack listing, the song is titled "Rule The World (I Came From The City)" and it's not performed by Diggs himself. The artist is Michael Kiwanuka, accompanied by Nasir Jones, who wrote original songs and lyrics for the series. Although the series will feature a mix of brand new tunes and classics, this one is an original that was written specifically for the The Get Down — so its lyrics are important to the show and they likely set the tone for what's to come. With that in mind, let's take a closer look at some of the lyrics to "Rule The World (I Came From The City)."
The song opens this way:
Do I want to rule the world?Or will it conquer me?Do I?Or will it turn to me?Do I lose my mind?Cause it's been wanderingWill they ever let me out?I've been wondering
It sets the tone for a series that's about beating the odds and succeeding even when the cards are stacked against you in a major way — Zeke's own aunt and uncle don't foresee a bright future for him because the family has no money to help him achieve his dreams and reach his full potential.
Zeke's character goes on to rap about exactly what life was like for people who lived in the Bronx in 1977:
I came from the city, yeahGot my name from the city, where?The most dangerous city, let's take a trip backBack in the time1977, it was maximum crimeThe president neglected us, him and 6 mastermindsSix powerful men put New York through some drastic timesThe rich and selfish ones feed off the welfare onesAnd which borough suffered the worst? Hmm where I'm fromThe Bronx
It's a completely accurate statement that New York City experienced a great deal of crime in 1977. According to The Village Voice, the "Son of Sam" murderer terrorized the city for 13 months, before being caught and convicted of killing six people, according to CBS New York. In July 1977, the famous "Blackout" occurred and TIME has referred to it as one of the city's "darkest hours" in history. It was already a frightening time, due to rising crime rates, a poor economy, and pervasive fear of the "Son of Sam." When lightening struck, everyone in the city lost power for 25 hours. During that time, arsonists set over 1,000 fires and over 1,600 stores were robbed by looters, according to The New York Times. The Get Down depicted this blackout in Episode 3, primarily through archive footage.
Zeke continues with these lyrics:
I needed some kind of hope to fill me upTill I met one guy, took 'em under the wingI coulda died if this man ain't interveneHe was an orphan, my saviorFree spirited, no man braverHe was honored and gifted, his name was Shaolin Fantastic
These lyrics emphasize the importance of helping one another out so we can all thrive — and the theme of camaraderie is extremely important throughout the series.
The song's conclusion is also significant:
Take me out of my self Help me lose controlShow me love, show me happinessI can't do this on my ownTake me out of my selfHelp me lose controlShow me love, show me happinessI can't do this on my own
Once again, it emphasizes that no one can achieve success and greatness without the love and support of others. And, as the song's title shows, Zeke will never forget where he came from — even when he's performing at Madison Square Garden for thousands of fans.
Images: Netflix (2)