Soundtracks That 'Stranger Things' Fans Will Love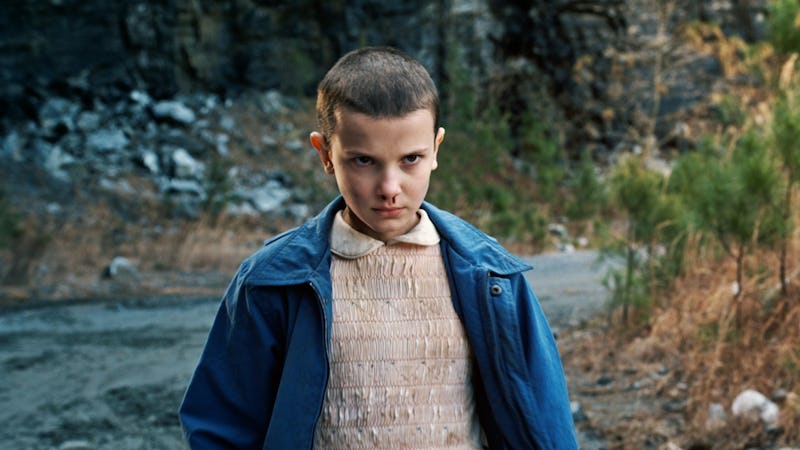 I'm pretty positive that I'm not the only person here who watched the entirety of Netflix's Stranger Things in one go and hasn't stopped talking about it since. It's fine, guys, we care because we're cool. If, like me, you've also found yourself going about your day while humming the theme tune and obsessively shrieking, "when is the Stranger Things soundtrack being released?" then you can now relax. The Stranger Things soundtrack is available to stream now, which means you can now try and communicate through those fairy lights in your living room while listening to the show's spectacular synthwave score. But, be honest, you now totally have a renewed interest in hearing music of a similar vibe, right? I thought so. And thankfully there are oodles of similar soundtracks to the Stranger Things score that fans totally need in their life.
Performed by Kyle Dixon and Michael Stein of the Austin synth band S U R V I V E, the Stranger Things soundtrack contains various clear homages to plenty of iconic movie scores from horror and sci-fi films from decades past, and many of those original soundtracks are well worth listening to. Thankfully, there's also been a surge of synthwave nostalgia featured on the scores of various other movies in the past decade, which present outstanding modern takes on the iconic sound of such scores. It's simply a fantastic time to be alive, my synth-loving, pals.
So, I suggest you invite round your besties, prepare a game of Dungeon's And Dragons, and blast any one of (or all of, D&D can be a long ass game, after all) these soundtracks, all of which will totally satisfy fans of the Stranger Things score.
1. Assault On Precinct 13
Frankly, all of John Carpenter's homemade movie soundtracks are all individual synthy treasures, but Assault On Precinct 13 is easily one of his best and easiest to listen to. That main theme is sublime.
2. The Guest
Combining the perfect blend of throwback synthwave and electronica, this soundtrack to the underrated 2014 movie starring Dan Stevens is tone perfect and utter bliss.
3. Blade Runner
There's a very good reason why Vangelis' soundtrack for Blade Runner is considered a classic — it's a sweeping, ambitious score that perfectly orchestrates the overall tone of the film. Dramatic, wistful, and layered full of synth-nuances, it totally feels like you're listening to a very grim echo from the future.
4. Day Of The Dead
Blending spritely melodies alongside spooky overtures of undead-dread, John Harrison's score for the George A. Romero zombie classic is a little odd but also completely perfect.
5. The Social Network
Trent Reznor and Atticus Ross have developed some unreal contemporary movie soundtracks for David Fincher, and their arrangements for The Social Network (their first collaboration with Fincher) is near perfection. With a little bit of industrial and electronica mixing in with some classic synthwave vibes, the soundtrack is an entire treat from start to finish.
6. Zombie Flesh Eaters
On a personal level, Zombie Flesh Eaters (also known as Zombi 2) is probably one of my favorite movie soundtracks of all time. And it's for good reason, guys — who knew that a zombie movie score could be so much fun? Fabio Frizzi's score goes beyond horror music tropes and delivers nothing short of exquisite, synth joy.
7. The Keep
There are Tangerine Dream influences all over the Stranger Things original soundtrack, so do yourself a favor and listen to any one of their movie soundtracks (or, for that matter, original albums). The Keep soundtrack, however, is possibly one of their finest moments.
8. The Terminator
There are clear similarities between the main theme of Stranger Things and John Williams' iconic score for The Terminator, and it's still well worth revisiting and enjoying on it's own merits.
9. Twin Peaks
Angelo Badalamenti's score for Twin Peaks is the stuff of legend. Both serene and also full of a harrowing dread throughout; the soundtrack manages to perfectly capture the mystery and horror of the show.
10. Maniac
The 2012 remake of the horror classic has one of the greatest modern takes on the classic, horror synth soundtracks of the '80s, composed by the French musician Rob.
11. You're Next
On an equal par to the soundtrack of Maniac is the score for You're Next, which celebrates the pulsating synths of '80s horror films to great effect.
12. The Warriors
The Warriors soundtrack is absolute perfection, you guys. It's full of synth magic, sure, but those moments of synth are also played out perfectly alongside some moments of prog-rock finery.
13. Suspiria
Goblin's score to the 1977 classic horror isn't just unnervingly haunting, it's also something of a prog-synth masterpiece (and completely terrifying).
14. The Virgin Suicides
I'm sure we can all agree on the fact that Air's sublime soundtrack to Sofia Coppola's The Virgin Suicides is probably one of the best ever made. Devastating, beautiful, and relentlessly dark, it has church organs thrumming over frenetic drumbeats and delicately finger picked guitar riffs ebbing over atmospheric synth.
15. Manhunter
So thick with atmosphere, it's like listening to a synth-soup. Drink it in, girls and boys.
16. Kung Fury
It's no surprise that the soundtrack to the '80s action movie pastiche comedy Kung Fury would come complete with an ample, synth-heavy soundtrack. It's a firecracker of pure pep —in fact, start listening to it at the gym and I'm almost positive that it'll instantly improve your cardio game, no end.
17. Running Man
Full of foreboding and the sort of twinkling synth-goodness which sounded totally futuristic back in 1987, the Running Man soundtrack kind of accurately predicted the sounds of 2017 (when the movie is set). And here we are today, a year earlier than that date, all totally obsessed with the Stranger Things soundtrack. Spooky, right?
OK, well now that I've managed to load up my MP3 player with each and every one of these albums, I'm just going to throw on a pair of HiTops, plug in my headphones, jump on my bike and go for a spooky cycle round the block a few times. I just hope to God that I don't bump into the Demogorgon.
Images: Netflix; Giphy