Wrenn Schmidt Opens Up On 'Outcast' Rape Storyline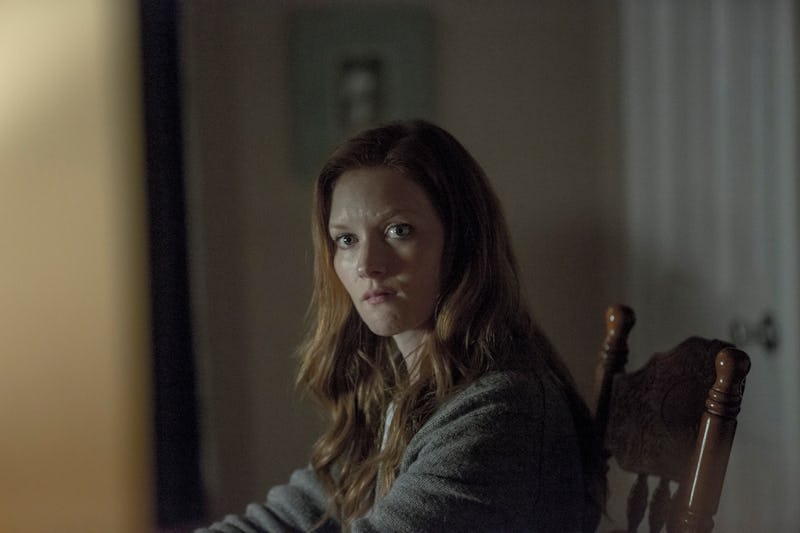 In 2016, it's surprising that speaking about rape still seems somewhat taboo. Some celebrities such as Lena Dunham — who recounted her experience in her 2014 memoir Not That Kind of Girl — have shared their personal stories. The topic has also been explored in shows like Scandal and films like Precious. Robert Kirkman's Cinemax show Outcast puts a spotlight on character Megan, a woman who has a strong exterior but is burdened with demons from her past, namely, being raped. Wrenn Schmidt, the 33-year-old who plays Megan, explains why the story not only hits close to home for her, but was even an "exciting" one to take on.
Schmidt says her first priority in properly conveying Megan's heartbreaking, raw truth was telling the story correctly without letting exterior factors get in the way. "For me, it was more about making sure that Megan's story came across as being complexed, three dimensional and riding the waves of all of the emotion that were built into all of the situations that she was in," Schmidt says. Interestingly enough, Megan is a tough, strong caretaker (to everyone around her) with a hardened shell — none of which are things one may immediately associate with a wounded victim of rape. This dichotomy, though, was maybe "the most exciting thing" for Schmidt in this process.
Schmidt explains:
Megan worked really hard to create this strong persona that's not perceived as being a victim of sexual assault, and [is] very successful at doing that. She has a successful job, she's an incredible wife to her husband, the best mom she can be to her daughter. She's trying to take care of all the people in her life. She [thinks] she has everything under control, or wants everyone else to think that, and what was really fascinating was the vehicle to explore scenes where she's thrown into situations where all of that goes out the window and this person and her history with [him] is her Achilles' heel.
Beyond diving into the many layers of Megan and her past, Schmidt had to address the character from a personal level. She explains why she felt so passionately about this storyline in particular, saying, "Sexual assault is far more common than it should be." And there's reason she was devoted to making the story as "nuanced and heartfelt and complicated as possible."
While trying to convey her own, real-life experience, Schmidt says trying to "describe degrees of sexual assault makes no sense at all." That said, she was a victim from what she recalls as simply an "event" in her life. "It wasn't the kind of traumatic thing that Megan experienced," she says. "But what I do remember very strongly was it being somebody that I knew, and that I didn't react at all how I thought I would in that situation."
Schmidt's experience provided for motivation, not only to accurately portray a victim in Megan's shoes, but to go to a place that most TV shows won't. "I watch a lot of television and films, and it feels like it's not all that often that you come across that storyline where it's not something that happens, then it's quickly addressed and then you move on," she explains.
Although she had to go to places she may not have anticipated, Schmidt is grateful for the experience. Not only can her portrayal make victims of this all-too-"common" experience feel they're not alone, but also realize they don't have to be victims at all. "Megan doesn't want to be a victim, and I think anybody that's experienced sexual assault doesn't want to be labeled a victim either," she says.
Hats off to Schmidt, who realizes "dealing with the aftermath [of rape] is extraordinarily difficult," yet bravely (and publicly) did it, hoping others would connect, relate, and be inspired.
Images: Kent Smith/Fox International Studios (3)