Listen To "Hands" & Be Immediately Inspired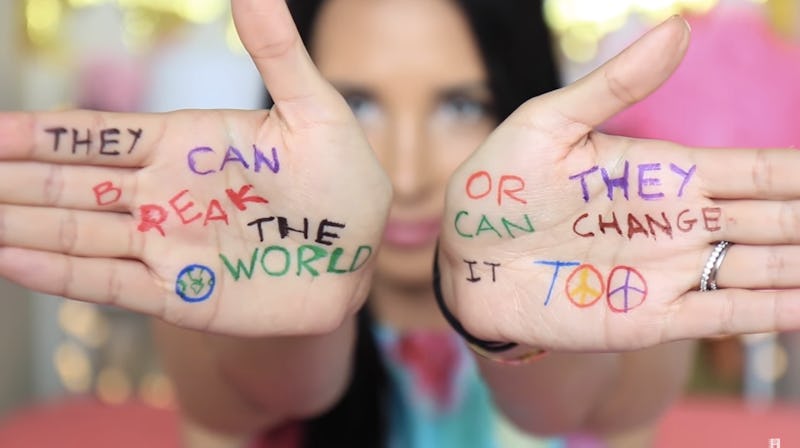 Whenever tragedy strikes, people often unite to help each other make it through and do what they can to build a better tomorrow. That's true for regular people and those in show business alike, the latter of which often use their talents to entertain and inspire. So after the shooting at Orlando's Pulse nightclub on June 12, the music industry's biggest and brightest stars came together to record "Hands," a tribute to the 49 people killed in the deadliest mass shooting in United States history. If you haven't heard the uplifting ballad, you need to do so ASAP, which begs the question, is "Hands" on Spotify, or where should you look for it?
For Spotify users, I'm sorry to say that "Hands" is not currently available to stream through that platform. However, there are plenty of other ways you can listen to "Hands" over and over and over again.
First and foremost, the tribute song will be featured in the True Life: We Are Orlando special airing Monday, Aug. 15 at 8 p.m. ET on MTV. The episode will also be available to watch for free through the MTV app and MTV.com, according to Logo's NewNowNext blog.
The special will follow the recovery of four men and women whose lives were forever changed the night of the shooting at Pulse, so you should obviously check it out. However, if after you watch the special, you want an easier way to just listen to "Hands," the single is available now on YouTube. There's also a touching lyric video featuring Rupaul, Jussie Smollett, Gigi Gorgeous, and Connor Franta, which you can check out below.
But since proceeds from the sale of the single will be donated to Equality Florida, the GLBT Community Center of Central Florida, and GLAAD, you may actually want to buy this song, which you can do through iTunes. Owning "Hands" will probably make it easier to make out all of the famous artists who have lent their vocals to this track. Just take a gander at the full list of contributors: Mary J. Blige, Jason Derulo, Tyler Glenn, Selena Gomez, Halsey, Ty Herndon, Imagine Dragons, Jaunes, Adam Lambert, Mary Lambert, Jennifer Lopez, the Trans Chorus of Los Angeles, Kacey Musgraves, MNEK, Alex Newell P!nk, Prince Royce, Nate Ruess, Rupaul, Troye Sivan, Jussie Smollett, Britney Spears, Gwen Stefani, and Meghan Trainor.
The song has even more superstar talent behind it, if you can believe it. "Hands" was written by Justin Tranter, Julia Michaels, and BloodPop, all of whom helped create Justin Bieber's No.1 hit "Sorry." Tranter and BloodPop co-produced the single, along with Mark Ronson, according to Rolling Stone. GLAAD, music publisher Warner Chappell, and Interscope Records all helped gather the star-studded roster of talent, The New York Times reports.
But even if you don't think about all of these famous names attached, the song stands on its own as a much-needed message of hope.
Image: Interscope Records/YouTube