Rory's BFFs Need 'Gilmore Girls' Revival Love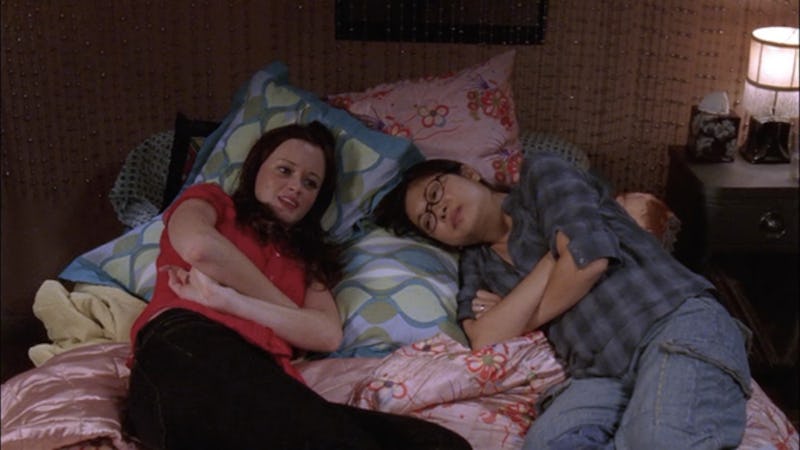 There has been a lot of talk about what Rory's love life and her career will look like in the Gilmore Girls revival, but the thing I am most anxious about is the state of Rory's friendships with Lane and Paris . When Gilmore Girls: A Year In The Life begins, nearly a full decade will have passed since that last episode. A lot can change in 10 years, but I would love to see Rory still maintaining close ties to her high school friends Lane and Paris.
Both women were an integral part of her formative years, with Rory and Lane being best friends since childhood. While Rory's friendship with Paris was decidedly more complex thanks to their competitiveness, it was just as valuable. No matter what kind of boy, career, or family problems she had, Rory maintained her friendships with Lane and Paris, and she was better off for it.
Gilmore Girls is a show about the relationships between women first and foremost. The three generations of Gilmore women will always take center stage as they should, but having Lane and Paris as a support team for Rory — and vice versa — made Rory's stories so much richer. It is clear that Rory's life will be in a state of flux when the revival starts. Her career did not go as planned, she has just lost her grandfather, and her exes are all coming back into her life. If there was ever a time she needed Paris' tough love and the comfort of her long relationship with Lane, it is now.
While both Liza Weil (Paris) and Keiko Agena (Lane) are returning for the revival, it is unclear how much scree time they will each have. Given how much time has passed, it is easy to imagine a scenario where Paris and Rory's friendship, for instance, has faded, but even if it has, a storyline where they reconnect could be amazing. Paris and Rory could never seem to shake each other, and even if they are in vastly different places in their lives, these two women will always have something to offer each other.
Friendships are not as glamorous as romance, but they are so vital, especially to someone like Rory who always kept her group of true friends small. Throughout seven seasons, Gilmore Girls did an excellent job of representing the ups and downs of female friendships while also showcasing how they evolve as women get older. By the end of the series, Lane was married with twins, but Rory and Lane entered into the new phase of Lane's life together.
Through dropping out of college, a breakdown on CSPAN, and an unexpected pregnancy, the bonds that existed between Rory and Paris and Rory and Lane endured. Adulthood with all of its messiness and unexpected turns should not diminish the relationships Rory cultivated with such amazing young women. While Paris and Lane's struggles are sure to be unique to their situations, the shared history between them and Rory will always hold them together.
So much about Rory's life will have changed in the revival that I just want to see this one thing stay the same. Not every friendship is built to last, but Rory Gilmore, Lane Kim, and Paris Geller are exceptional people. I want to see them in their thirties having another go at Miss Patty's punch. I want Lane and Rory to sneak Pop Tarts and have a heart to heart about the state of their lives, and I want Paris and Rory to have an intense debate about what Rory's future should hold.
Paris and Lane keep Rory grounded. She needs them in her life, and the revival needs to revisit all of the most pivotal relationships Rory has had, not just the romantic ones. Here is hoping the revival serves up the quality Rory, Paris, and Lane time these ladies' friendships deserve.
Images: Warner Bros. TV; Giphy (2)