Laugh At History With 'Another Period' & More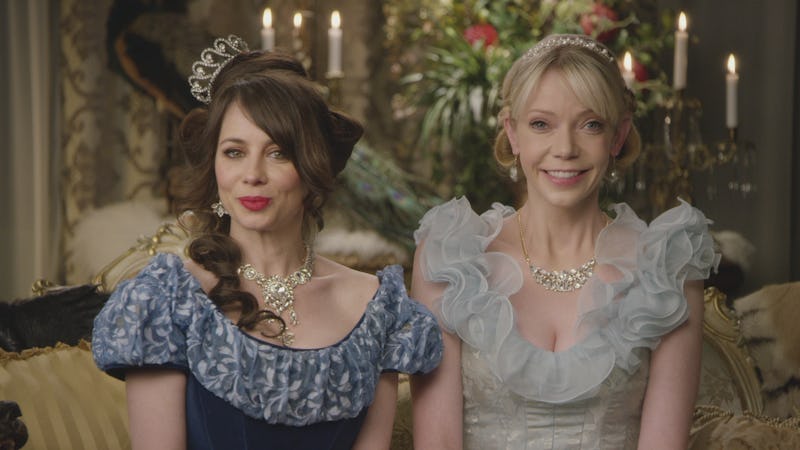 It may seem like history is no laughing matter, but apparently Natasha Leggero and Riki Lindhome, the creators and stars of Another Period, didn't get the memo. For two seasons, their characters, the Bellacourt sisters, have delivered a hilarious send-up of historical period dramas on Comedy Central. But this chapter of Another Period is about to end since the Season 2 finale airs on Wednesday, Aug. 24 at 10 p.m. ET. So does that mean it's the end of an era, or will Another Period return for Season 3?
We haven't seen the last of the Bellacourt sisters just yet. Comedy Central announced that it had renewed Another Period for Season 3 in May, according to Variety. That announcement unfortunately did not come with the reveal of a Season 3 premiere date, but considering the first two seasons of the series have bowed in June 2015 and June 2016, respectively, according to TV Guide, it seems likely that the show will return sometime in June 2017.
But even knowing that doesn't make the wait for new episodes of Another Period any easier. Luckily, history is kind of having a moment in TV comedies these days, and there are many shows that lampoon the past just as successfully as Another Period does. While you wait for the new season of Another Period to premiere, why not take a look back at these hilarious historical comedies?
That '70s Show
As far as historical periods go, the 1970s may be one of the easier ones to poke fun at. I mean, you've got perms, platform shoes, and pet rocks, hello? And that's one reason why That '70s Show worked so well, in addition to making great use out of the decade's biggest stars for cameos throughout the series, from Betty White to Tommy Chong to Roger Daltrey. But it also captured the feelings of friendship and young love so well that anyone who has ever been a teenager can relate to. You can catch all eight seasons of the show on Netflix now.
Drunk History
When Drunk History premiered on Comedy Central in 2013, according to TV Guide, it helped usher in a new wave of TV comedies exploring historical events. And now heading into its fourth season on Tuesday, Sept. 27 at 10:30 p.m. ET, Drunk History will show that it's better than ever, thanks to a much-hyped upcoming episode explaining Alexander Hamilton's rivalry with Aaron Burr narrated by Lin-Manuel Miranda, who famously portrayed the founding father in a little Broadway musical called Hamilton. But before that awesomeness hits your TV screen, you can catch up on Drunk History's first three seasons on Hulu now.
The Goldbergs
The Goldbergs is your typical family sitcom that will be entering into its fourth season on Wednesday, Sept. 21 on ABC. Well, except for the fact that it takes place in the 1980s. Like That '70s Show, The Goldbergs has a lot to work with that's comedy gold from the 1980s, but the show has achieved love and laughs beyond the already-ridiculous parts of the decade. You can check out the first three seasons of The Goldbergs on Hulu now before it returns this fall.
Documentary Now!
Documentary Now! spoofs history by parodying some of the most famous documentaries ever that captured a moment in time. In Season 1, Bill Hader and Fred Armisen presented their take on the likes of Grey Gardens, The Thin Blue Line, and Nanook of the North. And no documentary is safe when Documentary Now! returns for Season 2 on Wednesday, Sept. 14 at 10 p.m. ET on IFC. Salesman, The War Room, and Jiro Dreams of Sushi all get the Documentary Now! treatment in Season 2, IndieWire reports. See all of Season 1's spoofs on Netflix now.
Great Minds with Dan Harmon
If you've ever wondered what the most influential individuals in history would think of how we live today, you need to watch Great Minds with Dan Harmon. This series, which is part of History's "Night Class" programming block, follows Community creator Dan Harmon as he uses a time machine to bring back a historical figure to chat about their legacies and how the world has changed today in each episode. Luckily, you don't need a time machine to go back and watch all of the episodes of Great Minds with Dan Harmon that have already aired on History because they're all available to stream through the network's website as well as its YouTube channel.
Crossroads of History
Like Great Minds with Dan Harmon, Crossroads of History is also a part of History's "Night Class" programming block. It's a little similar to Drunk History in that it hilariously reenacts significant moments from the past. However, instead of looking back at the most famous moments in history, Crossroads of History explores "the moments that changed the world that you never f***ing heard of," according to the show's opening title sequence. Well, I'm glad Crossroads of History dug these moments up because this show is super funny. You can stream Crossroads of History through Nacho Punch's YouTube channel now.
Hopefully with these shows available to you, history will remember the time in between Seasons 2 and 3 of Another Period as incredibly entertaining.
Images: Comedy Central; Giphy (5)