Christian From 'BiP' Is Living His Best Life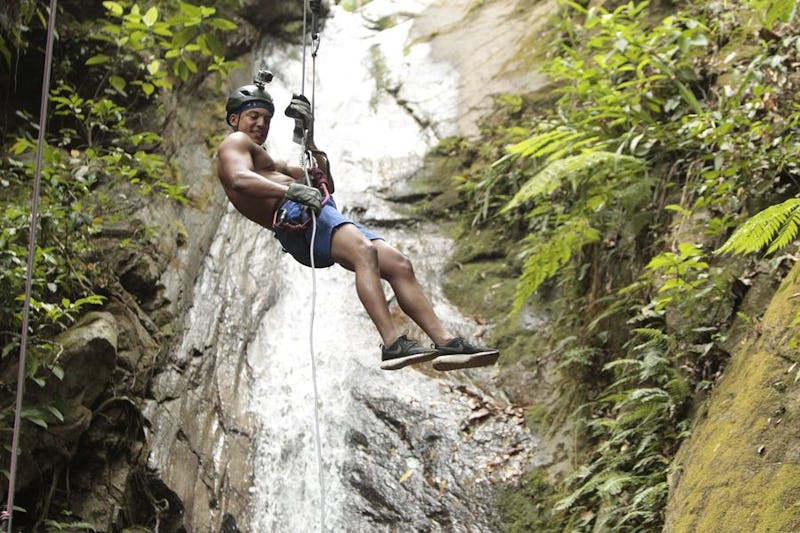 Did anyone else have a serious love for Christian Bishop on JoJo's season of The Bachelorette? This guy was eliminated way too soon. His extremely handsome mug aside, the fact that he is helping raise his two brothers is too amazing. He only lasted about three weeks into the shenanigans on The Bachelorette until JoJo foolishly cut him loose. Obviously, Jordan was always going to be the winner but that is neither here, nor there. Lucky for us on #TeamChristian, he will be getting another chance at finding love, this time in Paradise. That's right, he is competing on Season 3 of BiP. When he's not looking for love on reality television, what is Christian doing now that Bachelor in Paradise has wrapped filming?
Well, as it turns out, Christian is a busy jet-setter who is likely brushing off his Bachelorette elimination like a boss. Although he started out with a career in telecommunications, his appearances in the Bachelor franchise has likely helped to kick-start his budding fitness side gig. He is even working as a spokesmodel for a fitness supplement company, No Limit Supplements. Trust me, he has been pretty busy since leaving Paradise in Mexico. According to his social media pages, this is what Christian has been up to these days.
Partying In Las Vegas
Christian had a dude's trip to Vegas and it seems like he had the time of his life. Talk about riding in style.
Working On His Fitness
Abs for days!
Supporting Fellow Alums
The guys of The Bachelorette are seriously tight, it would seem. They (for the most part) support and cheer each other on even when they get eliminated. Christian is no exception and it just further proves what a decent guy he really is. JoJo, you missed out!
Letting Chad Hear It
Like most of the men and women from The Bachelorette/Bachelor In Paradise, Christian is decidedly not Team Chad. He has let the franchise's main villain hear his thoughts on his behavior a couple of times. Kudos to Christian for sticking up for the women on the show.
Basically, Christian is loving life after reality television. Hopefully he finds love on Bachelor In Paradise because if anyone deserves it, he certainly does. Go, Christian!
Images: Rick Rowell/ABC