A Bizarre Possibility For 'AHS' Season 6's Theme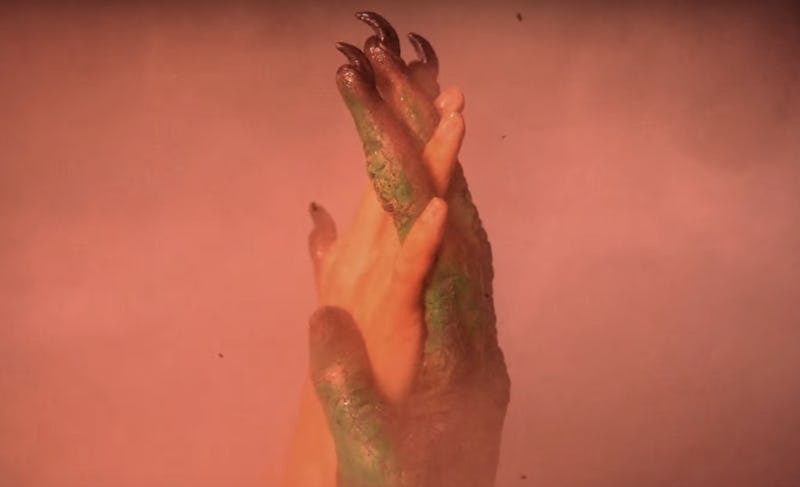 If you're a fan of horror, then American Horror Story has seriously been playing with your emotions over the past couple of months. Despite numerous horror-themed promos and teaser trailers for the sixth season being released, nothing permanent about Season 6's theme has been released to the public. There have been rumors about the theme of AHS Season 6 that have included everything from a hospital to creepy kids to what now appears to be a take on the classic monster movie. However, I can't help but wonder if there's no theme at all. In fact, what if AHS Season 6 will be changing its theme each episode?
Before you completely shoot down the idea, just hear me out on this one. American Horror Story's structure is already a variation from what fans of most television shows are used to. While certain members of the cast seem to be sticking around, the show's overall concept and the characters themselves vary from season to season. That gives them limited structural obligations to the audience.
Considering the fact that Ryan Murphy confirmed that all of AHS seasons connect, who's to say that a string of different episodes with different themes can't all make up one season? That would certainly give the show's creative team more to work with without having to stick to one specific idea for 10 to 13 episodes at a time. And, let's face it, the list of possible horror themes, both throughout film history and moving forward, is practically endless. Who wants to stick to one theme anyway?
With 10 different promos already released, that seems to perfectly align with one theme for each of the season's 10 to 13 usual episodes. As for how these episodes would connect, even more possibilities are on the table. For instance, the characters could weave in and out of each individual world, perhaps alluding to different backstories of a group of people and how they got to where they are now, stories from books in a library, a collection of movies at an old theater, and beyond. If you want go for an even eerier explanation, I'm placing my bets on the concept of this season actually being one of nightmares, in which each episode is a different dream — all connecting or meaning something different for a central set of characters.
According to FX CEO John Landgraf,
Every year, we've basically laid out the themes, the new genre that Ryan's going to be approaching, and we just thought [this year] it'd be really fun to keep it a mystery. So, we are. The scripts come in, and they've got my name emblazoned across them and there's only one script that comes into the company. Everything's blacked out that might give away the [setting]… and what [head of marketing] Stephanie [Gibbons] and her team, with Ryan's help, did was they went out and made many more trailers than you've actually seen for hypothetical seasons of American Horror Story. Different genres, different places. I think they're really fun and funny and beautifully, artfully made… and a lot of them are accurate. The others are all misdirects.
Which doesn't disprove my theory. After all, only one of these teasers might be the "main" world or "true" world, with the rest being the different backstories or the different dreams the characters are traveling to. It would be like a misdirect of a misdirect.
In the end, the Season 6 premiere just can't come fast enough. What are you doing to us, Ryan Murphy?
Images: FX Networks/YouTube