Ashley May Not Be Over Jared On 'BiP'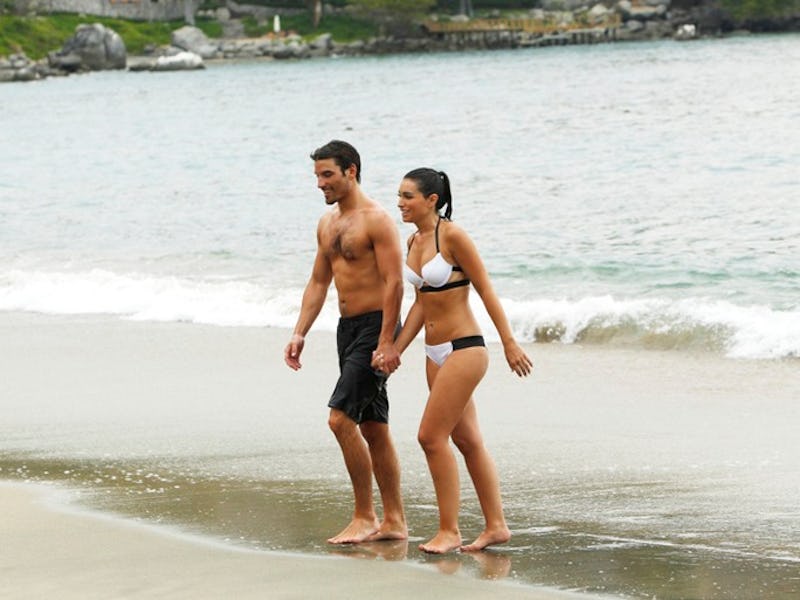 Fans of Bachelor in Paradise may still be talking about Hurricane Chad or the sort-of, not-really love triangle between Nick, Josh, and Amanda (made into a square thanks to Evan), but I'm looking ahead to the arrival of the princess of Paradise: Ashley Iaconetti. Promos for Bachelor in Paradise Season 3 spoiled her arrival and the fact that it will stir up some serious drama — particularly with former Paradise partner Jared Haibon. So, is Ashley still in love with Jared after Paradise?
Well, to know the answer to that question, we're going to have to recap what went down on Season 2 of Bachelor in Paradise. Both Ashley and Jared arrived early on in Season 2 of Bachelor in Paradise and Ashley decided Jared was the former Bachelorette contestant for her. However, while Ashley was quick to ask Jared out with her first date card, he wanted to explore his options — and asked a different woman out when he received a date card. The pair continued on an up-and-down trajectory for the rest of the season, which included a Fantasy Suite date and a long hand-written letter from Ashley to Jared. But, toward the end of the season, Jared broke things off with Ashley hoping she could find someone else who was a better fit, though they both ended up going home.
In the time since Bachelor in Paradise Season 2 wrapped, Jared and Ashley have stayed good friends, attending Bachelor Nation events and genuinely hanging out together. In an interview with People earlier this year, Ashley admitted it took some time, but she ultimately decided she wanted to stay close with Jared despite their failed romance. More recently, she posted an Instagram celebrating their one year friendaversary, reiterating that they're still just friends.
Now, that all sounds super normal and drama-free (even if I'm a little skeptical about exes being friends but, hey, all relationships are different) — except the trailer for Bachelor in Paradise Season 3 hints at plenty of drama between Jared and Ashley, especially when she mentions that she's not ready to see him with anyone else. Yikes, that sounds like someone who's not quite over their relationship. Plus, there's a confrontation between Ashley and Jared in which she says, "You think I did it to destroy you," which shortly follows Daniel asking if Ashley wants to make Jared jealous as well as telling her to sabotage Caila.
But, all that drama-with-a-capital-D aside, it does seem Ashley is trying to move on from Jared and start new relationships. In the trailer we see her on the date with Daniel and later on a date with Wells, who she claims to have more chemistry with than she ever did with Jared. So, while Ashley may have some possessive feelings toward Jared, maybe we'll get to see the official end of their romantic relationship in Bachelor in Paradise Season 3, including the part where they each find someone else who makes them happy. That's the happily ever after I'll be rooting for.
Images: Rick Rowell/ABC; bachgifs/Tumblr