Netflix Explains The 'GG' Revival Release Schedule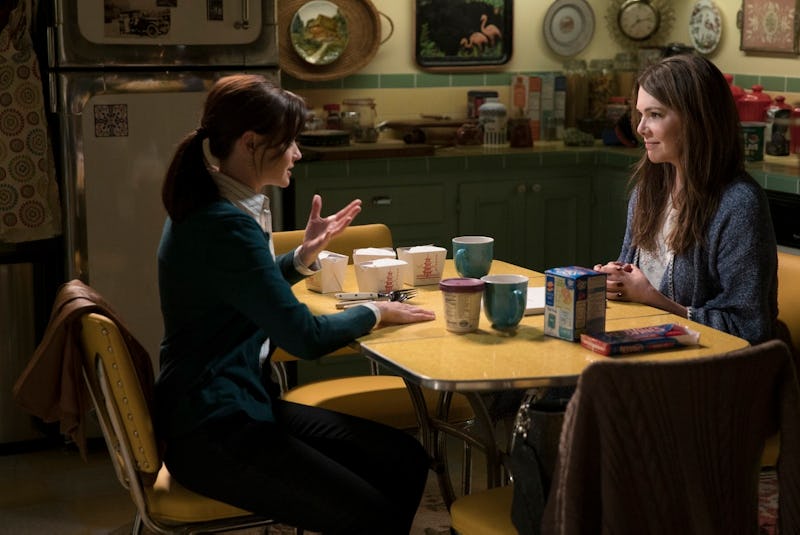 If you're crossing off the days on your calendar until November 25, imagine a world where you couldn't power through A Year In The Life of your favorite Gilmore Girls. It could've happened; there were early whispers that Amy Sherman-Palladino wanted the four GG mini movies to be released separately, before it was announced the Gilmore Girls revival will be released all at once. And now we finally know why the four Gilmore Girls episodes will be released simultaneously: because of greedy fans like you and me.
During a talk with TVLine at the Television Critics Association summer press tour, Netflix Chief Content Officer Ted Sarandos revealed he was afraid of audience uproar if they spaced out the episodes. "If we would not have [released them] all at once the fans would've killed us," Sarandos said. "I'm petrified of those fans; they are so passionate."
Of course, this decision does come with resistance from the equally passionate series creator Sherman-Palladino. "I told them I was going to hang myself with a shower curtain if they put them all out at once, and they said, 'Wow, OK,'" she said at Gilmore Girls: A Year In The Life TCA panel back in July. "It's such a journey and it's such a build to the last four words… However, you don't always get what you want. I don't have the ass I want. The good outweighs the bad in the sense that this is a wonderful place to create things and do things in a different way."
The problem is, there's no perfect way of releasing these Gilmore Girls episodes because, well, this particular revival is a little different than everything we've seen so far. When you look at something like the first Netflix original series, Orange Is The New Black, there are certain expectations and protocol fans take following the release. It's always been put out in bulk, after all, so, if you aren't able to power through it immediately, it's unsafe to tip-toe around the internet. By the end of the second week post-release, you can piece together exactly what does down, no matter how cryptic the headlines are meant to sound. Yes, fandom tries to be considerate with spoilers, but that sympathy has a time limit, especially when you can easily bang out 10 to 13 episodes in a week.
But Gilmore Girls: A Year In The Life is a revival, a regenerated series exclusive to the platform, and you'd think those will be treated a little differently. That's really a hard call though: if you take a look at popular Netflix revivals, your first thoughts will probably turn to that bonus season of Arrested Development or the Full House sequel-series Fuller House. Like Gilmore Girls, these were properties that were initially serialized on a weekly basis, as is the way of traditional television. Unlike GG, these are shows that are more-or-less pure comedies (Fuller House gets in a few sad piano moments, but let's be real). Gilmore Girls reads more like a dramedy and, moreover, is a very longform sort of tale. With fans' deep investment in Lorelai and Rory's romantic lives, there's a bigger weight placed on spoilers.
The problem really has to do with the weird place television is. If Netflix had followed Sherman-Palladino's suggestion by staggering the series, fans would absolutely get impatient; this is the I-want-it-now generation you're screwing with. But there's a palpable fear of releasing the series all at once, because someone will get through it on the immediate, and someone will leak important plot points into your newsfeed. The upside? Um, four new 90-minute Gilmore Girls episodes, to begin with.
They hit the streaming service November 25 at 12:01 a.m. PT, so make sure to have that marked on your calendar so you can get your marathon watch on... or risk knowing Rory's relationship endgame before you're ready. Unless you're into that.
Images: Netflix; Giphy (2)