What You Need To Know About Antioxidant Skin Care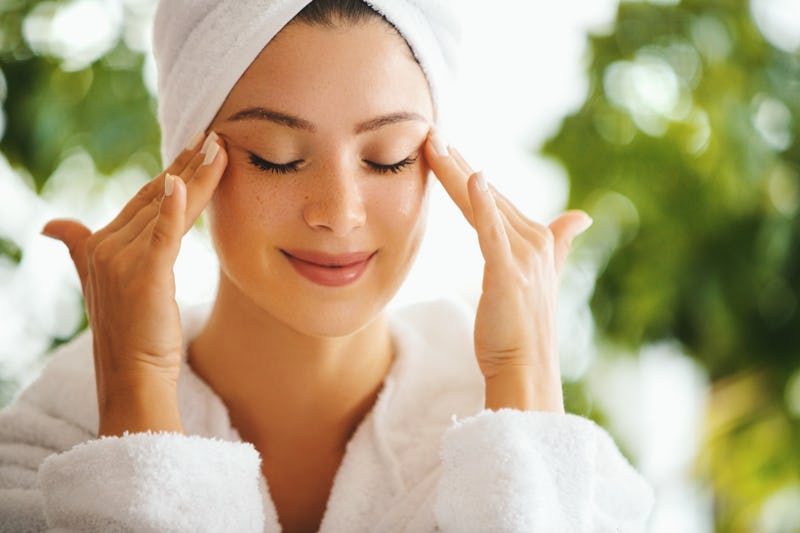 Aja Koska/E+/Getty Images
When it comes to your skin care, you probably have some idea of what works best given your skin type. And while it's definitely important to know what ingredients work best for your skin, have you thought about what skin care ingredients work best for your environment? If sun damage is a concern, you likely select products with SPF to counter the sun's harsh effects, but the sun isn't the only environmental factor that could negatively impact your skin. If you live in an area where air pollution is a concern (or even if you've never really thought about it), there are also antioxidant skin care products that can help protect your skin from its effects.
To learn a little bit more about what air pollution can do to your skin, and what ingredients to look for in your skincare to counter its effects, I emailed with Dr. Elizabeth Tanzi, founder and director of Capital Laser & Skin Care and Assistant Clinical Professor for the Department of Dermatology at the George Washington University Medical Center. She let me in on some of the ways to help protect your skin and reduce some of the potential damage the air around you could be causing — especially if you live in a city, or somewhere the air isn't as clean and clear.
Dr. Tanzi begins by explaining that although skin care with antioxidant formulations can't prevent air pollution from coming contact with your skin, this type of skin care "can neutralize the free radicals from the pollution that causes the skin damage." While there are many forms of antioxidants in skincare including ingredients such as vitamin C, resveratrol, and even compounds found in green tea, Dr. Tanzi's favorite combination to look for is a mixture of vitamins C, E, and ferulic acid. Because this is a stable combination, it won't break down as quickly or easily, so it will protect your skin better and longer.
As for the best way to use topical antioxidants? Dr. Tanzi suggests layering a serum with antioxidants under a sunscreen in the morning. Because serums generally have more concentrated active ingredients, and pairing antioxidants with sunscreen during the day will really help to beef up your protection against external aggressors, this combination is your best bet to guard your skin against free radical damage. Interested in adding more antioxidants to your skin care routine? Here are some products to try.
Paula's Choice Resist C15 Super Booster, $49, Amazon
This booster can be mixed into your serum or moisturizer, and contains Dr. Tanzi's recommended trio of antioxidant ingredients.
Drunk Elephant C-Firma Day Serum, $80, Amazon
Chock-full of antioxidants, this serum comes in an air-tight container to prevent the vitamin C from breaking down and losing its efficacy. Plus, it's perfect for all skin types.
Md Solar Sciences Daily Anti-Aging Moisturizer SPF 30, $68, Amazon
Get your antioxidants and SPF in one with this moisturizer that defends against all sorts of damage.
Philosophy When Hope Is Not Enough Serum, $45, Nordstrom
This antioxidant and peptide serum is lightweight and oil-free in case you already have enough on your skincare plate.
Ole Henriksen Truth Serum Collagen Booster, $72, Sephora
Vitamins C, E, and green tea extract all help protect against environmental aggressors while also calming, healing, and restoring the skin.
Because antioxidants in your skincare can really go a long way.
Images: Getty Images (2); Courtesy of Brands