Nick Has Finally Found His Match On 'BIP'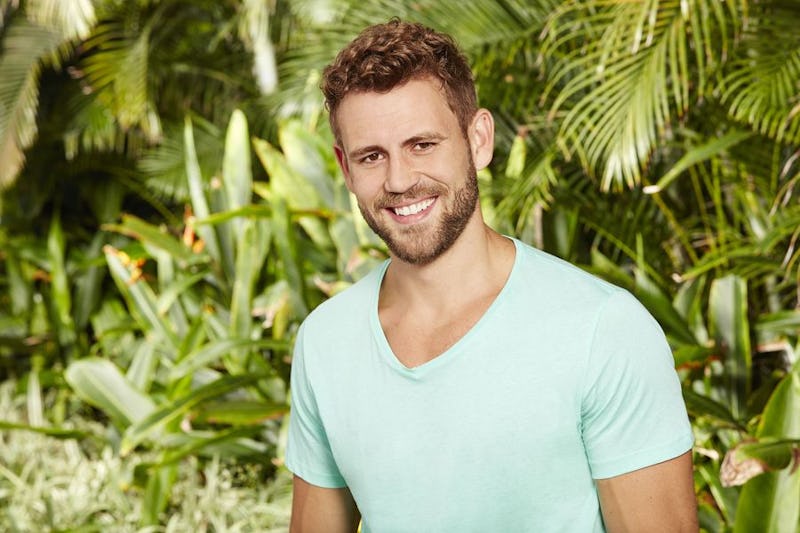 I know he's kind of polarizing to most Bachelor fans, but I've always really liked Nick Viall. He's good looking and funny, so I can't understand why he hasn't had more success on these shows. But now, it looks like his luck is finally turning around. On Tuesday night's episode of Bachelor in Paradise, Jen Saviano (a contestant from Ben Higgins' season of The Bachelor) arrived in Mexico, and although all the guys were definitely interested in her, Nick and Jen hit it off right away. Like, seriously, this is one cute couple.
After a quick conversation, Jen decided Nick was the guy she wanted to use her first date card on, probably because she, like me, understands what a total catch he is. They spent the day on the boat and hanging out at the beach. But even though their date was crashed by, like, a million crabs crawling all over them, it didn't get in the way of their chemistry, which there was tons of. There was smooching in the sand, guys. And I have a feeling Nick may have actually found the right person for him. Andi Dorfman may not have realized it, Kaitlyn Bristowe might not have realized it, Amanda might not have realized it, but Jen is finally seeing what the other women didn't.
Plus, let's face it — Nick deserves this. After all the heartbreak he's faced on camera, and then losing out on his fling with Amanda when Josh came to Paradise, it's good to see that things are headed in a positive direction for him. Fingers crossed that this lasts! I'm loving them as a couple. They're so cute!
Could this be it? Could we finally get to see this guy propose and get a "yes"? You know what they say: Third time's a charm!
Image: Craig Sjodin/ABC