That Trendy Charcoal Product Won't Work On Nails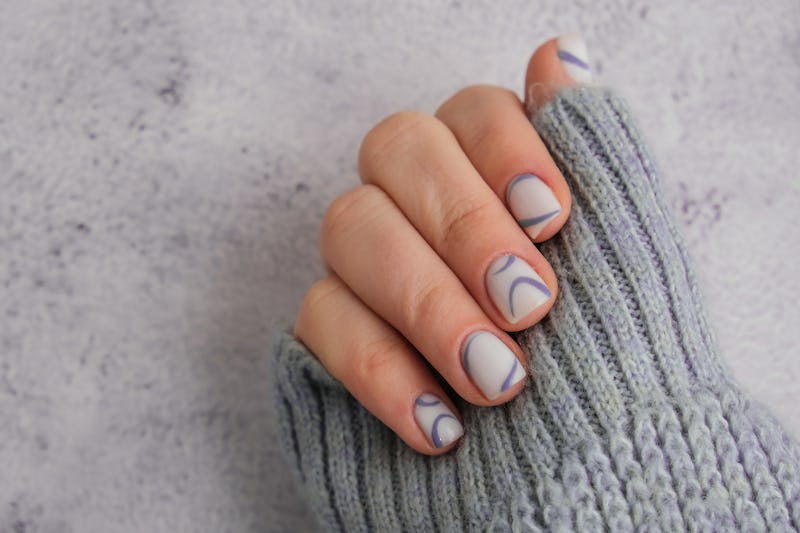 Anastasiia Yanishevska / 500px/500Px Plus/Getty Images
Charcoal is one of those natural ingredients that almost seems like it can do no wrong. There are so many uses for it from cleansing your skin to even whitening your teeth. But is charcoal good for your nails? After all, you can even drink the stuff to help regulate your digestion and clear your skin. But if you're left scratching your head as to whether all of these amazing properties that charcoal has can be applied to your nails, you're not alone. To find out if charcoal can benefit your nails, and if so, how, I emailed with a few experts.
Well, as it turns out, there is something charcoal can't do. According to Dr. Elizabeth Tanzi, founder and director of Capital Laser & Skin Care and Assistant Clinical Professor for the Department of Dermatology at the George Washington University Medical Center, there is no clinical evidence that charcoal does anything for nails. Christy Rose, creator of KBShimmer Nails, further explains that because charcoal tends to absorb moisture and be somewhat drying, it can actually cause brittle nails. "It would only be best to use charcoal on your nails if you have an infection," says Rose. But just because charcoal isn't the best natural solution for aiding with nail health doesn't mean there aren't other places to use it. Here are a few.
African Water Mint & Ginger Detox Gentle Shampoo, $11, Shea Moisture
Even though charcoal isn't really effective on your nails, celebrity stylist, author, and Shea Moisture beauty ambassador, Diane C. Bailey, let me in on just how good charcoal actually is for your hair and scalp. Not only do hair products with charcoal help to remove product buildup by purifying and deep-cleaning, but they also aid in "exfoliating a dry, flaky scalp and reducing greasy, oily strands without stripping hair of its natural oils." Can shampoo really even be any better than that?
White Charcoal Mattifying Makeup Setting Spray, $38, Boscia
If you have oily or blemish-prone skin, you may have already tried some sort of charcoal product to help control the shine and keep the breakouts at bay. But there are so many different ways to incorporate charcoal into your skincare. Depending on whether you just want to stay a little more matte, or if you need help drawing out impurities, look for charcoal in the form of cleansers, exfoliators, blotting papers, moisturizers and setting sprays; or even konjac sponges, sheet masks, pore strips, and treatment masks. There are so many ways to use charcoal in your skincare routine, you're bound to find a way or two that will help tame your skin.
Nature's Way Activated Charcoal Capsules, $7, Jet
Even though ingesting a little charcoal may seem odd at first, it can reportedly help whiten your teeth, regulate your digestive system, and even clear your skin from the inside out. While it may not work for everyone, brushing your teeth with toothpaste dipped in activated charcoal powder is supposed to help whiten them. Simply break open a charcoal capsule, squeeze a little toothpaste onto your toothbrush, and cover the toothpaste in charcoal before brushing your teeth as you normally would.
As for helping with digestion and clearing skin, try taking activated charcoal supplements as directed. Before adding it to your regimen though, be sure to talk to your doctor to determine whether it will work for you and/or interfere with any current medication you may be taking.
Because even though charcoal may not do anything for your nails, there's probably another way it can totally work for you.
Images: Anastasiia Yanishevska /Getty Images; Courtesy of Brands