Tom & Katie's 'Pump Rules' Wedding Day Is Here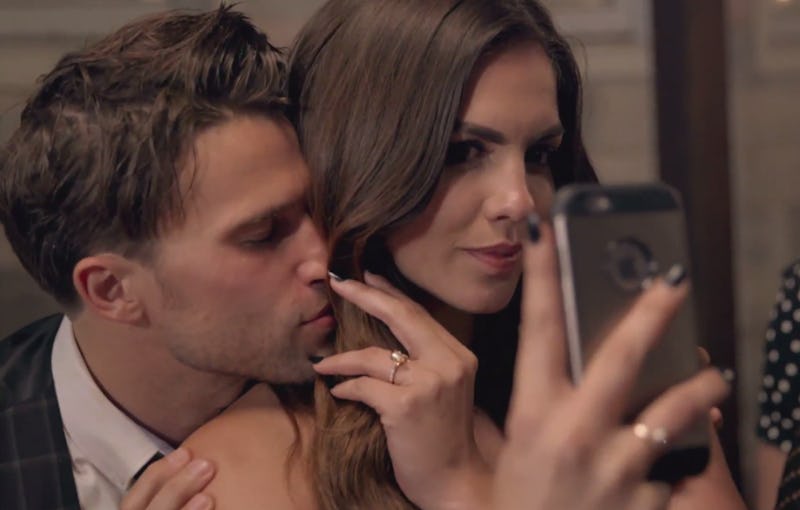 After what seemed like forever and, admittedly, a long shot, during Season 4 of Vanderpump Rules Tom Schwartz and Katie Maloney got engaged. It only took three full seasons of the Bravo reality series and that disastrous ring around Katie's neck for these two to finally make things officially. Now that the engagement is behind them and viewers of the show, let's discuss Schwartz and Katie's wedding date. Based on snaps shared Tuesday and Wednesday by Bravo's Snapchat, it sure looks the Bravolebrities are getting married really soon. So soon in fact, that I predict they're tying the knot on Wednesday.
In July, Entertainment Tonight reported that the two were getting married on Monday, Aug. 15, but if you take a look at the snaps below, that's certainly not the case. First, the one snap reads "rehearsal dinner," which means the wedding hasn't happened. Then, Katie is referred to as the "bride-to-be," which is further proof that she has yet to walk down the aisle. But, these snaps have to mean their wedding is literally around the corner. Usually, a rehearsal dinner is the night before the actual wedding, so that's really all the proof I need. However, would Schwartz and Katie really have their wedding on a Wednesday? I guess they wanted to do something different.
Whatever the case, it sure looks like they had a fun rehearsal, which was fiesta-themed. Tacos were included and so was a piñata. Oh, and the following snaps also give insight into which Pump Rules stars will be in attendance at their nuptials. FYI, no James Kennedy or Lala Kent, but does that really surprise anyone? Now, onto the snaps!
The Rehearsal Dinner
See? It most definitely is the rehearsal dinner.
A Fiesta Theme
That sombrero just might be seen later in this post...
Rachel & Stassi
Yes, Stassi is in attendance and so is Rachel, aka Kristen's friend who Ariana slammed for her comedy talent.
Shay & Scheana
They look as happy as ever. For those wondering, I'm pretty sure "OOTN" stands for "outfit of the night."
Kristen & Brian
Yep, they're still together.
Jax & Brittany
These two are also still together. Maybe their wedding will be next?
LVP's Pup In A Sombrero
No, that's not Giggy, but Lisa Vanderpump's other pup, Prince Harry Vanderpump. That also looks like Lisa sitting next to her good-looking pom, doesn't it?
Peter, The Non-Pirate
Don't ask me who is on the left, but that is Peter on the right. Without his long locks and facial hair, Peter no longer looks like a pirate. Yes, that's a very good thing.
Ken & His Friends
Ken, Giggy, and Harry are loving life.
Ariana & Tom
Or, their wedding could easily be next.
Is That You Pandora?
This definitely looks like Lisa's daughter, Pandora, but it's hard to tell. Oh, and be sure to take note of the cameras in the background, which mean Schwartz and Katie's wedding is being filmed for Pump Rules Season 5, right?
The Bride-To-Be
There she is!
The Happy Couple
The future Mr. and Mrs. Schwartz or Mr. and Mrs. Maloney or maybe they won't even do the last name thing. Either way, they're getting married! Let's just hope Schwartz doesn't wear those awful sandals. Seriously, why is he wearing sandals?
The Flowers
Bravo's Snapchat shared these flowers Wednesday, which can only be wedding day flowers.
Scheana Getting Ready
Why else would Scheana be getting ready?
Reception Preparation
A "wedding crowd," that is.
Yep, Aug. 17, 2016 is absolutely their wedding date.
Images: Bravo; Bravo/Snapchat (16)