Here's What Is Actually In Pumpkin Spice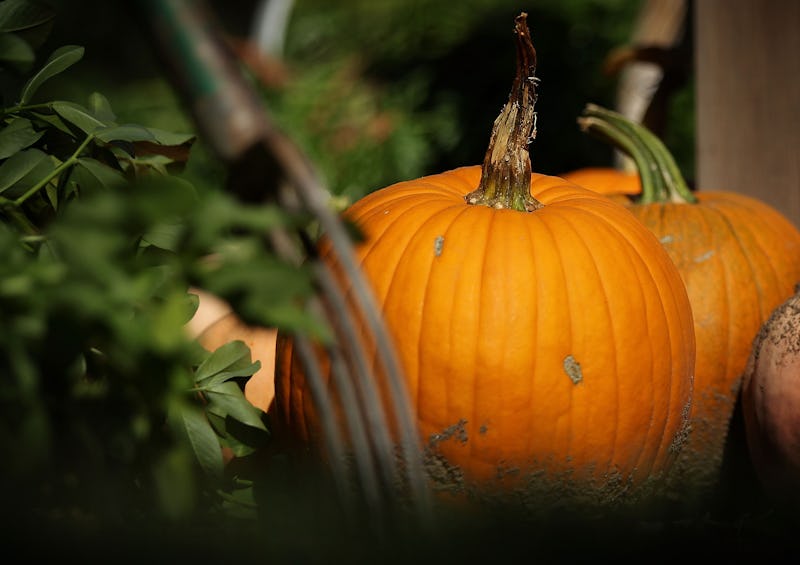 Alex Wong/Getty Images News/Getty Images
It's been a long, hot, crazy summer, and no one can blame you for looking forward to the change in season. Now, we're finally beginning to creep into autumn, and you know what that means: Pumpkin spice everything — coffee, cookies, cocktails, you name it. But what's actually in pumpkin spice? It turns out that this stuff is simple and really easy to make. Read on — I'm about to make all of your pumpkin spice dreams come true.
Pumpkin spice (also know as "pumpkin pie spice") is a glorious blend of spices that has a magical ability to make every thing taste wonderful, smell delicious, and feel like Thanksgiving. It doesn't actually contain pumpkin; it's called "pumpkin pie spice" because it's typically added to pumpkin pie. This pumpkin/spice combo is so good that it's been extended to all sorts of baked goods (My favorite of which are pumpkin muffins with dark chocolate chips, thank you very much), as well as candles and even perfume. (So you can smell... edible, I guess?)
Pumpkin pie spice is usually a blend of cinnamon, nutmeg, ginger, cloves, and allspice. You can buy pre-mixed pumpkin pie spice at most grocery stores, but it's easy to make your own. If you already have a fairly solid spice collection, making the mix from scratch may also be cheaper than buying it, and you can make just as much as you need — such as a small batch to sprinkle on a few hot chocolates, or the giant one you'll be making when you realize that pumpkin pie spice is an addictive substance that turns mortal food into heavenly ambrosia.
There are a lot of different recipes for pumpkin pie spice online that have the same basic ingredients in slightly different ratios (here's one; here's another, and another, to get you started). The nice thing about making your own blend is that, once you've made the basic mix, you can customize it to suit your own tastes. Love cinnamon? Add more! Think a bit of chili would go well in there? Well, why not? Try it out!
Once you've got your very own pumpkin spice mix on hand, you can make everything your put in your mouth taste like autumn, from your coffee to your roasted veggies to your cookies to your toothpaste.... OK, maybe not that last one.
Images: Alex Wong/Getty Images; Giphy