'Pretty Woman,' The Musical, is a Thing Now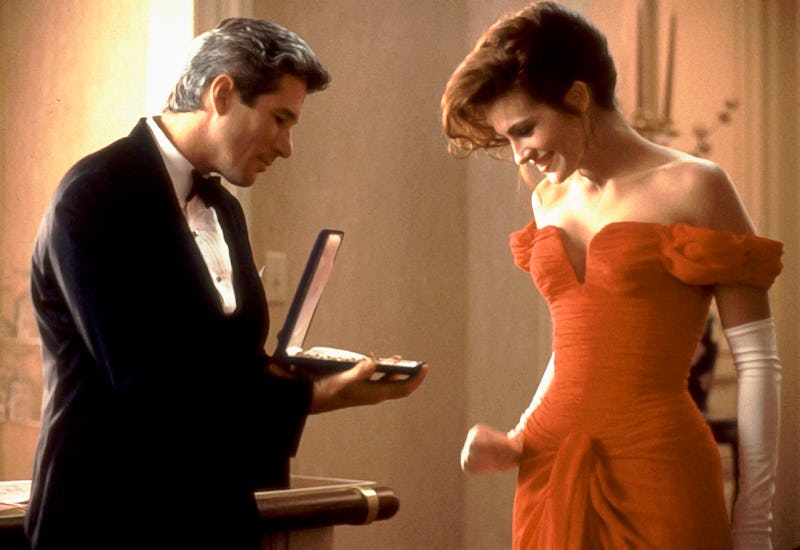 First, there was Matilda. Then, there was Ghost. Soon, there'll be Titanic. And now, the latest beloved '90s film to get the Broadway treatment is none other than the one of the decade's most successful, Pretty Woman , which could hit Broadway sometime in the next few years.
With the film's director Garry Marshall, along with producer Paula Wagner, leading preliminary talks, Pretty Woman: The Musical is still a long ways away from reality, but the idea of a Julia Roberts-lookalike singing and dancing her way into a businessman's heart isn't as far-fetched as it sounds. According to reports, Marshall would co-write the musical's book alongside the film's screenwriter, J.F. Lawton. Composers, lyricists, and directors are currently under consideration.
While we're cautiously optimistic for the musical — Marshall has previously written the book for the Happy Days Broadway adaptation, and Wagner has been behind several quality productions — we're surprised that of all the Marshall-directed movies to make into musicals, they chose Pretty Woman. Here are four other films we would have picked first:
1. The Princess Diaries
This one's a clear choice. Not only is the plot practically made for Broadway — a teenage girl finds out she's a princess, goes from frumpy to fabulous via hugely enjoyable makeover scene — but producers wouldn't even have to look for a new cast. As she's proved many times, Anne Hathaway can sing, and Julie Andrews is, well, Julie Andrews. Sure, Hathaway's a bit old for the part now, but move Mia up to college student, and you're all set. Just think of how great songs like "Shut. Up!" and "M&M Pizza" would sound on the Broadway stage.
2. Beaches
No one said a musical has to be happy. Although a theater production of Beaches is currently been performed in Virginia, no Broadway version of Marshall's beloved tear-jerker has ever hit Broadway — at least not yet. There've been talks of sending Beaches to Broadway for years, but with Marshall's push, seeing C.C. and Hillary's friendship unfold on the Great White Way could finally be a reality. Just make sure to bring some tissues.
3. Georgia Rule
Georgia Rule may have been one of Marshall's weaker films, but it did boast quality ensemble acting, especially from Lindsay Lohan. If a Broadway production was in the works, Lohan could reprise her role and get a comeback that doesn't involve scolding from Oprah or a low-budget thriller. Pre-rehab roles like Mean Girls and Freaky Friday proved she can act, and although most people have forgotten about it, Lohan has released two studio albums, plus contributed plenty of songs to soundtracks. A Broadway version of Georgia Rule could be just what the actress needs to get her career back on track.
4. Valentine's Day
Okay, Valentine's Day, the musical, would probably suck even worse than Valentine's Day, the movie. But just think of how funny it would be to see two dozen actors scramble around on-stage with all those different sets, especially if some of the same actors that starred in the film stayed on for the musical. Ashton Kutcher singing? Jessica Biel dancing? Taylors Lautner and Swift trying to act live? Now that'd be a Broadway show worth the price of admission.
Image: Buena Vista