A Drinking Game for Lindsay Lohan's 'The Canyons'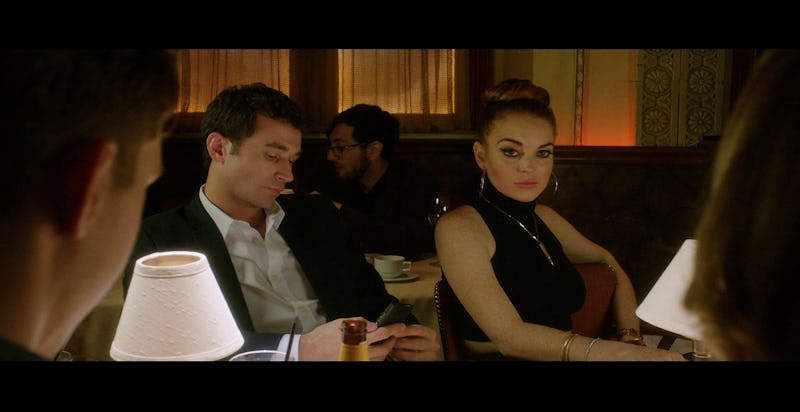 Despite many critics' best efforts, the majority of the us are still excited to see Lindsay Lohan's potential comeback in Paul Schrader's The Canyons. She might have bombed in Lifetime's Liz & Dick, but Lohan has been on our radar since The Parent Trap, so we're still rooting for her. Even if, you know, multiple accidents and DUI arrests make the rest of Hollywood, and human beings, doubt her future.
But criticism be damned! Following the publication of photos of the actress looking quite healthy leaving her three-month rehab stint, and the news that she'll guest host an episode of Chelsea Lately on Aug. 5, we're ready to be Team Lindsay once again. But we know what you're thinking. You're not quite drinking the comeback Kool-Aid. That's okay — drink a beer instead! After all, as most of you well know, it's significantly easier to root for people when you've got a little liquid courage in you.
Given that The Canyons — an erotic thriller co-starring porn star James Deen about a producer who discovers his girlfriend's affair — could go down in infamy, much like Liz & Dick did, getting soused might just be the balm we need for the deep disappointment we might have in store. So, in case you think this movie sucks, you can drink, and in case you think this movie rocks, you can drink. Whoopee!
The Canyons Drinking Game Rules
1) Whenever you see Lindsay's boobs, take two shots.
2) Every time James Deen dramatically glowers, take a shot.
3) Every time Lindsay pouts, take a sip (it's too often for a shot. We're looking out for your health here).
4) Every time you're forcibly reminded this is a Bret Easton Ellis script, take a shot.
5) Every time the camera does a body pan, take a sip.
6) Every time you get so bored that you decide to just watch some James Deen porn instead, take a sip.
7) During the four-way sex scene in which you will inevitably stare at Lohan's vagina, take a shot for every person having sex on screen. Feel free to take a shot for your lost innocence as well.
8) When the credits roll, take a shot and go lie down in the bathroom and cry, either because you're relieved that Lohan is back, or because The Canyons just ruined your life.