Frank Ocean's "Nikes" Has Some Important Cameos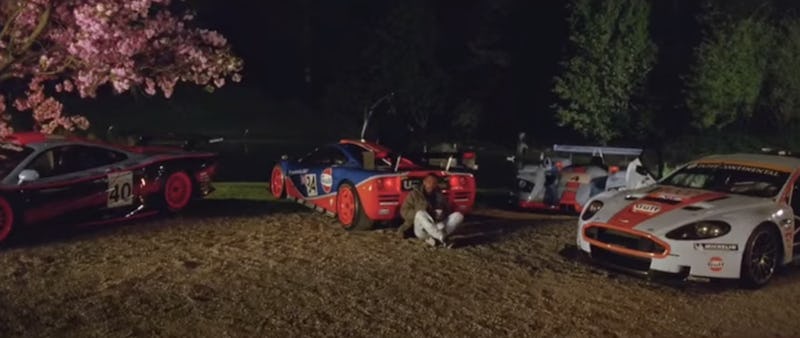 I'm going to go right ahead and assume that, like me, you've watched Frank Ocean's new music video, "Nikes" (available on Apple Music or Ocean's website) about a trillion times already. And if you haven't seen this NSFW visual gem yet, then I strongly urge you to free up half an hour right now so you can watch it and rewatch it (and rewatch it) at your leisure. The music video was released early on Saturday morning, surprising fans who had only just stopped freaking out over the release of Ocean's visual album Endless , which dropped on Friday. As well as featuring the sort of sonic genius that fans have spent four years craving more of since Ocean's debut album, channel ORANGE, "Nikes" also continues Ocean's strong artistic legacy with a video full of jaw-dropping visuals. You may have also noticed one other thing whilst watching it: There are some pleasantly surprising celebrity cameos in the "Nikes" video.
Whilst there are some exceptionally obvious ones (which I'll get to in just a minute), there's also a couple which undoubtedly made you do a double take. Considering the style with which "Nikes" was filmed (with lots of fast cuts, and a camera which sweeps in and out of focus), there are definitely some moments in the video which make you pause and go, Wait, is that...? But sadly they're off the screen before you even get a good enough glimpse at them to figure the person out.
Of course, there's still a few great verified cameos in the video which are just as good.
Firstly, there's no mistaking A$AP Rocky's guest appearance in "Nikes." Turning up at around the 1:25 mark of the video, the hip-hop artist appears in a tribute to his friend, A$AP Yam. Yam was one of the founders of A$AP Mob, a hip-hop collective of which A$AP Rocky is a member. Yam, tragically, died in January 2015, aged just 26, of an accidental drug overdose. Ocean lyrically pays tribute to the late hip-hop artist in "Nikes" by singing, "Pour one for A$AP (rest in peace)" as A$AP Rocky — who was close to A$AP Yams — holds a framed picture of him in the music video.
The second main cameo appearance also appears to be something of an important ode, but one of a different kind. Appearing at the start of the video (around the 11 second mark), is rapper Trina. She's only on screen for a few, quick seconds (and her shots are quite faded and laced in lens flare), but it's still an important cameo. Aside from the fact that Trina is a supreme force in hip-hop, she was also apparently one of the first hip-hop artists to publicly show support for Ocean after he shared a powerful story in which he came out as bisexual: Speaking to TMZ the same week as Ocean's story was released on Tumblr, Trina spoke up in support of him.
I don't think [Frank's] music sales or the level of support his music obtains should be judged based on his sexual preference. If he's happy and comfortable with his sexuality then so be it. I feel his decision to come forward was bold and honest. It's his life. Let him enjoy and live it. I wish him much success and happiness.
Trina's appearance in the video could certainly be Ocean's way of paying thanks for her positive, public statement regarding his sexuality. But it could also be there for a second reason — perhaps Trina, and fellow "Nikes" guest star A$AP Rocky, aren't just making guest appearances in this music video, but are also guest collaborators on Ocean's long awaited second album.
As the video for "Nikes" and the cameos included in them highlight, Ocean clearly enjoys surprising his fans, so as and when Boy's Don't Cry does get released, I'm almost certain that there'll be even more surprise guests to look forward to. And Trina and A$AP Rocky may just be two of those that he has lined up for us.
Images: Apple Music (4)