What Does Frank Ocean Mean By "Two Versions"?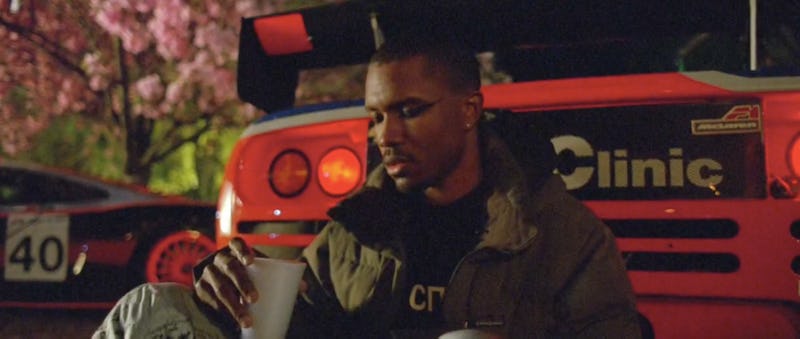 Let's all pay tribute to "Nikes," the track that will heretofore be known as the best comeback song ever. Frank Ocean has hit us with a ton of new material in a 24-hour span, first with his Endless visual album, and now with "Nikes," a (pretty NSFW) video that's available on both Apple Music or Ocean's website. Endless has a comparatively breezy, alt-electronic vibe compared to "Nikes," which bears a chill-with-an-edginess sound. Both sides of this musical coin, however, have me asking some questions — especially after hearing the opening verse of "Nikes" include the following interesting lyric: "Two versions." Are these releases, Endless and "Nikes," the two versions? Or could there be another version of "Nikes" dropping in the next 24-hours? Or, is Ocean simply referring to himself — a duality in personality, his own identity as comprised of two versions — and has been swerving the musical implications altogether?
Yes, my brain hurts too.
If we're to believe Apple Music, whom Ocean has been in cahoots with during his Great Music Release of 2016, then the album formerly known as Boys Don't Cry could be coming soon, according to a statement they released about "more Frank" to Rolling Stone. Like, in the next 24-48 hours left in the weekend of Aug. 19. But, that can't be right, can it? Does this mean that Ocean has heard our collective, beleaguered cries and is gifting us with four years worth of work in just as many days? It certainly aligns with his repeated "two versions" statement, so it's fair game at this point.
But, sadly, there are no reports mysterious or explicit from an Ocean-related camp that another "Nikes"-related music video would be dropping.
Perhaps this means that, yes, Endless and the "Nikes" video are two versions of... something. What isn't clear, however: A visual album and a music video don't necessarily equate to each other. It's definitely more than a blessing that Ocean has dropped so much music on us in such a short span of time, but I have a hard time believing that this is where the "two versions" line comes in.
Which leaves us at this third option: "two versions" references Ocean's dual personas, as referenced in "Nikes." There's two distinct versions of Ocean in play here: the angelic, clad in white and beautiful version, as well as the macho, (literally) fiery, club version of Ocean. These two versions of Ocean orbit around each other, occasionally brushing up against each other but never intersecting. They bring out different aspects of Ocean's identity and help us get a better sense of what new level Ocean has matured to since his channel ORANGE days.
The mystery of the meaning of "two versions" is still hanging out in the ether but my best guess is that there may be another version of "Nikes," á la Rihanna's "Work" videos, dropping this weekend. Maybe he'll be surprising audiences at the 2016 MTV VMAs? Now I'm just getting all worked up at what it all means. I'm going to go listen to "Nikes" for the umpteenth time and take a chill pill.
Image: Apple Music (3)