Here's How To Watch The 2016 NYX FACE Awards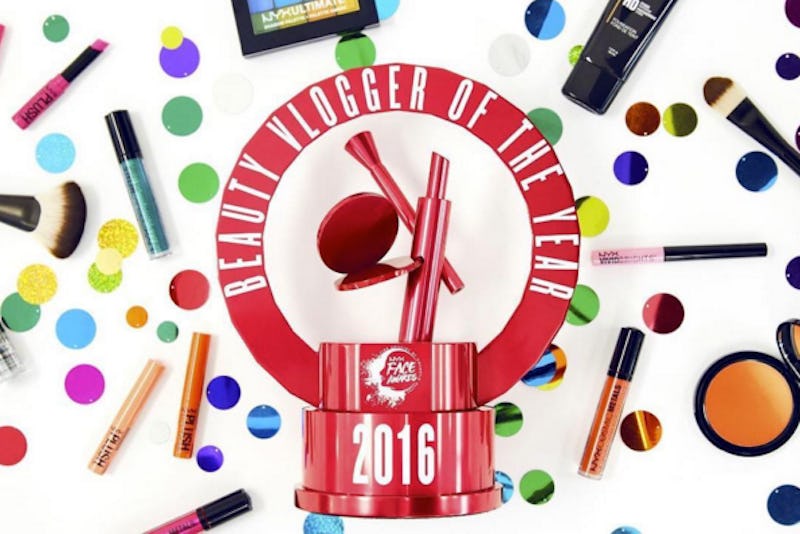 This is basically the Super Bowl of the beauty world. Contests have been held and the votes are in. Now, it's time for the top six most-voted beauty vloggers to go head to head. The results will be viewed live, so you're going to want to find out how to watch the NYX FACE Awards, especially if you can't be there in person.
The event will be held on Aug. 20 in Los Angeles, but thankfully, you'll be able to live-stream it from the NYX FACE Awards website as well as on the official NYX YouTube channel, according to a press release. The top six contestants have been asked to participate in a beauty challenge, and once their videos have been viewed it'll be time for the incredible judging panel to cast their votes. The judges include beauty insiders including the Editor-in-Chief of NYLON, makeup artist Ve Neill and more. These vloggers better bring their A-game!
The grand prize winner, a.k.a. the Beauty Vlogger Of The Year, will receive $50,000, consultations with makeup artists and a year's supply of NYX Cosmetics. So, saying that the FACE Awards are a big deal is quite the understatement. That's exactly why you've got to tune in on Aug. 20 from 10 p.m. ET/7 p.m. PT to watch the beauty showdown of the year!
This is must-see programming for all beauty lovers!
Now, check out the videos that helped these vloggers land a spot in the top six.
1. Alex Poletti
She definitely nailed this optical illusion makeup challenge. That 3D slime was too cool!
2. Brianna Fox
Wow! Was that an incredible full-on makeover or what? The detailing in the face was incredible. Anybody else getting some major Halloween inspo?
3. Haley Wight
This makeup is intense! I really liked how she was able to carry the theme from her face down into her chest, as well.
4. Laura Sanchez
That patterning was insane. Her makeup was definitely worthy of being photographed and placed in a museum, if you ask me.
5. Fernanda Machado
I loved how she worked the makeup into the hairline and used it to cover her ears to make the optical illusion all the more real.
6. Kristi McKee
My favorite part of this was the flower illusion. She looked like a living garden, and it was so beautiful.
Good luck to each of these incredible contestants! Don't forget to live-stream to find out who wins the title of 2016 Beauty Vlogger Of The Year.
Images: nyxcosmetics/Instagram (1); YouTube (6)