'BiP's Josh & Amanda Are In It For The Long Haul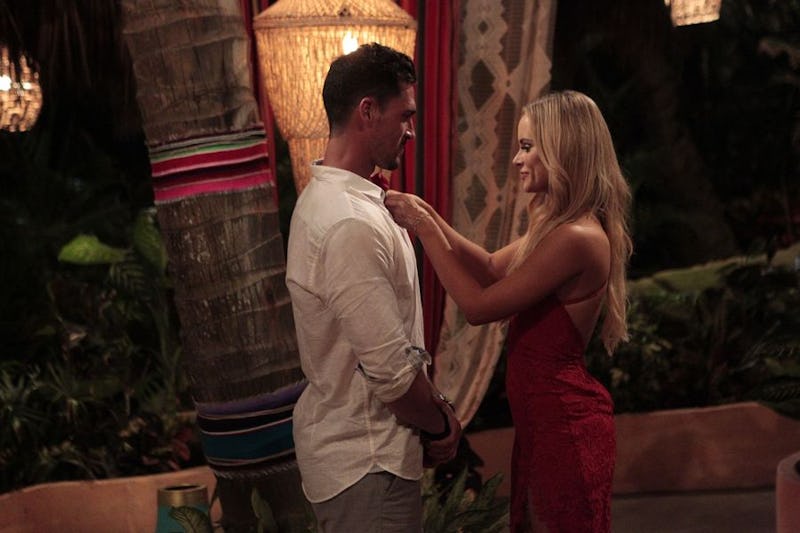 We're well into Season 3 of Bachelor in Paradise — far enough in fact that I can even see the end in sight. We've had a revolving door of contestants in and out of the beachside resort hoping to find love (and, don't worry, there are still more to come), but we've also seen plenty of people couple up, seemingly for the long haul. One such couple is Josh Murray and Amanda Stanton. But, the real question is: Does Josh propose to Amanda on Bachelor in Paradise once the season finale rolls around?
First off, let's remember Bachelor in Paradise producer Mike Fleiss tweeted that Season 3 will end with more than one couple getting engaged. In fact, he tweeted: "Multiple Engagements!!!" and yes those three exclamation points are all him. This particular tweet led to plenty of speculation — everything from exactly how many couples will get engaged in the season finale (I'm leaning toward three considering the number of exclamation points in Fleiss' tweet) and who will be exchanging rings along with roses. Now that we've had some time to see which contestants on Bachelor in Paradise have coupled up (plus certain couples haven't been very secretive with their relationships post-show), I think I can safely say Amanda and Josh get engaged.
First off, Amanda and Josh have seemed like a solid couple since day one — literally. They went on their first date during the second week and came back holding hands, which is more telling than a Facebook status when it comes to Paradise. Since then, they've essentially been attached at the mouth — though not so attached that Josh can't make those moaning sounds. A number of people have tried to shake their connection, including Evan's attempt to win Amanda's affection and the multiple warnings Amanda has received that Josh may not be good for her. But, Amanda and Josh stayed together through it all.
Of course, not all couples that leave Paradise together actually do so engaged. In Season 2, two couples left Bachelor in Paradise simply exchanging roses, while Jade and Tanner were the only pair to get engaged. That said, I have a feeling Amanda and Josh would get engaged based on their lack of doubt in each other (and the amount of liplocking, though that isn't necessarily a surefire indicator). The biggest piece of evidence is that we know Amanda and Josh have spent time together post-Paradise. They were spotted together weeks after the show wrapped spending the day with her daughters, as reported by TMZ.
So, based on what we know about their relationship so far in Season 3, and that it seems to continue after the cameras stop rolling, I would put my money on Amanda and Josh getting engaged. Whether there will be trouble between the two before the finale remains to be seen, but I think it will be relatively smooth sailing for this couple for the rest of Bachelor in Paradise.
Images: Rick Rowell/ABC; Giphy