Carl King Is Back For More 'Bachelor'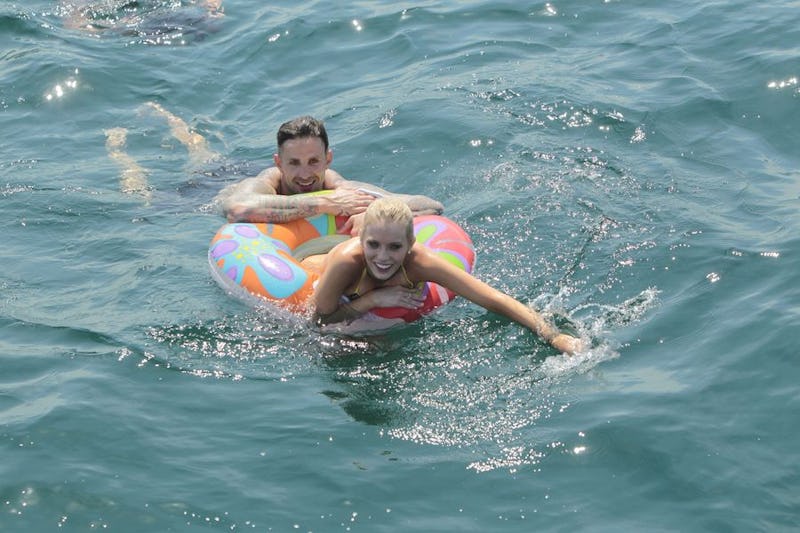 I'm a big Bachelor Nation disciple, but it's impossible to remember everyone from every season of The Bachelor or The Bachelorette. Twenty-five people from every season times… a million seasons equals… a lot of contestants, and a lot of people we as viewers never even got to know. I mean, how many get bounced the first night? 10? That's the case with me and Carl King, the hot firefighter from Andi's season of The Bachelorette. (There is always a hot firefighter.) He's coming in to stir things up on Bachelor In Paradise, but I need a recap. What happened to Carl on The Bachelorette ?
Carl came on the show from Florida. He loved yoga (his Instagram handle is @bodhisattva_king, if that didn't give you a clue), and his dog, Archie. Unfortunately, there was not much love from Andi, who sent Carl home in the second episode of Bachelorette 10 for… well, I don't really know. She probably just wasn't feeling him that much. He was told to pack his bags after a stripping dated during which he was dressed like a firefighter and nerd glasses. I guess Andi's not into men in uniform? Carl's exit was pretty quiet, just like his inner, tame yogi self. There was no bitter speech, just him saying that he wanted love and hoped to find it some day.
And maybe that day will be on Bachelor In Paradise 3. From what I've seen of the images on him on BIP3, Carl seems to be getting to know Emily Ferguson (aka one half of the twins). This is cool, but since you can date more than one person in Paradise, I have a few ideas on who else Carl can cozy up with while he's in Mexico.
Ashley Iaconetti
Ashley has a lot of feelings, and she's pretty high-strung. Matching up Carl and Ashley could balance them both out (I imagine he's a pretty calm, zen guy). They're also both seriously good-looking, so can you imagine the beautiful babies they would make together?
Caila Quinn
Caila is like a Disney princess come to life, and Carl has a little bit of an edge to him with the tattoos and the Crossfit (yep, he does that, too). Caila could use some more attitude, and Carl could be the guy to give it to her.
Carly Waddell
Carly has been almost tricked into being with Evan this season (seriously, with the ambulance and all that nonsense), but I would like her to pair instead with Carl. Carl and Carly? Is it too matchy-matchy with the names? Eh, I don't care. I think they'd be totally cute together.
Sarah Herron
Fine, Daniel and Sarah are cute together, but I think that Sarah and Carl could be even cuter. She's a sweetheart, and Carl has a job in which he rescues kittens, (firefighters do that IRL, right?) so tell me this isn't a great match. You can't.
No matter who he dates, I'm interested into really getting to know who Carl is this time around. He didn't get nearly enough time on The Bachelorette, so here's hoping for Bachelor In Paradise 3.
Images: Rick Rowell/ABC (5)