Keep Up With The 'Bachelor In Paradise' Cast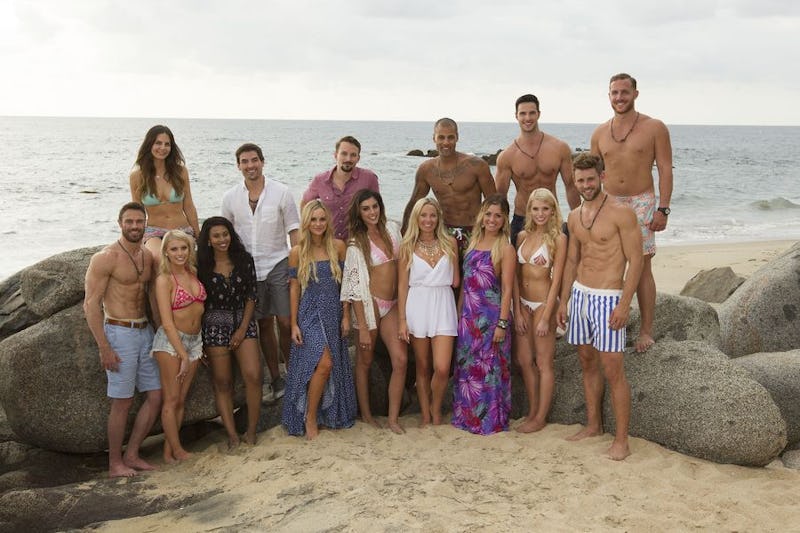 Bachelor in Paradise is a rotating door of members of the Bachelor universe who have not successfully found love yet. Because there are so many characters who can drop in and shake things up, it's good to have a healthy knowledge of the contestants on Bachelor in Paradise at all times. Season 3 has been as entertaining as ever and since anyone could go home at any time (you know, except Amanda and Josh — they will forever be connected by their lips), you have to keep tabs of your favorite cast members before they're gone. Luckily, nearly everyone on the best show of the summer has a social media presence with Twitter and/or Instagram, so it makes stalking — errr, I mean, researching? — the contestants of Bachelor in Paradise Season 3 super easy.
If you've been a part of Bachelor Nation since the beginning — or even for a few years — then you already know a fair amount about the people currently in Paradise. Yet, even the most devoted Bachelor in Paradise fan may be surprised to learn the following things about some of the contestants. Not everything is as it appears on the show and the series does not really focus on the details of these romantic, desperate, delusional, and generous (for giving viewers the joy of watching them twice a week) humans.
So, check out these 12 things about the Bachelor in Paradise Season 3 cast so that you're really intimate with them.
1. Amanda Is Friends With The Twins In Real Life
Perhaps this isn't too shocking considering Amanda, Emily, and Haley's time on Ben's season of The Bachelor and now on Bachelor in Paradise, but Amanda has called Emily her best friend on her Twitter and frequently interacts with the twins through social media with retweets, photos, and posts of love . . . awwww.
2. The Twins Consider Nick To Be Like A Brother
Clearly, the twins have a friendship with Nick since Haley gave him a rose just to keep him around paradise and Emily explained their platonic relationship with him to Glamour by saying, "He was more of like a brother. He gave us really great advice and pushed us to get out of our comfort zone, and I think that's what bonded us in Paradise. We're so grateful for Nick. We couldn't have gone through Paradise without him." Who knew there'd be another awwww moment courtesy of the twins?
3. Nick Dug One Of JoJo's Suitors
Speaking of Nick, is there anything Bachelor Nation doesn't know about him at this point? He's been around so long, he's a Bachelor and Bachelorette expert. He highlighted this fact on his Twitter when he caught up on JoJo's season of The Bachelorette and said that Wells was his favorite (same, Nick). While the twins might be gushing about Nick, I'm hoping that once Wells arrives in Paradise that he and Nick share some man crush moments.
4. You Probably Know Everything About Carly
Like Nick, Carly has been around the Bachelor block a few times and while Brandon (who?) swooped into paradise for a hot minute, he provided essential Bachelor intel for those not in the know — Carly is a singer and her brother Zak is also a part of the Bachelor family. Yeah, yeah, you probably already knew that and even know that Carly performed an original song at Jade and Tanner's wedding since they were on Bachelor in Paradise Season 2 together. Well, if you really need more dirt on Carly, then head over to her Twitter since she provides some pretty entertaining commentary.
5. Evan Live Tweets Bachelor In Paradise
You know who also provides very surprising and actually funny tweets about Paradise? Evan! Like Carly, I'm totally conflicted about my feelings for Evan, but his Twitter account makes me think that I might be getting on board the Evan train too. (Did I really just say that??)
6. You Can Buy Clothes From Jen
Newcomer to paradise, Jen, operates her own clothing and accessories website called Hot Pink Hanger. You'll know you landed on the right site if you're in the market for some adorable new duds since Jen if often seen modeling some of the apparel.
7. And Take Fitness Classes With Caila
Beyond having epic hair, Caila is a certified instructor for BollyX, "Bollywood-inspired dance-fitness program that combines dynamic choreography with the hottest music from around the world," according to its website. Uh, that already sounds super fun and imagine taking that class with Caila as the instructor? Sign me up! Unfortunately, her BollyX profile does not have any classes with her listed currently.
8. Daniel's Father's Health Has Influenced Him
The more I see of the Canadian Daniel on Bachelor in Paradise, the more I am fascinated by him — for better or for worse. Yet, beyond all of his awkward, sometimes-hilarious, uncomfortable jokes (or not jokes??), he does have a deeper side to him because his father was in an accident that caused him to become a quadriplegic. Daniel discussed this on After Paradise on Aug. 16 where he credited it being a reason for his initial bonding with Sarah, but it hasn't been mentioned on The Bachelorette or Bachelor in Paradise.
9. Grant Still Has Beef With Chad
Despite both being interested in Lace, Grant and Chad never had any sort of showdown on Bachelor in Paradise. Yet, that's a different story on social media where Chad had previously antagonized Grant by posting a picture of him with Grant's ex. It was a point of contention during the Men Tell All and, since then, the tension between the pair on social media has only escalated with Grant seeming pretty pleased that Chad has blocked him on Twitter.
10. Ashley Is A Writer
Oh, hey Bustle reader, did you know that Ashley I. once wrote for this website? She did an experiment where she washed her hair with beer and documented it back in 2015. Nowadays, she has a more steady beat recapping Bachelor brand shows for Cosmopolitan and yes, she does write about her own antics on Bachelor in Paradise and gives more insight than what you see on TV.
11. Izzy Is Friends With Olivia
While many of the other women in paradise got to bond on Ben's season of The Bachelor, since Izzy was sent home on the first night, she didn't get that opportunity. Yet, she still managed to become good friends with the pseudo villain of Ben's season — Olivia.
12. Vinny Is A DJ
If your dream is to party with Vinny, then your dream can become a reality pretty easily since he's a DJ that goes by the name VinSane. He has a summer tour going on right now, so if you live in Alberta, Canada or Florida, California, New Jersey, or New York, you're in luck because you can get down with VinSane.
As this list showed, a true Bachelor in Paradise fan should probably follow all of the contestants on social media so you can stay as connected with Bachelor Nation as possible since it's a very interconnected web they do weave.
Image: Rick Rowell/ABC