The Wrong Carl Is Coming To 'Bachelor In Paradise'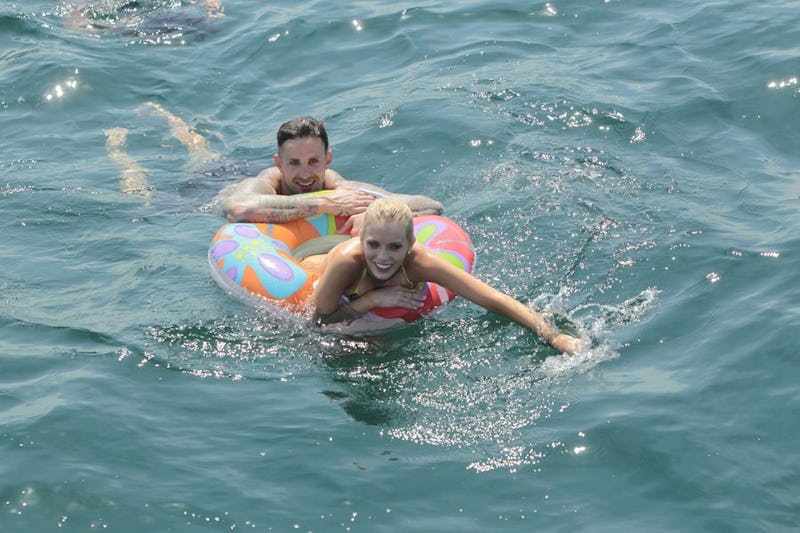 One of the benefits of Bachelor in Paradise is — aside from seeing all the faves return — getting to know eliminated Bachelor and Bachelorette contestants who left those shows so early on that viewers barely got to know their names. Even Chris Harrison has had trouble remembering a few of them. When a certain sexy firefighter (not Grant) arrives on Monday, you might be asking yourself, "Who is Carl King from Bachelor in Paradise ?" — and you may not be alone. Carl is indeed a firefighter and he was eliminated in the second week of Andi Dorfman's season of The Bachelorette, so really, fans hardly got to know him — until now. And, no, he's unfortunately not Carl, Wells' dog, who would probably be a much more fun addition to Paradise. I mean, Wells himself is coming soon, the least he could do is bring his pup.
On Bachelor in Paradise, Carl will be reunited with two finalists from Andi's season: Nick Viall and Josh Murray, who is her former fiancé. On Carl's Instagram profile, he describes himself as a firefighter, "tatted yogi," "CrossFitter," and a model signed to the agency Wilhelmina in Miami. According to the photos he posts, Carl regularly hangs out with Bachelor and Bachelorette alums like Ryan Beckett, Jubilee Sharpe, and Nick Benvenutti. They seem to have a lot of fun together off-screen, but when Carl arrives in Mexico, who will he set his sights on? Whoever it is, it'll surely add more drama to the mix.
Here's what else you need to know about Carl King.
He's Got Weightlifting Skills
There's no doubt that Carl is strong, as evidenced by this video, in which he lifts a whole lot of weights.
He Eventually Wants Kids
Carl shows off some his back tats as he poses with this identified baby, captioning the photo, "How cute does she look on me?" He hashtagged this photo as "#eventually," meaning he'd like kids himself one day.
He Has Epic Tattoos
If there's anything you might notice about Carl on first glance, it's his epic tats. It looks like he has a bird on his back and his arms are covered as well.
He Still Does Some Firefighting
Carl posted this photo of himself in a modern firefighter/medic uniform, showing that he's still involved with saving lives.
He's Got A Cute Dog
Carl also posts many photos featuring his cute pup.
He's Close With Jubilee
Even though Jubilee was eliminated early on in Bachelor in Paradise, Carl and the war veteran have seemed to have forged a bond outside of the show. Carl has posted many photos with Jubilee, and she has also posted many photos that include Carl.
But let's not jump the gun here. Like many Bachelor Nation alums, they're probably good friends — and Jubilee says just that in one of her posts, which wishes him a happy birthday.
I'm sure viewers will learn even more about Carl once he arrives in Mexico.
Image: Rick Rowell/ABC