Emoji Changes In iOS 10 That Are Super Feminist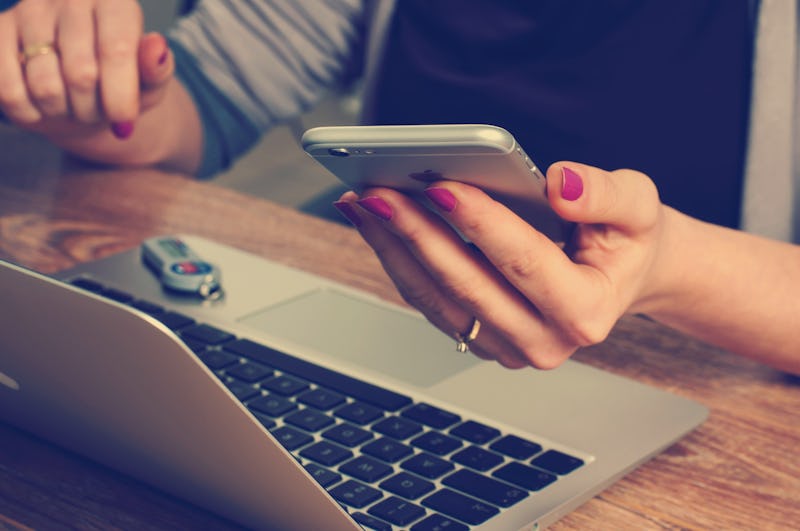 Fall is almost here and this year we have more to look forward to than pumpkin spice lattes and cozy sweaters. Apple announced on Sept. 7 that they are launching iOS 10 on Sept. 13, and there are some new emoji changes in iOS 10 that are super feminist, so start getting excited now! On the heels of Facebook Messenger releasing new female emojis earlier this summer, smartphone users everywhere will see more gender equality among their emoji characters. Women are finally busting into your texting bubbles, doing jobs and activities previously reserved for male emojis — and it's awesome.
While you can still freely use the princess, bride, and salsa dancing emojis (dance on, red dress lady, dance on), the iOS 10 will offer new female avatars that run marathons, shoot hoops, and work construction. Apple worked with the Unicode Consortium to ensure that popular emojis will now rep a range of people — in other words, the length of your hair no longer affects your profession on your phone screen. Out of the over 100 new emoji additions, there are even male options for some previously female-only emojis (dancing bunnies, forehead massage, and haircut emojis to name a few).
There have been many efforts made to diversify emojis, but change is slowgoing. Back in May, Google submitted a proposal to the Unicode Consortium with designs for 13 professional women emojis, looking to "empower girls everywhere." Google's proposal is one more step attempting to fill the gender gap in a medium that is predominantly used by women — and Apple's update is a big step forward in text equality.
Check out the new emojis that are about to make your phone a better place:
1. Police Officer
The OG police officer emoji was released in 2010, and though the gender was meant to be "unspecified," the close cropped hair and facial features definitely read as male. Apple expands the gender options with a clearly female police officer with a pleasant smile and chin-length hair.
2. Construction Worker
The construction worker, otherwise known as the hard-hat emoji, was also released in 2010 and looks an awful lot like the police officer. The original emoji wore a yellow helmut with a green cross on it, and had downcast eyes, which Emojipedia posits is because "he may be tired after a hard day at work." The new emojis have the same bright-eyed smile as the police officer, but with a different hat. Combine this with the flexing muscle arm and you have a Rosie the Riveter emoji!
3. Angry Face
Previously the only emotions available to women were frowning, pouting, and happy. Now we can express some serious displeasure with the new "angry" face emoji (more like "hangry" for me). Throw some major shade with this little cartoon, while still being totes adorbs.
4. Single-Parent Families
For years people have been calling for single-parent households to take their rightful place in the pictographic language. In an effort to diversify the family options, Apple is releasing single-parent emoji options in the new update. These emojis will represent a common family structure, according to a study by the Pew Research Center, 34 percent of children were living with a single parent in 2013, and fewer than half of kids in the U.S. live in "traditional" families. As Mic points out, leaving out one demographic is a subtle hint that they are not as important as those who are represented. The more inclusion, the better. Before you ask, the emoji families are still capped at two kids a piece, though.
5. Sleuth/Spy
Are you a budding detective or lover of mystery novels? Finally we are getting a kickass lady emoji that can uncover the truth — complete with requisite fedora and magnifying glass. As any Harriet the Spy fan knows, you don't have to be a guy to be a awesome private detective.
6. New LGBT Emojis
I'm always happy to see new inclusive emojis, and this rainbow flag is long overdue. The more options we have to text with, the more our phones break away from a vision of a purely heteronormative, patriarchal society. Sex and gender aren't a destiny and society shouldn't enforce gender roles or expectations on you, so this September wave that rainbow emoji flag proudly!
7. Weightlifter
Can I get a big ol' "YAAAASSSSS!" for this powerful new addition? What will soon be comandeered by the Crossfit crowd, is quite simply a great depiction of a strong determined woman. #LiftLikeAGirl
8. Basketball Player
We are now in the midst of the WNBA's historic 20th season, and the U.S. women's basketball team just won their sixth straight Olympic goal in Rio summer games. I'd say it's about time we have a female basketball player emoji to celebrate these victories, wouldn't you? Apple designed a good one. As she dribbles down the court, you can tell by the smirk on her face that she's got this (she may even be wearing a fresh pair of Nike Air Penny 2s).
9. Runner And Pedestrian
Want to text a friend that you're running late or doing some cardio? Previously, only male emojis were allowed to walk across the text bubble, so ladies were out of luck. Emojipedia points out that the male walker and jogger characters added in the 2010 update, were originally intended to be "gender-neutral." However, with their short cropped hair and baggy jeans and t-shirt, they certainly didn't come off that way. Six years later, the iOS 10 update finally gives women a chance to lace up their sneakers too.
10. Golfer
Think Rory McIlroy and Tiger Woods are the only golfers of note? Think again! The LPGA has been going strong since 1950. According to Emojipedia, the male golfer emoji was added in the Unicode 7.0 update in 2014, and two years later we are meeting its female counterpart. Grab your clubs and hit the green, 'cause you can finally tweet about that hole in one.
11. Surfer And Swimmer
It would have been awesome to have these for the Olympics, but better late than never, right? Katie Ledecky would be proud.
Images: Pexels, Apple