Brett's Pre-'BIP' Hair Do Was A Hair Don't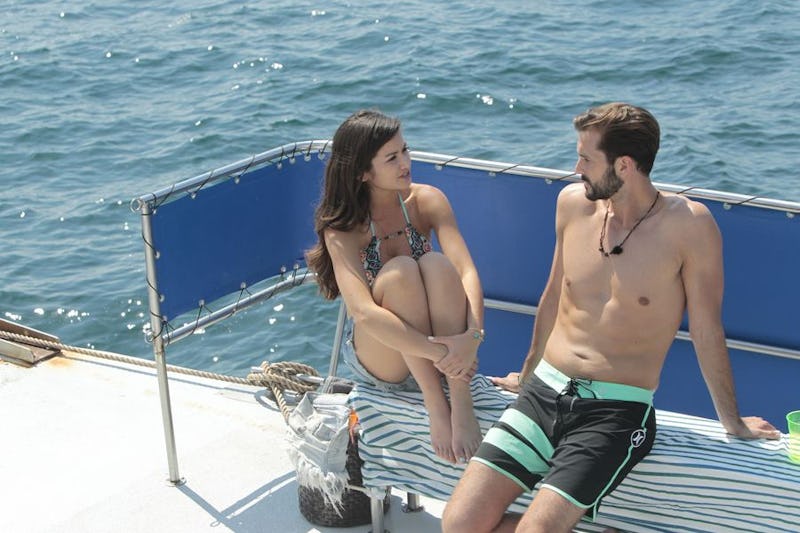 Damn, Caila — you bagged a hot guy for your latest date. Brett Melnick, who we last saw on Andi Dorfman's season of The Bachelorette, has come to Bachelor In Paradise, and goddamn, is he attractive or what? All of the girls' mouths fell open when he walked in. He's like a model, for serious. He's always been attractive, but there were some questionable hair practices in the past for Brett (and he's a hairstylist). In fact, Brett's pre- Bachelor In Paradise hair was pretty bad. He's so much hotter now.
Brett was eliminated in Week 3 of Andi's season, and he brought a lamp to Andi out of the limo because he was taught to not meet a lady empty-handed. Fair enough. But, his hair at the time was one part mullet, one part Jimmy Neutron comb over, and a lot of mess. Brett! You're a hairdresser! Maybe he thought it was edgy or cool or maybe it was a trend at Jolie Hair & Day Spa in Blue Bell, PA, where Brett reportedly worked at the time (no hate — coworkers have their own cliques and styles), but the mullet was just not cute. Not a good look for such a handsome man. I get that we're all chameleons when it comes to our looks — if you're not growing, you're dying, right? — But Brett looks one million percent better now than he did then. Want to see the evidence?
Before:
Look how LONG IT IS in the back. Too long.
After:
Cropped is so much better, don't you think?
I mean come on! Brett's present-day looks were enough to make Caila agree to and then cancel and then agree to a date with him, so they can't be that bad. It's a shame Caila didn't have fun on the date — she's not a booze cruise person — but Brett really tried to bring it around for her. Oh well! Guess Brett needs to try things out with another woman in Paradise.
Images: Rick Rowell/ABC