14 Best Beyoncé Cameos On Other People's Songs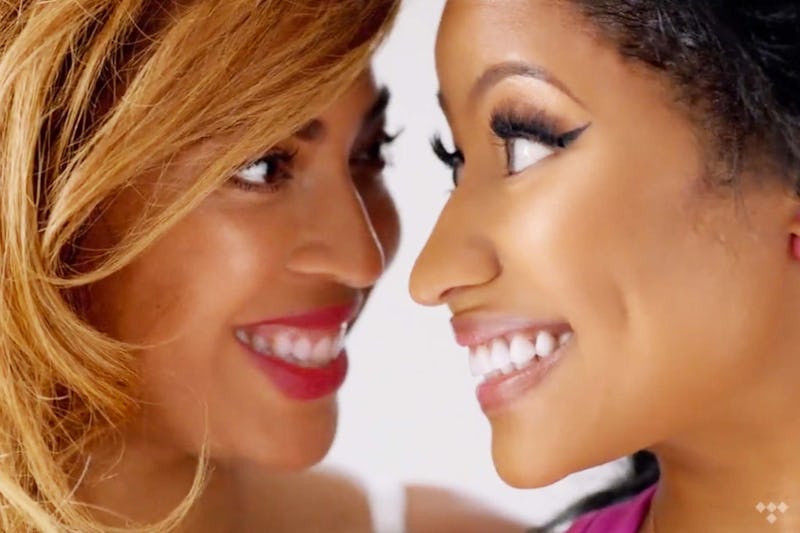 Over the weekend, when Frank Ocean finally dropped his album, Blonde , fans not only got new music from him, they also got something new from Beyoncé. But, you may not have even realized this. Beyoncé was hiding in plain sight, quietly adding her vocals to the outro of Ocean's song "Pink + White." The two, who collaborated on Beyoncé's 2011 album, 4, and again for her 2013 self-titled, come together here to sing about lost love by shouting out Michael Jackson, Magic Johnson, and immortality. She's just laying down some harmonies, but, once you know she's there, it's hard to ignore her voice, which melds so perfectly with Ocean's.
As beautiful as the song is, though, what it really proves is that, even when Beyoncé isn't the star of a song and just a featured guest, she still ends up leaving an impression. It's why some of her low-key best songs are by other artists, are those ones that she just appears on. It's why it's worth looking back at her best guest spots; those songs that were made even better with a little help from the woman who woke up like this, with hot sauce in her bag swag, able to make any song better. These are the best songs featuring Beyoncé, ranked from best to even better, that she's made truly #flawless.
14. Mary J. Blige's "Love a Woman" (2011)
Beyoncé and Mary J share vocal duties on this track off Blige's My Life II... The Journey Continues (Act 1) that is a Cliff's Notes guide to how you should love a woman. Lessons on this old school R&B track include giving your woman real romance, realizing she needs to talk things out, and showing respect. Follow these instructions, and you just may find yourself in a relationship everyone is jealous of. Not unlike Jay and Bey.
13. Alicia Keys' "Put It In A Love Song" (2009)
B and A team up to stress the importance of putting them in a love song. It really is the best way to say you love someone. But, as these ladies also make clear, you can put it in a letter or text message and that's nearly as good. They just want to say you need them, but what I really want is another song from this two.
12. Solange's "Naive" (2003)
Beyoncé gets to play big sister on this track, which sounds a lot like a Destiny's Child B-side, giving little sis Solange some advice on how to survive her first big crush. The two go back and forth on the song, which appeared on Solange's debut Solo Star, but, while Solange makes it clear she's not too young to know what love is, Bey also stresses the point that older sisters know best. It could be a peek into what their sisterly tiffs look like.
11. Missy Elliott's "Nothing Out There For Me" (2002)
Beyoncé is more than happy to stay at home with her man who doesn't like her friends, but Missy thinks she could get out and live a little. The two agree to disagree, with Elliott getting the final word: "OK, stay witcha man, I'll be at the club doin' my dance, woo!" Think of this as the Netflix and chill anthem you never knew you needed.
10. Naughty Boy's "Runnin' (Lose It All)" (2015)
This track lets Beyoncé go full on dance diva on a power ballad that will leave you crying on the dance floor. But, with how good Bey sounds, they may just be tears of joy.
9. Jay Z's "Part II (On the Run)" (2015)
Beyoncé may have teased Lemonade on this track, which has her singing, "Who wants a perfect love anyway, cliché, cliché, cliché." She toasts to them, but it's clear that she likes her love story a little dangerous. The couple are once again Bonnie and Clyde on this Magna Carta... Holy Grail track that has them playing outlaws who can't stand to be apart.
8. Coldplay's "Hymn For The Weekend" (2015)
Chris Martin and his band cast Queen Bey as the high priestess she is, allowing her to use her godly vocals to lift this song to a higher level. Martin is singing about feeling drunk and high on this track off A Head Full Of Dreams, and we're feeling drunk in love with Beyoncé's voice on this one. Cheers to the weekend with a little watermelon.
7. Boots' "Dreams" (2014)
On this slow jam, Beyoncé plays the dream girl that Boots can't stop thinking of. It seems the feeling is mutual, as Beyoncé purrs, "'Cause baby we got a lot of life to live/ You're the only one I can stand by/ And baby we got a lot of love to give/ Maybe we can put the whole world on standby." Hold up, things are definitely going to get sexy.
6. Kanye West & Jay Z's "Lift Off" (2011)
Kanye and Jay may want to watch the throne, because, on this track, Beyoncé is clearly trying to usurp it. She slays the chorus, which has her promising to take it to the moon, the stars, and to Mars. Houston, there's no problem here.
5. Michelle Williams' "Say Yes" (2014)
It was basically the Destiny's Child reunion the world had been waiting for. The three team up for a gospel song that would fit just as well as the club as it would in church. With God on their side, how could they lose?
4. Jay Z's "'03 Bonnie & Clyde" (2002)
This Tupac-sampling track has Beyoncé playing Faye Dunaway to Jay's Warren Beatty. Riding until the very end.
3. Kelly Rowland's "You Changed" (2013)
Read into the title of this track and it's easy to think that Rowland is throwing shade at her bestie. But,this track has the ladies of Destiny's Child taking on guys they don't have time to cry over. "My whole life's amazing," Bey sings. "So I won't pretend, to feel bad for you." Truer words were never sung.
2. Lady Gaga's "Telephone" (2010)
This video is more like a feature length film that has the two re-casting Kill Bill, making sandwiches and some very important phone calls — despite the fact that they'd rather be dancing. Nothing worse than a woman scorned while trying to get her groove on. Tyrese unfortunately learned that the hard way. These two sure make vengeance look good, and those Bettie Page bangs Beyoncé is rocking are to die for.
1. Nicki Minaj's "Feeling Myself" (2015)
Beyoncé gets to brag about changing the game with her digital drop while eating burgers and fries with Minaj. You like it don't you? Honestly, how could you not?
These certainly aren't all of the songs Beyoncé's appeared on in her career, but these are the best. As if you'd expect anything less from the Queen. Bow down.