Tika Sumpter Inspires In 'Southside With You'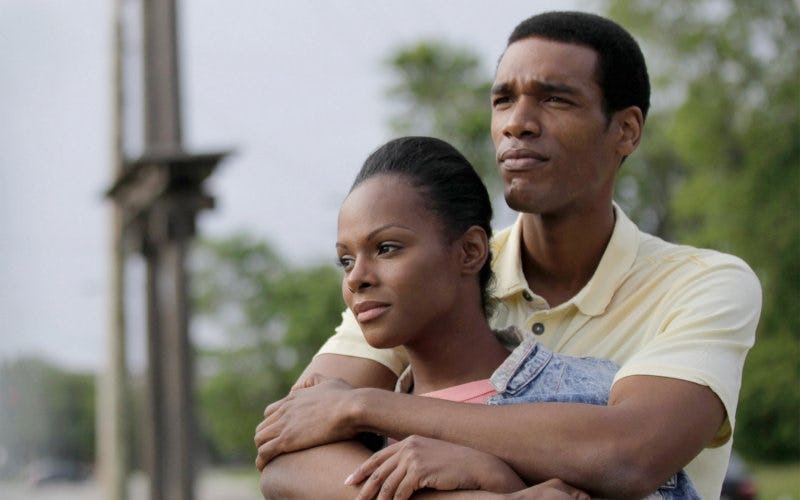 Before becoming the first African American president of the United States and the first lady of the United States, Barack Obama and Michelle Obama, née Robinson, were making history with the best first date ever. Southside With You portrays exactly that. The film follows Barack's attempts at wooing Michelle during the summer of 1989. They embark on an epic date across the South Side of Chicago, and as much as it is a love story, it's also about an intelligent, powerful, and talented woman who makes sure no one will steal her light or tarnish her passions. And Tika Sumpter, who plays Michelle Obama in Southside with You, agrees, and thinks the current first lady is a character all women can relate to and will find inspiration from.
"It's like Michelle doesn't dumb herself down for anybody and when she walks in the room, she's unapologetic for who she is," Sumpter tells Bustle over the phone. "She's OK with who she is. We all have flaws, but it's about how we move with them. This movie is also about change and self-realization. I just love that I was able to play a confident, smart woman, who didn't dumb herself down for anyone."
Before being recognized globally as FLOTUS, Michelle attended both Princeton University and Harvard Law School. In 1985, she graduated cum laude from Princeton with a B.A. in sociology and then received her J.D. (Juris Doctor) in 1988 after graduating from Harvard. She and Barack met at a Chicago law firm, where Michelle acted as Barack's adviser. Her career and contemplation over whether or not she should date someone from her firm is a huge focus of the film. She's upfront about her feelings and never hides her opinions from Barack, and that's only one of the many amazing qualities many women will relatable in Sumpter's character.
Those who follow Michelle's style choices today won't be surprised to hear that the version of her in the film also takes pride in her appearance, and as Sumpter points out, that doesn't make her any less of a powerful woman. "There's a line in the movie [where] she talks to her mom [and says], 'It's fun being pretty,'" the former One Life to Live actor explains.
"It's not diametrically opposed to be smart, feminist, and all these great things and still want to be pretty and feminine and a woman. I feel like there's so much women can look at in this film and in Michelle and see themselves and say, 'Wait a second. I'm cool. I'm OK. I don't have to dim my light to make somebody else feel brighter.' That was important for me."
What was also important for the 36-year-old actor was to make sure she did justice to the role. After all, she is portraying the first lady, which comes with a lot of pressure. Despite not meeting Mrs. Obama in real life, Sumpter listened to personal accounts from those who are close with her. For example, she read Michelle's brother Craig Robinson's book about their family. She also studied current videos of Michelle to make sure she nailed her mannerisms, in addition to studying with a dialect coach. As not only an actor, but also a producer of the film, Sumpter took it seriously. "I never wanted to imitate her, I just wanted to embody her." She adds with a laugh, "I wanted to do it well and not have it be an SNL skit or something. SNL's great, but I didn't want to make her a caricature."
At first, she was quite nervous about it all, but then quickly came to terms with the fact that she was playing someone who is so much more than one of the most powerful and famous women in the world:
"When I took the Obama of it all off and just boiled it down to Michelle Robinson, then I was able to calm down. A girl from the South Side, who's super intelligent, focused, and she just knows what she wants in life for the most part. She's just going on a date or a non-date for her (laughs). I think that's what makes it relatable and accessible. There are so many different themes throughout. I just wanted to make her very accessible."
Sumpter does just that — and in more ways than one. At the beginning of the movie, Michelle explains to Barack why they are not on a date and why it's important for her as not only a woman, but as a black woman, to not date a co-worker. Not only does she have to work hard as a woman to be seen as an equal, but twice as hard because of the color of her skin. This particular scene is where Sumpter proves how much she made Michelle accessible, because that situation is something many women can relate to. When it comes to not only portraying a leading woman, but also a black lead in a love story (which is something unfortunately not often seen), Sumpter couldn't be more proud to be part of the project:
"I think imagery is super, super powerful, especially in our society. If you don't see yourself up there falling in love, sometimes, you don't know that you matter, but it's a validation that you matter and that your stories matter … It starts a conversation. I just think it's very relevant and important to have everybody see themselves in media."
That's something she can't wait for her daughter to see, as well. Sumpter is pregnant with her first child and gets excited at the thought of her daughter watching her mom play Michelle Obama. "It makes me so excited, especially since I'm having a girl," she says. "I feel like I'm birthing this movie, I'm birthing her, and this is the time where women are really standing up for themselves."
For Sumpter, 2016 is a major moment for women. "They always have," she says about women standing up for themselves, "but they're just speaking out about things that they want or demanding different policies or whatever. I feel like it's the time of the woman and what an amazing time to be alive right now with having a child and bringing a girl into this world and knowing that she can be fierce and fabulous and smart and stand on her own two feet and be proud of who she is as is her mom. "
What better way to contribute to "the time of the woman" and inspire than by playing Michelle Obama?
Southside with You hits theaters Friday, Aug 26.
Images: Miramax/Roadside Attractions (2)