The 'Return To Amish' Cast Has Many Life Updates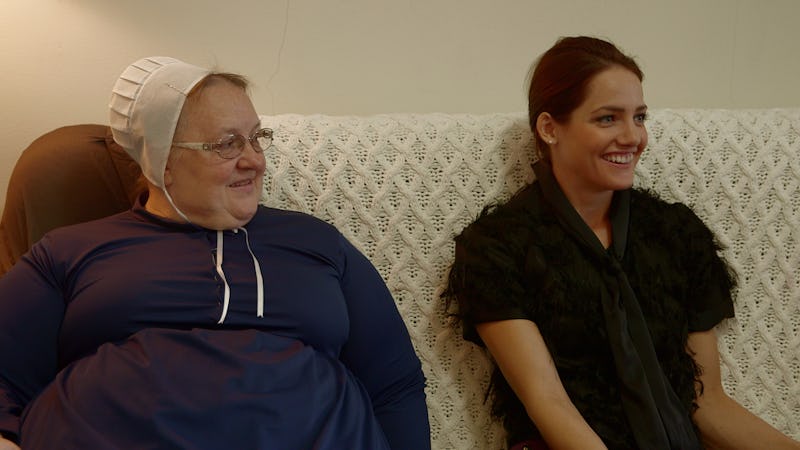 Until Season 3 of Return to Amish premiered in July, it seemed like it had been forever since the last season of the show was on the air. In all actuality, it had only been about a year since Season 2 was on TLC, but this group of Amish-turned-English individuals is just too fascinating to not have constant updates about. But easy come, easy go, because the Season 3 finale of Return to Amish will air this Sunday, Aug. 28 at 8 p.m. ET on TLC. So pretty soon, I'll just be left to wonder, will Return to Amish be renewed for Season 4?
It looks like I'll be left to ponder that question a little longer. TLC has not made any official announcements regarding the renewal or cancellation of Return to Amish just yet. Though Season 3 of Return to Amish doesn't seem to have inspired the same fervor and achieve the same record-breaking ratings that Season 1 of Breaking Amish did, this season's ratings are mostly on par with last season's, according to data from The Nielsen Company, as reported by TV by the Numbers. That could be a promising sign of the series' future renewal.
If Return to Amish does in fact return for Season 4, we can probably expect it to bow some time in Summer 2017 since that's around the same time of year that all three seasons of the Breaking Amish spin-off have had new seasons debut in the past, according to TV Guide. So here's hoping that Return to Amish gives us another summer to remember.
While we wait to find out Return to Amish's fate, the show's cast members have gone on living their lives since they are real people and all. Catch up with what the cast has been up to since filming on Season 3 of Return to Amish wrapped.
Abe and Rebecca Schmucker
Though their marriage seemed to be more strained than ever this season of Return to Amish, Abe and Rebecca seem to be in a good place these days. Rebecca posted a romantic pic of the couple embracing each other on Facebook back in July. She also started listing her occupation as a "Stay-at-home parent" on Facebook that same month. As for Abe, he still seems to be driving trucks, according to his Facebook profile. But it certainly looks like the two have found a way to make their relationship work.
Mary Schmucker
It looks like Mama Mary's got a brand new bag. After trying her hand at selling blankets and running a bed and breakfast on Return to Amish in the past, it looks like Mary's latest business venture is selling Tupperware, according to some posts and photos on Facebook. We need another season of Return to Amish because Mary's drive to succeed is just too darn inspiring.
Jeremiah Raber
Season 3 of Return to Amish was a big one for Jeremiah as he announced that he was going to marry his girlfriend Carmela. It looks like the nuptials will take place in the Season 3 finale, and Jeremiah confirmed that he got "married to the love of my life" on Twitter in July.
But Jeremiah's life post-Season 3 of Return to Amish hasn't been one big honeymoon. He's also been hard at work selling his Amish doughnuts at fairs. He even launched a Kickstarter campaign to help fund his business, although it was not successfully funded.
In recent days, Jeremiah posted some distressing tweets. In one, he writes, "Reality [TV] does nothing but cause drama and ruin lives with the manipulation that goes on behind scenes #overit." He even suggested on Twitter that he may not sign on for another season of Return to Amish if it is renewed.
Kate Stoltz
If you scroll further through Jeremiah's Twitter feed, you'll notice that his conflict with Kate this season of Return to Amish spilled over onto Twitter earlier this month. And it appears that Kate deactivated her Twitter account after that. But Kate has still been very active on the Interwebs, regularly updating her Facebook and Instagram pages, as well as her blog.
And visiting any of those places will show you that Kate is just as busy today as she was this season of Return to Amish. She earned a spot on the Dean's List at FIT, completed her internship with Cynthia Rowley, and designed a scarf for the nonprofit Developing Faces. Kate also continues to design, selling clothing and accessories through her website. She also hopes to launch a more affordable sister label within the next two years, according to a post on her Facebook page from July. Though modeling isn't Kate's main career focus anymore, you can still see her show off some of her designs.
Sabrina Leila
After being absent from Season 2 of Return to Amish, Sabrina had a lot to prove in Season 3. The mom focused on staying sober and getting her life back on track so she could regain custody of her daughter Oakley.
In the penultimate episode of the season, we learned that Sabrina would be getting custody of Oakley once again. Sabrina revealed on Twitter earlier this month that "Oakley came home in May of this year!" The Return to Amish star also moved into a new apartment with her daughter earlier this month, according to one of her tweets, so it sounds like this family is getting a fresh start.
Sabrina's family may also be growing. She revealed that she is expecting her second child in a lengthy Facebook post in honor of Father's Day in June. "I am so thankful for my parents and I am so glad that they are in my life and the lives of my children! That's right... I am pregnant!! Happy Father's Day!!" Sabrina wrote. She also hinted on Twitter that her baby news may be shared in Sunday night's Season 3 finale of Return to Amish.
Now if all of that isn't enough to warrant another season of Return to Amish, I don't know what is.
Images: TLC (6)