New Series 'Gomorrah' Has Its Roots In True Crime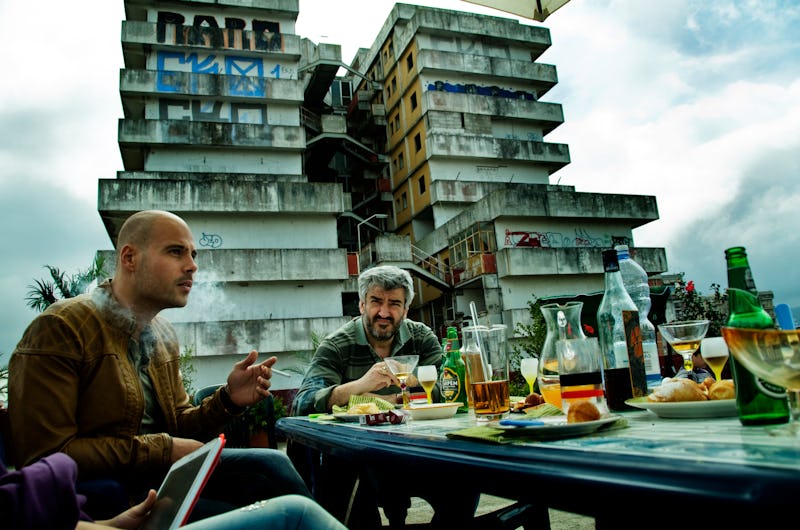 It can sometimes be hard to tell whether or not a film or television series is based on a true story. It's no secret that the Oscars love a good fact-based film or biopic; but sometimes even when a property claims to have a foundation in real life, that has to be taken with a grain of salt. (Fargo, anyone?) So which is the case with Sundance TV's new Italian import, debuting for American audiences this Wednesday: Is Gomorrah based on a true story? Or is it yet another in a long line of fictional mob dramas including the likes of The Godfather and The Sopranos?
Although Gomorrah is a new title for American audiences, it's already an established favorite overseas. The series debuted in its native Italy over two years ago and has already run for two seasons with a third in production, and has gone on to air in other European countries like Spain and the U.K. — but this will be its first time the drama is made available to audiences on this side of the Atlantic. Gomorrah is the highest-rated show to ever air on the Italian network Sky Italia, with its viewership far outstripping the likes of such American imports as Game Of Thrones and House Of Cards.
The series tells the story of the fictional Savastano clan, a family in the Camorra (an infamous real-life Italian mafia) living on the outskirts of Naples. American audiences may be surprised at Gomorrah's depiction of the mafia; this is no glamorized take on the crime syndicate, with its edges softened for mass consumption. With its focus on street-level crime and unflinching portrayal of violence, Gomorrah "is more like The Wire , David Simon's masterpiece about drugs, cops and poverty in Baltimore," than HBO's other flagship drama, according to The New York Times.
The series deconstructs "the mythology of the mafia that had endured from The Godfather through to The Sopranos; that of a kind-hearted, rule-governed group of well-dressed men who might occasionally order a cold-blooded murder, but would always do so with style and finesse," wrote The Guardian in advance of the Gomorrah Season 2 premiere. "Moreover, they would never endanger anyone outside their world." Rather, the Italian drama depicts "a world of ugly villains who murder both the guilty and the innocent by the truckload, while corrupting governments and businesses across Europe. His gangsters are not fun mavericks, but malevolent criminals driven by a psychopathic lust for power."
Gomorrah comes by this gritty realism due to the fact that it's based on a non-fiction investigative book — 2006's Gomorrah: Italy's Other Mafia — by author Roberto Saviano, who infiltrated the Camorra and was forced to flee Italy after the book's publication when "two Camorra godfathers made threats on his life," according to a 2014 interview with The Telegraph. (At the time of the interview, he was teaching a seminar on Economic Politics and Organized Crime at Princeton.) Saviano's book was previously adapted into an acclaimed 2008 Italian film of the same name, which won the Cannes Grand Jury prize and was nominated for Best Foreign Language Film at the Golden Globes. (It lost to the animated Israeli film Waltz With Bashir.)
Saviano had a hand in writing the screenplay to that 2008 film and also created Gomorrah for Sky Italia, which he infuses with his in-depth knowledge of the crime syndicate. "When I wrote Gomorrah I used real names, and real places," the author said in his Telegraph interview. "The only difference here [in the TV series, where the characters are composites of real people] is that you're allowing a degree of narrative space between real facts." But he's still committed to telling an authentic story. "If you watch it all the way through, the question you're left with at the end is, 'But I thought these guys were supposed to have an amazing life?'" he told The Telegraph. "The life they lead is crap. They live like rats in a trap."
Not only is Gomorrah based on real crime, but the series itself has echoed its subject matter in at least one unfortunate way. In June 2014, only two days after the drama aired its Season 1 finale, one of its young stars — 16-year-old Vincenzo Esposito, who plays "mafioso wannabe Danielino" — was arrested for allegedly participating in an attack in a Naples metro station that left a 21-year-old man stabbed 10 times, as reported by The Daily Mail. According to the report, Esposito was chosen for the role on Gomorrah due to his "authentic background," as he lived with his grandmother because his parents and brother were in prison.
It's a sad story, to say the least… but stories like that are also exactly why Gomorrah's realistic, non-romanticized depiction of crime in Italy is such an urgent message for audiences worldwide to be exposed to. Hopefully American audiences will tune in.
Images: Emanuela Scarpa/Sundance TV