Jim Blames Teresa For His 'RHONJ' Departure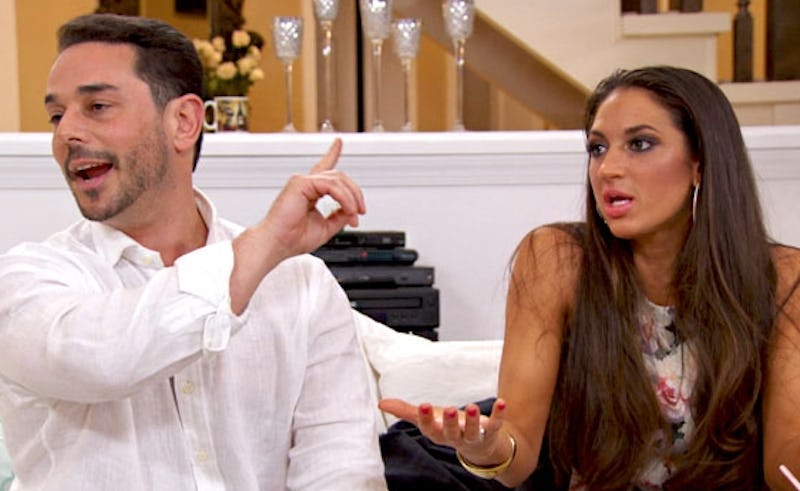 No matter what kind of tidy little soundbites that people give initially for leaving a TV show, the truth tends to come out. That's why I'm not surprised to hear that Jim Marchese blames Teresa Giudice for why he left The Real Housewives of New Jersey . Initially, when explaining why the couple didn't return for Season 7, even though Season 6 was their first year with the franchise, Jim's wife Amber Marchese gave a nicely-packaged statement to Us Weekly in November 2015 that made the parting sound pretty mutual.
Jim and I have been giving Real Housewives of New Jersey a lot of thought and given the current state of affairs regarding our personal lives and the direction of the show, we officially decided to move on. The show was not what we expected it to be, and I want to pursue more endeavors.
She also shared that she was having a resurgence of health issues, like the return of the breast cancer she'd been free of for five years, and that she was battling Lyme Disease, both of which would have been perfectly understandable reasons to take a step back from RHONJ. However, in a recent interview with Radar Online , Jim pointed the finger of blame elsewhere — at Teresa Giudice. He claims that from the beginning, the show was really set up as a vehicle for Teresa and her husband Joe, and that he was never fully comfortable with it. (Bustle reached out to Bravo, who declined to comment on the story.)
They really crafted it to be a story around Teresa Giudice and we were really brought in for the purpose of being around that storyline. And so that was the direction, and for me, I didn't know these people. I would have no reason to talk to them, to interact with them other than the fact that that was our job for the show.
I could understand leaving because you didn't feel like you were getting your deserved moment in the spotlight, but Jim actually takes it further, saying that he refused to return to the show if Bravo insisted on painting Teresa in such a flattering light.
I was done with the show when they decided to try to make a felon like Teresa Giuduice a martyr. That disgusted me and I was very public about that. Amber was looking forward to possibly doing season two. We obviously wanted her to be treated better, but we were told 'yeah you take your knocks year one' and there was a potential. But I told them with no uncertain terms I would not be back on the show if they were gonna glamorize Teresa. She's a felon. She's a criminal.
According to Jim, it was his hard line against Teresa, and the network's failure to budge on the issue, that ultimately necessitated his and Amber's departure. It's a pretty different story than the one he initially told, and one that doesn't really take into account the fact that Jim and Amber were pretty compelling in their own right even without adding Teresa to the mix. But the subject matter that they were dealing with was so tough — Amber found out about the recurrence of her cancer during the season — that it makes perfect sense to me that they wouldn't get more screen time so they could deal with that privately. Bravo made sure the Marcheses' story line was developed, without necessarily doing a deep dive, and that was a perfect way to give Amber the space to cope with her health issues with a bit more privacy.
At the end of the day, with this much back-and-forth drama, it's a shame that we won't be seeing more of Amber and Joe on Real Housewives of New Jersey. If nothing else, they've proven that they fit right in.
Image: Bravo