Why Stanford Just Banned Hard Liquor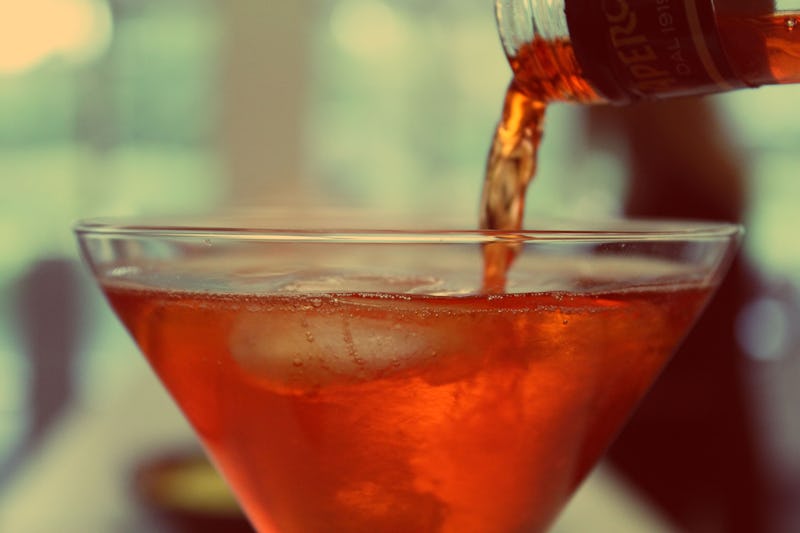 In a new alcohol policy announced this week, Stanford University banned hard liquor at on-campus parties and placed a size limit on containers of hard alcohol in university residences. This news comes only two months after the Brock Turner sexual assault case incited a heated national discussion about sexual assault on campus. Bustle reached out to Stanford regarding the ban, and the associate vice president for university communications, Lisa Ann Lapin, told Bustle, "[These] conversations began before he was even a student," and denied that the policy is a response to the Turner case. But although the new policy is intended to, according to a Stanford statement, "meaningfully change the campus culture around alcohol," critics have argued that the new policy doesn't adequately address the problem of sexual assault and mistakenly places the blame for rape on alcohol, rather than on the people who choose to commit rape.
The new alcohol policy at Stanford prohibits hard alcohol at all on-campus parties, except for those held by student organizations and campus residences that only house graduate students. At student organization and grad student parties, hard liquor is only allowed in mixed drinks, as shots are banned entirely. (Of course, alcohol of any kind is illegal for students under 21.) At all undergraduate campus residences, students may only have hard liquor in containers that are smaller than 750 ml (the size of a wine bottle). A statement about the policy explains that this size restriction is intended to limit access to hard liquor by making it harder to get and more expensive. Smaller bottles are available from fewer alcohol retailors than large bottles, and they tend to cost more per milliliter than higher volume bottles.
Stanford officials say that the move isn't about Brock Turner. Be that as it may, it's impossible not to think of the case in relation to these new policies. In March, Turner, a former Stanford swimmer, was convicted of three counts of felony sexual assault of an unconscious woman outside a frat party, and, in June, he was given a shockingly light sentence of only six months in county jail (and that could be reduced to three if he behaves well, meaning that he could be out as early as September).
Alcohol was central to Turner's account of the assault. In a statement to the judge, he blamed his actions on booze and partying, writing, "I've been shattered by the party culture and risk taking behavior that I briefly experienced in my four months at school." He also framed the assault as "sexual promiscuity" brought on by "binge drinking," insisting,
I know I can impact and change people's attitudes towards the culture surrounded by binge drinking and sexual promiscuity that protrudes through what people think is at the core of being a college student. … I made a mistake, I drank too much, and my decisions hurt someone.
In a powerful statement read in court, Turner's unnamed victim roundly refuted Turner's claim that alcohol was to blame for his behavior. She wrote,
[A]lcohol was not the one who stripped me, fingered me, had my head dragging against the ground, with me almost fully naked. Having too much to drink was an amateur mistake that I admit to, but it is not criminal. Everyone in this room has had a night where they have regretted drinking too much, or knows someone close to them who has had a night where they have regretted drinking too much. Regretting drinking is not the same as regretting sexual assault.
Critics of Stanford's new plan have argued that the policy mistakenly attributes rape to alcohol and partying (rather than decisions that people actually make and are responsible for) and further reinforces a culture that already blames victims for assault.
Michele Landis Dauber, a Stanford law professor and friend of Turner's anonymous victim, was especially biting:
Dauber also suggests that Stanford's new alcohol restrictions may actually make the drinking culture on campus worse. "I actually think this is putting students in danger," she told The Guardian. "It's going to drive it underground … and encourage this super quick consumption not in a public area."
In a letter issued to students in March, Stanford president John L. Hennessy and provost John Etchemendy highlighted the negative impact of alcohol on campus life, writing,
It is estimated that more than 1,800 college students die each year from alcohol-related incidents, nearly 700,000 experience alcohol-related physical assaults, and nearly 100,000 experience alcohol-related sexual violence. … We need new solutions – solutions that reduce risk for students, that reduce the pressure on students to drink, and that meaningfully change our culture around alcohol.
You can see Stanford's full policy here.
Image: Pexels