13 Romantic Musicals That Will Make You Swoon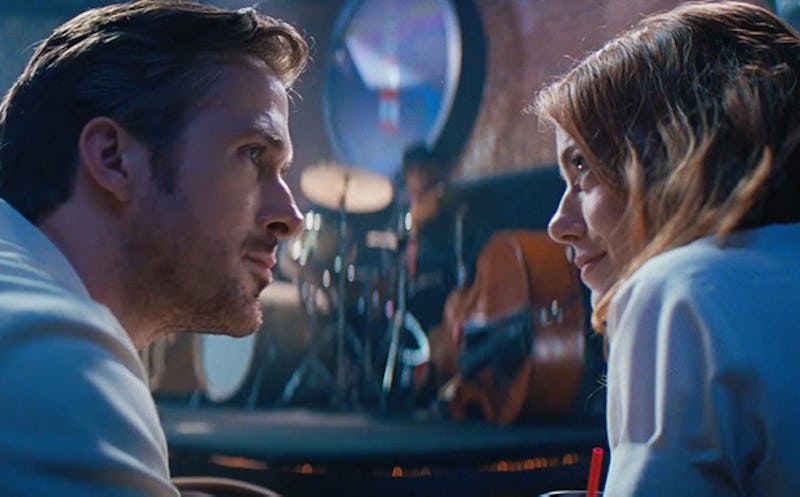 Everyone seems to be going gaga over the new La La Land trailer with Emma Stone.From the looks of this technicolor dreamboat of a teaser, it's sure to be a beautiful film that takes some of its cues from classic musicals of the past. This film looks more like something you would have seen during Hollywood's musical heyday, not in 2016. Even La La Land 's story screams old Hollywood: Stone stars as a struggling actress looking for her big break in Los Angeles. She meets a jazz musician, played by Ryan Gosling, who is playing dive bars while also dreaming of bigger things. The two fall in love, but as they both push for success, can they manage to not push the other out of their lives? It's the kind of question that needs a bit of musical accompaniment.
It's probably why it's been done before. So many musicals of the bygone and not so-bygone era often deal with how Hollywood dreams don't often mix with love. That's why when watching this trailer, it's hard not to think of the other musicals that clearly helped inspire Whiplash director Damien Chazelle.
Shots of Stone and Gosling dancing in the stars, seem as magical as Gene Kelly dancing with a cartoon mouse. Those perfect spins seem like something right out of a Fred Astaire and Ginger Rogers flick. The bright-eyed cinematography could give Baz Luhrmann a run for his money. And Stone could easily be a young Audrey Hepburn or Judy Garland. And come on, who wouldn't want to see Stone have her own Star Is Born moment?
It's why before seeing this new musical, it's best to go back and watch some older ones. The film that clearly share some DNA with Chazelle's latest movie. These are the 14 musicals that certainly deserve an Edible Arrangement or something, because without these films, it would be hard to have a La La Land.
1. Top Hat (1935)
Fred Astaire and Ginger Rogers show off their moves in this screwball comedy, which exemplifies why these two were the ultimate pair. Here, Astaire gets to be the lovesick fool who will do anything to get his girl. Dancing though, seems to be the key to winning one's heart. Especially, if it's cheek-to-cheek.
2. Anchors Aweigh (1945)
The story is simple: a man falls in love with a woman who he impresses by lying to her. His lie, told by his friend, is that he knows a big time casting agent who's going to give this girl an audition. It's silly, yes, but it's sweet in that 1940s sort of way. But, the real reason to give this one a watch is that famous dance scene between Gene Kelly and a carton mouse. This scene may seem like no big deal now with all the effects Hollywood can do, but it was a real cinematic wonder back then. It shows the true magic of movies, one that's still worth being in awe of over 70 years later.
3. An American In Paris (1951)
This is a love story told in daydreams. Ones that are fully choreographed. Gene Kelly's Jerry Mulligan is an American WWII vet who's coming to Paris to start anew. He makes a friend and finds a girl he thinks he really loves, only to realize it's his friend's girl. Can he get her out of his head and into his life for real? You'll have to watch and see.
4. Singin' In The Rain (1952)
This Gene Kelly film gives a sweet take on the Hollywood of the '20s in the midst of its transition from silents to talkies. It's the love story between Kelly's Don Lockwood, a silent star in the midst of a career shift, and Debbie Reynolds' Kathy Selden, a stage actress who's only being heard in movies, but not seen. The lighthearted romp is colorful journey through the Hollywood system, one that isn't always fair, but since this is a movie, has a happy ending. Even better, it's set to music.
5. A Star Is Born (1954)
Judy Garland is an aspiring singer, who meets a down and out matinee idol on the decline who ultimately is the catalyst that puts her career in motion. The two fall in love, but this isn't a love story, this is a tale of how show business works often for the worse, not the better. Garland spells it all out in the classic song, "The Man That Got Away." Like Lorelai Gilmore, this song will soundtrack any time you let someone get away.
6. Funny Face (1957)
Fred Astaire is a famous fashion photographer and Audrey Hepburn is the model he thinks will change the face of fashion, because, well, just look at her. But Hepburn's Jo Stockton is more of an intellectual and thinks fashion is frivolous. She just really wants to find a way to get to Paris to study philosophy. The clothes are to die for and the music by George and Ira Gershwin will be delightfully stuck in your head for days. All of it? S'wonderful.
7. The Umbrellas Of Cherbourg (1964)
Whether you know French or not, this candy-coated dream of a film starring Catherine Deneuve tells the tale of a girl who works at an umbrella shop where she meets the man of her dreams only to be separated. It's romance too good to be true. As is the singing in the film, most of which was dubbed. But, this won't stop you from feeling all of the emotions. Get the Kleenex ready.
8. Funny Girl (1968)
Barbra Streisand is Fanny Brice a star of the Ziegfield Follies until she meets Nicky Arnstein. Turns out, he's probably more trouble than he's worth, especially for this career driven woman. But, who told you you're allowed to rain on Fanny Brice's parade anyhow? Babs certainly didn't. And while watching this, don't you ever forget that.
9. Sweet Charity (1969)
Sometimes love stories don't end happily ever after, but they do end happily. Charity (Shirley MacLaine) is a taxi dancer who is looking for love. Unfortunately, it's not going well. The film follows her as she tries to look for love. It's MacLaine's charm that will keep you rooting for Charity.
10. New York, New York (1977)
Jimmy Doyle (Robert DeNiro) is a struggling saxophonist and Francine Evans (Liza Minnelli) is small-time singer. Their meet cut is actually anything but, with Jimmy and Francine meeting in a taxi cab that ends up with her heading to his audition. One he would have bombed if she wasn't there to save it. The two become a musical duo, but this movie is about more than music, it's about love and obsession and what happens when the latter takes over.
11. Grease (1978)
As this movie proves, when you find the one that you want, you tend to do some pretty out of character things. Sometimes, you join the track team despite not being much of a jock. Other times you paint yourself into a tight catsuit to prove you're not the goodie goodie everyone thinks you are. But, it also shows the lengths one goes for love. When this is combined with music, it's hard to deny its appeal. Sandy and Danny, forever.
12. Moulin Rouge! (2001)
Baz Luhrmann proved with this over-the-top musical splendor that the genre wasn't dead, it just needed an update. The tale of Christian and Satine's love felt timeless, even if the soundtrack of their love — Nirvana, Elton John, David Bowie, Queen — was more modern. Luhrmann managed to take best of both yesterday and today to create a new kind of world. One, that with its rich color palette, you'd want to get lost in.
13. Mamma Mia! (2008)
This movie may be silly, but in true musical fashion, it asks you to imagine a marvelous reality where someone like Meryl Streep is just dancing around a Greek isle singing ABBA songs? Also, this Broadway musical turned movie is the highest grossing musical of all time based on its worldwide box office numbers, so it confirms that there's still an audience out there who wants to see these kinds of films. Basically, without Mamma Mia!, La La Land may have never gotten made. So, grab your hairbrush and get ready to sing along to this one. No one's judging.
La La Land doesn't hit theaters until December, which means you have a whole lot of time to see these films.
Image: Lionsgate Movies/YouTube