'Nashville' Season 5 Gets A Premiere Date In 2017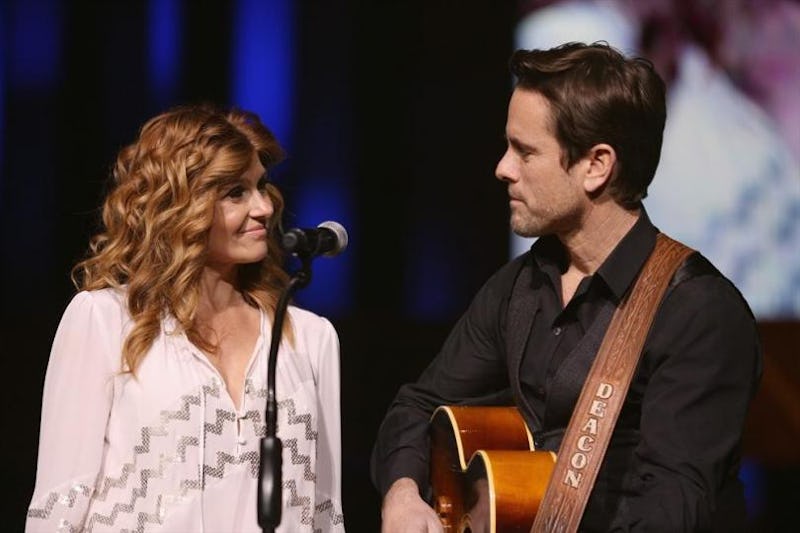 Let those goodbye tears dry up on your cheeks, because Nashville Season 5 has a premiere date on CMT, so not only is this real, but it's not too far away. As you may recall, the country music-themed soap opera was cancelled by ABC in May after four seasons and a ratings slide, and even though it was swiftly scooped up by CMT, it was hard to trust that we would actually get more opportunities to memorize all the words to original songs from new episodes, or to gaze at the splendor that is Connie Britton's hair. But all your pragmatism and refusal to trust has paid off now, because we will officially get more Nashville beginning early in 2017.
On Jan. 5, the show's fifth season will launch with a two-hour premiere, where we'll finally get to find out what the deal is with Juliette and that distress signal, and see if the drama with Maddie and Rayna and Deacon stops now that she's come home to them. There's no word on how long the season will be, but unless they deviate from the formula set in Seasons 1 through 4, we should be looking at 21 or 22 episodes. And best of all, as we've reported before, episodes will zoom over to Hulu as soon as they've aired on CMT, for all your convenient-watching needs.
I don't know about you, but I'm ready to let out a sigh of relief that this is actually coming through. It's what we all wanted, but didn't dare to hope for, so let's just focus on being our best selves in Season 5, so we don't give CMT any reason to cancel Nashville so soon after picking it up.
Images: ABC; Giphy