2016 Has A Few Super Sexy Movies On The Way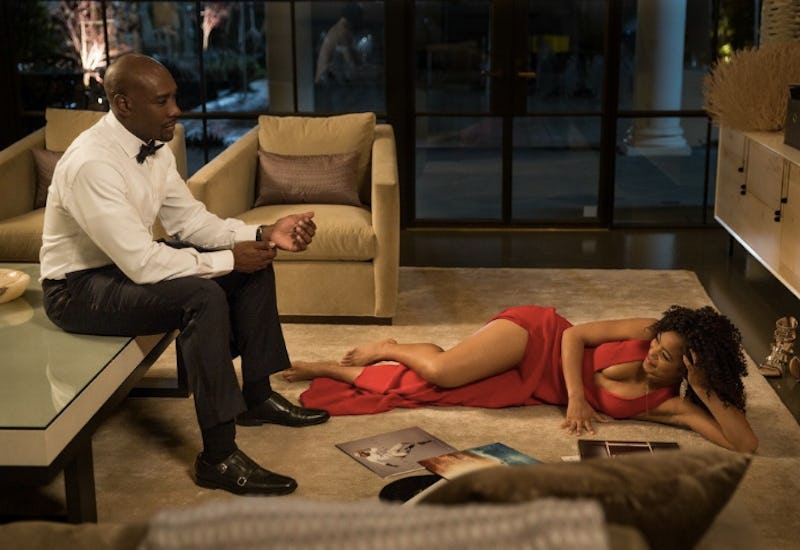 Whoever said summer was the sexiest season had no idea what they were talking about, at least not when it comes to movies. Everyone knows the real sexy movies don't come until the fall, sometimes even the winter. OK, fine, I admit, I have no idea when sexy movies come out. What I do know, however, is that this coming fall and winter of 2016 are going to have their fair share of steamy, sexy movies. From Michael Fassbender and Alicia Vikander's romantic The Light Between Oceans to Regina Hall and Morris Chestnut's dangerous chemistry in When the Bough Breaks, sexy movies are coming our way, and I couldn't be more excited. Here are 11 sexy movies that come out in 2016. You're probably going to want to start preparing for them now.
Unfortunately, 2016 is lacking an all-out steamy affair like Fifty Shades of Grey or Crimson Peak — mainstream sexually overt films are sort of in the minority these days. But, that doesn't mean the year has no sexiness left to offer us; instead, most of the sexy is wrapped up in extravagant period dramas, indie dramas, or fun romantic comedies. That's OK though, I'm pretty sure audiences will embrace these 11 sexy movies of fall and winter of 2016, no matter what genre they come from.
1. Complete Unknown — Aug. 26
This drama about reinvention and identity starring Rachel Weisz and Michael Shannon doesn't particularly scream "sexy," but what's more sexy than the film's central premise of leaving your life and beginning a brand new one?
2. The Light Between Oceans — Sept. 2
Michael Fassbender and Alicia Vikander star as a young couple who find a baby and decide to raise her as their own... until her mother shows up. (Well, it's a bit more complicated than that, but you get the picture.) It sounds more romantic melodrama than a sexy romp, but with Fassbender and Vikander on-screen, I'm thinking this movie is not going to be lacking steamy scenes.
3. When the Bough Breaks — Sept. 9
When the Bough Breaks is the newest Fatal Attraction-esque film coming your way. The film stars Regina Hall and Morris Chestnut as a married couple who hire a young surrogate, Jaz Sinclair, who becomes enamored with the couple. As you can imagine, there are some sexy seductions and even sexier revenge plots involved.
4. Bridget Jones's Baby — Sept. 16
Bridget Jones is back, and you best believe she's bringing sexy back with her. (Sorry, JT.)
5. American Honey — Sept. 30
A teenage girl gets caught up with a group of young, traveling magazine salespeople, who use their jobs as an excuse to party across the country. Sounds sexy to me.
6. The Girl on the Train — Oct. 7
If the trailer for The Girl on the Train is any indication, this movie is going to be the sexy thriller of the year.
7. Doctor Strange — Nov. 4
OK, Doctor Strange might not seem like your typical sexy movie, but, I mean, it has Benedict Cumberbatch performing magic in a cape, so...
8. Allied — Nov. 23
Brad Pitt and Marion Cotillard as sexy spies? Yes please.
9. Rules Don't Apply — Nov. 23
Old Hollywood isn't particularly known for being overly sexy, but Warren Beatty's new movie hopes to change that with his love story between a young actress, Lily Collins, and her driver (and future Young Han Solo), Alden Ehrenreich.
10. La La Land — Dec. 16
Ryan Gosling and Emma Stone in a romcom. I'm sorry, I blacked out from sexiness just now.
11. Passengers — Dec. 21
Jennifer Lawrence and Chris Pratt star in this science fiction romance. Lawrence and Pratt have spoken about filming their love scene for the film, so, you know it's gotta be sexy.
Take a deep breath, y'all. Because these fall and winter movies are about to get your heart rate jumping.
Images: Screen Gems