'Light Between Oceans' Is More Than Tabloid Gossip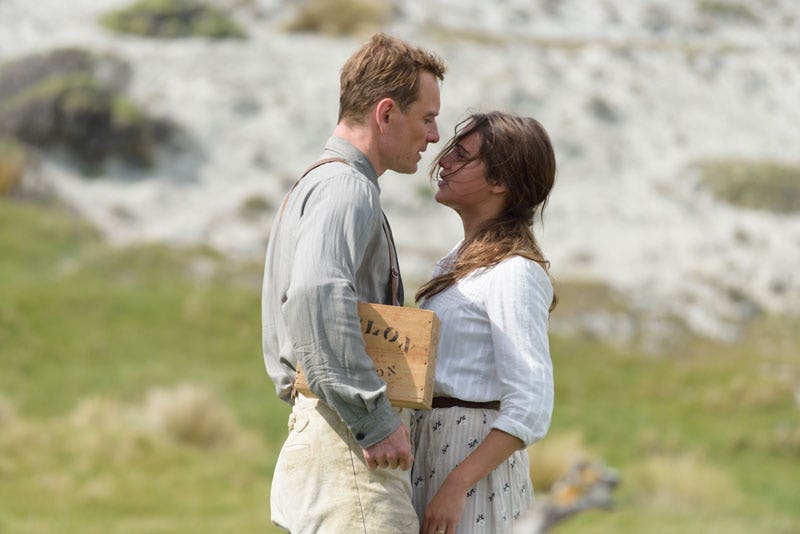 The upcoming film The Light Between Oceans is generating a lot of talk, but more for what went on behind the scenes than what happens in the actual film. This is the movie where Hollywood's newest power couple, Alicia Vikander and Michael Fassbender, first met and began dating, and the public will finally get their chance to see the reclusive pair share some real life chemistry on screen when the movie hits theaters on September 2. But the film deserves to be noticed for more than its tabloid gossip potential, thanks to what The Light Between Oceans is based on.
The film is based upon the novel of the same name by Australian author M.L. Stedman. The book is Stedman's first novel, and to say it's an impressive debut is a massive understatement. The book, which was first printed only four years ago in 2012, has spent years on the New York Times bestseller list and managed to secure a movie deal with DreamWorks a mere four months after it was initially published, according to Deadline's Mike Fleming Jr — not bad for a first-timer. So since people really like the book, it's not crazy to assume that the movie could be a phenomenon as well, but what is this story about?
Fassbender and Vikander portray Tom and Isabel Sherbourne, a couple who run a lighthouse alone on an isolated island off the coast of post-World War I Australia. One day, a boat washes ashore containing a baby and a dead man. Since they're alone on the island, and since no one seems to know the baby is there, they decide to raise her as their own. Then, years later, they have a chance encounter with their adopted daughter's real mother on the mainland. Seeing how grief-stricken she still is over losing her husband and daughter at sea, the Sherbournes begin to disagree over what they should do with the child they've come to call their own.
It's an original story that tackles some big themes like love, loss, and guilt; all of which make The Light Between Oceans a must-see film. And with the novel it's based on being the first, and so far only, book written by M.L. Stedman, fans should be sure and see the movie in droves to show their appreciation for her impressive work... and maybe convince her to write another book.
Images: Walt Disney Pictures/Entertainment One