16 Punny Halloween Costumes That Are Totally 2016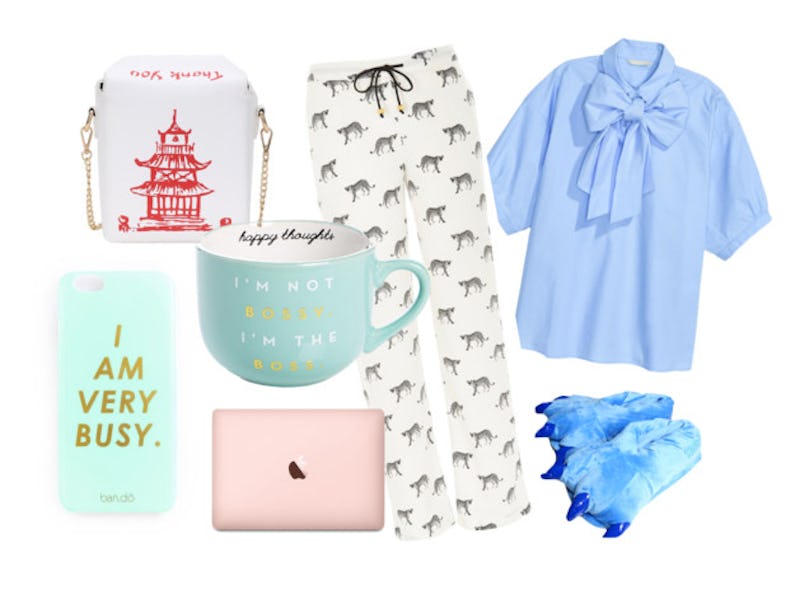 The year 2016 has been, admittedly, kind of a huge mess. Between the cartoonish election cycle and the ridiculous number of untimely celebrity deaths, we need this Halloween to be a lighthearted one. Let's resolve right now to make Halloween 2016 the punniest one yet. That means you'll need plenty of punny Halloween costume ideas that are topical AF to sift through. Because nothing is more fun than deconstructing pop culture and turning the year's more ridiculous moments into wearable puns.
And these aren't your run of the mill wordplay costumes. All of these ensembles are ripped from the headlines, are trending-topic inspired, and totally 2016. And you might be pleased to know that a certain tiresome presidential candidate didn't make the cut since racism and misogyny aren't funny at all. Invite your funniest friends to a pun battle-themed Halloween party, and spend the night laughing at each other's scorching wit. Test the theory that the more sugar you consume, the funnier the jokes will get.
If you haven't already picked out your costume, and you're on board with my plan to wear your snark on your sleeve, strap in for these devastatingly clever, occasionally dad jokey costume ideas to keep your Halloween 2016 hilarious.
1. The Final Five
Oh... no, not those five. I mean, that could be a great squad costume, but I mean this Final Five.
Show up to the party with your friends as the gold medal team of fast food establishments: Starbucks, Dunkin' Donuts, Chipotle, Dairy Queen, and McDonald's.
For Starbucks:
For Dunkin' Donuts:
For Chipotle:
For Dairy Queen:
For McDonald's:
2. Star Wars
You know, this pair of stars that is always doing battle, be it on stage at the VMAs or on social media. Kanye West and Taylor Swift just can't seem to get along.
Channel Taylor in a green dress, pink wayfarers, and blond hair. In true Kanye fashion, be wearing as much Kanye merch as you can find. To top it all off, bring a VMAs trophy to fight over throughout the night.
For Taylor Swift:
For Kanye West:
3. The X-Files
Never has a breakup been made so public on social media than the one between Iggy Azalea and Nick Young. So, in another TV-meets-news mashup, I give you, The X-Files — the costume.
You've even got some file folders if anyone needs some pop culture remedial education on this one.
What you'll need:
For Nick Young:
For Iggy Azalea:
4. Vodka + Lemonade
Shoutout to Beyoncé for inspiring 50 percent of this Vodka + Lemonade costume.
What you'll need:
5. Bieber's Instagram Account
If you've been alive and on the internet lately, you probably caught wind of the fact that Justin Bieber deleted his Instagram account after his fans went all in on reported girlfriend Sophia Richie. Celebrate the end of the Bieber selfie era with this easy to assemble costume.
What you'll need:
6. Fashion in the age of technology
Remember the Met Gala when the world's brightest stars dressed in gowns covered in motherboard parts and CDs? Celebrate the real fashion in the age of technology with the teleworking uniform — fancy dress shirt and pajamas, cup of coffee, and takeout delivered for lunch.
What you'll need:
7. Arya Stark
Don't wear a costume at all, and every time someone asks you who you are, respond, "a girl is no one."
8. Hillariveter
So you want to get political this Halloween after all. I mean, I understand — the election is just a little more than a week after All Hallows Eve. Celebrate girl power with this Rosie The Riveter-inspired costume, complete with actual Hillariveter shoes and official Woman Card.
What you'll need:
9. Notorious RBG
This lady has been a champion of women's rights since she could form complete sentences, and this year, she served up some sassy language in her majority and dissenting opinions.
Help her live up to the Notorious moniker with this costume that channels everyone's favorite Supreme Court Justice with a dash of Biggie Smalls.
What you'll need:
10. Steel Bluegrass Tyson
Can't get much punnier than this rhyme-inspired costume. It's a mashup of jangly steel bluegrass and astrophysicist Neil deGrasse Tyson
What you'll need:
11. Poke-Mon Go
No two things had a bigger 2016 than poke bowls and "Pokemon Go." Dress up in bright tuna-pink with dashes of green and orange for toppings, and bring a Poké ball to throw at any Pokemon that you run into on Halloween night!
What you'll need:
12. A Dell
Part Windows personal computer, part British pop powerhouse Grammy-collector, this awesome costume will have your friends giggling and singing "Hello" all night long.
What you'll need:
13. All of the Snapchat filters
Go big or go home! You're a dog in a flower crown, vomiting rainbows, covered in emojis, and doodling everywhere with marker. I think that pretty much covers the bases.
What you'll need:
14. Slaaay Queen
This costume is the trifecta of pretty, confident, and hilarious. Dressing as an idiom pretty much guarantees you a win in the punniest costume at the party category.
What you'll need:
15. Beauty and the Beast
Beauty and beast rolled up into one fierce feminist package! Because you don't need a strong, hairy dude to balance out your good looks.
What you'll need:
16. Game of Cones
Head to toe ice cream, and a deck of playing cards — also with ice cream. You'll be like royalty when you show up to the Halloween party as game of cones!
What you'll need:
Images: Polyvore; Getty (5); GingesBeCray