Goldman Sachs' Back-To-School Book List Is Great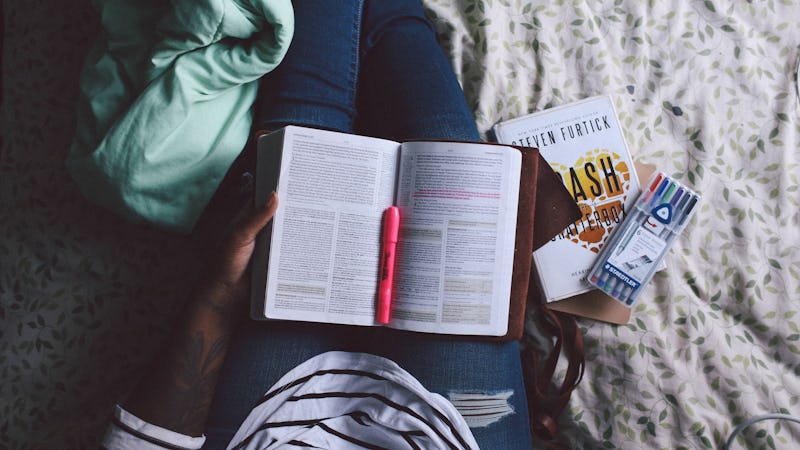 The air is getting cooler, pumpkin spice everything is right around the corner — It's finally that time of year again. If you're looking for something good to read before the semester ends, Goldman Sachs' back-to-school book list makes some great recommendations. Add one, two, or all nine to your TBR, and read them whenever you aren't hitting the (text)books.
I know what you're thinking: Aren't those big banks, at best, out of touch with what's going on in the world? At worst, aren't they evil? Why should we take reading recommendations from a place like that?
Look, I get it. I thought the same. But trust me when I say that Goldman Sachs has put together a back-to-school book list that, if not woke, is at least not still a-snore. The authors are as diverse as the topics they tackle.
Speaking of topics, these are delightful. From a microhistory about a show about nothing to a bestselling historical fiction novel, the nine titles Goldman Sachs wants you to read are sure to keep you engaged until the last page.
Check out the books on Goldman Sach's back-to-school reading list below, and share your favorite college-bound book recs with me on Twitter. Happy reading!
1. Seinfeldia: How a Show about Nothing Changed Everything by Jennifer Keishin Armstrong
It started in a Korean deli in 1988. By 1989, one of U.S. television's most iconic series was away. In Seinfeldia, pop-culture writer — and sometimes Bustle contributor — Jennifer Keishin Armstrong digs deep into the history of the show, its creators, and all the little moments that kept it going strong for nine years.
2. The Healthy Workplace by Leigh Stringer
The 9-to-5, cubicle-bound job gets a bad rap, and for good reason: prolonged sitting, long hours of screen time, high stress, and few tangible rewards amount to a giant toll on workers' health and well-being. In The Healthy Workplace, Leigh Stringer lays out strategies big businesses can use to reduce the negative impact of work on their employees' lives and increase their productivity. Everyone wins.
3. Half of a Yellow Sun by Chimamanda Ngozi Adichie
This sophomore novel from We Should All Be Feminists author Chimamanda Ngozi Adichie explores the impact of the Biafran War (1967-1970) on the lives of twin sisters, Olanna and Kainene, who become involved with men on opposite sides of the conflict.
4. A Little Life by Hanya Yanagihara
This Booker Prize finalist follows four college friends through three decades in New York City, examining the little moments that make their lives unique and worthwhile.
5. The Signal and the Noise: Why So Many Predictions Fail — But Some Don't by Nate Silver
We base so many of our life choices on predictions: who will win the election, which company will better serve our investment, what gifts do our partners really want for the holidays. In The Signal and the Noise, Nate Silver shows why our prediction logic is flawed, and how we can guess better.
6. Churchill: A Life by Martin Gilbert
For a lot of people, no historical figure is more fascinating than the U.K.'s wartime prime minister, Winston Churchill. In his biography of the witty Brit, Martin Gilbert takes an in-depth look at Churchill's successes, failures, and philosophies.
7. Between the World and Me by Ta-Nehisi Coates
In this love letter to his teenage son, Ta-Nehisi Coates ruminates on what it means to be a black man in the U.S. At its core, Between the World and Me is the anguish of a father watching his son grow up to realize that the world is filled with injustice, but it expands into a treatise on the history and present-day realities of race in the West.
8. Black Wealth, White Wealth: A New Perspective on Racial Inequality by Melvin L. Oliver and Thomas M. Shapiro
Intersectional feminists know that race and class can combine to create radical inequalities. To understand exactly how and why this is true, pick up Melvin L. Oliver and Thomas M. Shapiro's microhistory of that intersection: Black Wealth, White Wealth.
9. Homegoing by Yaa Gyasi
Another work of African historical fiction, Homegoing is a family saga that begins in 18th century Ghana, with a pair of half-sisters who are separated by the Atlantic after one is sold into slavery and the other marries a British slaver.
Image: Jazmin Quaynor/Unsplash