You'll Have To Wait To Stream 'PLL' Season 7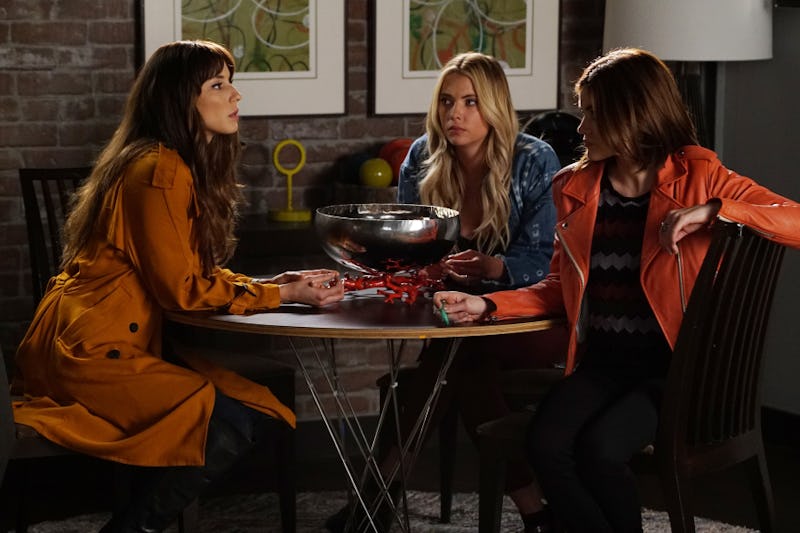 Sorry to bum you out, Pretty Little Liars fans, but we should all prepare for a seriously tough change. On Aug. 29, I. Marlene King announced in a Facebook Live video that Season 7 of Pretty Little Liars will be its last. So after the Aug. 30 midseason finale, there will only be 10 episodes left to wrap up every lingering question and find out where each of the Liars ends up. One thing that could help you cope with the end of PLL is to re-watch it from the beginning. Season 1 through Season 6 are currently available for streaming, but when will Pretty Little Liars Season 7 be on Netflix so fans can watch the whole thing at once? Unfortunately, it seems we may have to wait a while for that, but that's only because PLL isn't coming to an end for a while.
Netflix has not yet announced when Season 7 will start streaming, which makes sense, since the season isn't over yet. The Season 7A finale "The DArkest Knight" airs on Tuesday, Aug. 30, but we still have an entire half-season to go before the series wraps up entirely. However, while most seasons of PLL have come back in January and run through March, in her Facebook video, King also revealed that Season 7B won't begin until April. The longer we have to wait for Season 7 to end, the longer we have to wait to stream it on Netflix.
Usually, a season of Pretty Little Liars becomes available within three months of its finale. According to the website NetflixLife, Pretty Little Liars Season 6 became available on June 2, 2016, following the finale on March 15. Season 5 of the series became available on June 10, following the March 24 finale. Since PLL Season 7 won't return until April, it likely won't end until at least June, which means the season should be released on Netflix by September 2017, give or take a couple weeks.
If you can't wait that long to rewatch Pretty Little Liars Season 7, remember that Hulu Plus has new episodes available for streaming the day after the show airs, and that you can purchase individual episodes on iTunes and Amazon. Though it's not the same as plowing through the whole series all at once, it is a way to help distract you from the fact that by this time next year, Pretty Little Liars will be over for good.
Images: Eric McCandless/Freeform; Giphy