'PLL' Season 6 Needs To Hit Netflix ASAP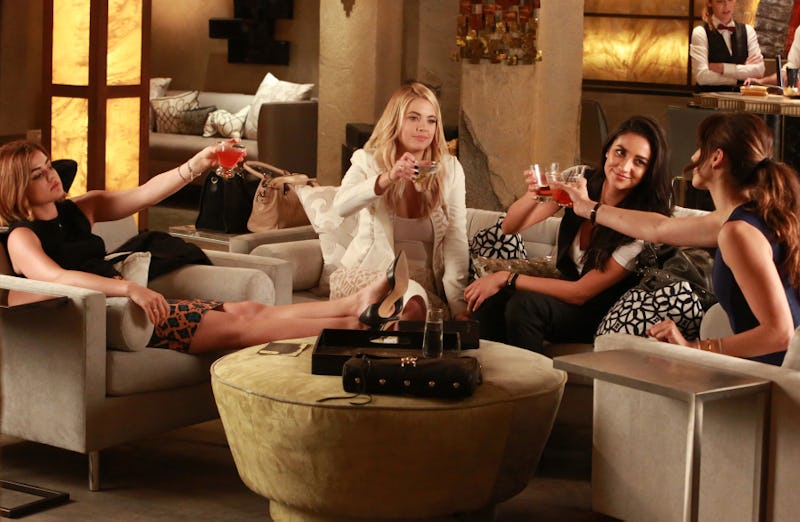 With only hours to go until the Pretty Little Liars Season 6 finale, I somehow already find myself suffering from Rosewood withdrawal. I mean, what am I expected to do with my Tuesday nights once the show goes on its traditional hiatus? Spend time with family? Read a book? Revel in the great outdoors? I could do all of those things, but they'll do very little to quench my unrelenting PLL thirst, which is why I'm eager to learn when Pretty Little Liars Season 6 will be on Netflix. Because, honestly, the next best thing to watching brand new episodes, is watching some of your favorite old ones on repeat. However, don't get too excited over this prospect just yet, because odds are you're going to have to wait a little while before any marathoning can commence.
As of now, no exact date has been set for Season 6's Netflix debut, but considering that Season 5 hit the streaming service on the exact same day that Season 6 premiered (June 2, 2015), there's a good chance that Netflix will follow a similar pattern this year and start streaming Season 6 on the day Season 7 kicks off. The only problem is it's still unknown when exactly Season 7 is expected to make its debut, but considering that June has been the premiere month of choice for every single season thus far, I'd say it'll be sometime in that general vicinity.
And while I understand that this still may seem like a long way away, take comfort in knowing that this season in particular will be well worth the wait since it not only included the big A reveal, but also a five-year time jump. However, just in case you don't have time to marathon your way through the entire season, here are a few key episodes that will definitely deserve a second look. And for even more PLL theories and content, check out Bustle's latest podcasts below.
Episode 1, "Game On, Charles"
The Liars have been through a lot over the past few years, but nothing compared to their time in A's dollhouse lair. Sure, they managed to escape a lot more quickly than I thought they would, but it still made for one insanely creepy (and highly compelling) episode that will leave you on the edge of your seat with every viewing. And perhaps even give you a heightened fear of all things doll-related?
Episode 6, "No Stone Unturned"
Not only did this episode include the return of Dean (Spencer's hot sobriety coach), but it also involved some hard core detective work on the Liars' part, which led them to discover they'd been implanted with microchips so that A could track their every move. Big Brother is watching, people!
Episode 9, "Last Dance"
Yes, the whole prom plot line was really interesting and there was a great Haleb moment in there as well, but if I'm being totally honest, this episode's main highlight were the PLL moms who drank tons of wine and eventually got locked in a basement. It was hilarious and solidified the fact that these ladies deserve their own spin-off show. Make it happen, I. Marlene King!
Episode 10, "Game Over, Charles"
Obviously, no rewatch would be complete without including the long-awaited Big A Reveal! And whether or not you agreed with the outcome, it'll make you see prior seasons in a whole different light.
Episode 11, "Of Late I Think of Rosewood"
Charlotte's death was unexpected and served as the catalyst for everything that's happened since. We still don't know who killed her and why, but I have a feeling there are some clues buried within this very episode. If you go back and watch it again, there's no telling what you may uncover in the process.
Episode 13, "The Gloves Are On"
I know that many of you (myself included) may not be too keen to revisit the start of Caleb and Spencer's budding romance, but this was an important episode and marked the very first time Uber A made contact with the Liars. That red skull emoji was just the beginning.
Episode 17, "We've All Got Baggage"
Happiness is such an uncommon thing in Rosewood, so it was nice to see not one, but two happy couples tie the knot in this episode. (First Ella and Byron, then later Ali and Elliott.) Plus, we were treated to a flashback of an interesting altercation between Hanna and Melissa where it was revealed that Charlotte and Wren were still in contact with each other. Make of this what you will, Wren conspiracy theorists.
Naturally, I assume that the finale will be worthy of this list as well, especially considering the big twin reveal the promos keep promising. Not that we needed another excuse to be obsessed with this season, but then again, every little bit helps.
Images: Ron Tom/Freeform; Giphy (2); prettylittleliars (3); emisonisforever; little-addicted-liars/Tumblr