Who Is The Artist Behind Rihanna's VMAs Promo?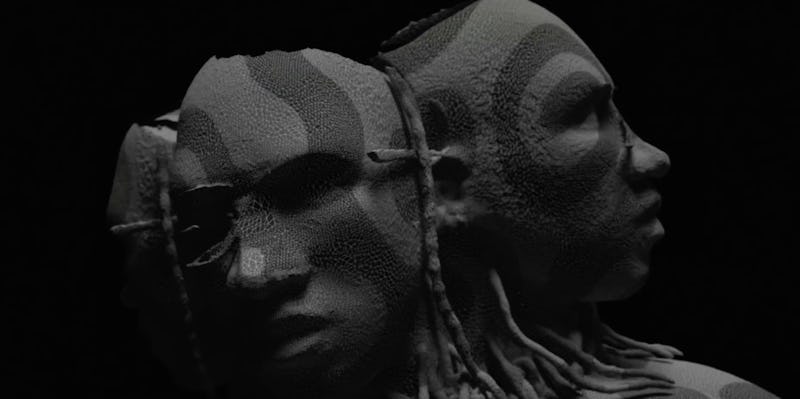 If you've been following the hype for the 2016 MTV VMAs, then you'll know that the most exciting part of the promotional materials has been the videos MTV has released to announce who will be performing live. The videos all feature some really exciting visuals: Like, Rihanna's for instance, when she posted her own MTV promo into an Instagram announcing that she'll be opening the VMAs. In the caption, she thanked PandaGunda for the art in the promos — but, who exactly is PandaGunda? Even though she tagged him in the photo, his own Instagram page features just his work. He appears to be pulling a page from the Chance the Rapper handbook by keeping his personal life private. But, PandaGunda may be about to get his big breakthrough, in part because of this early hype from the MTV VMAs and Rihanna.
Sure, it's nice to know who's performing (shoutout to Future, Nick Jonas, and Rihanna) but I'm really hooked on those visuals. They're entrancing, abstract, minimal and fun. Better still, they leave you wondering whether we'll get to see them again during the actual VMAs. Will this year's awards ceremony feature those same minimalist animations? Will they come to life on stage as part of the sets? But most important of all, the excitement over the promos has left me wondering who exactly is behind the creation of them.
Based off PandaGunda's website, it's easy to gather he's based in Sweden. He's also been creating art for over 10 years; this MTV gig could be his big breakthrough into the mainstream. Most intriguing, though, is the interview he gave to Wild magazine back in 2015. At the time, he'd already been working as a digital artist for two years and name-checked film director David Lynch as his favorite artist. When asked about his beliefs about life and art, he coolly replied, "I believe everyone should give themselves a break from everything around them for awhile and stay away from the news. To think about what they really want and try to listen to their inner voice, instead of continuing to punch and judge and blame themselves. Try to accept themselves and see what comes out of it."
While PandaGunda has largely been a Swedish national treasure for the majority of his career, it appears that the merging of music and art will be what makes him a household name. In that same interview with Wild, he said, "[...] Music is like the engine for my art, I can't work without music…and coffee!" Does that mean he's been blasting ANTI while he worked on Rihanna's promotional vid?
One this is for certain: these visuals that PandaGunda has served up for the 2016 MTV VMAs are nothing short of brilliant. I'm excited to see if his work will play into the ceremony itself, especially in Rihanna's opening performance. Is it Sunday yet?
Image: MTV/YouTube