Maisie Williams Is Pro Shorter 'GoT' Seasons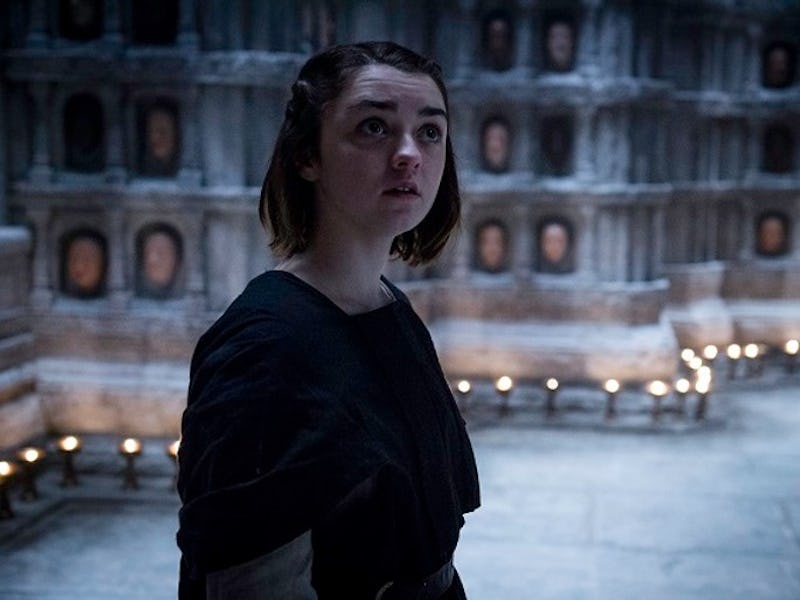 When you love something, it's hard to let it go — especially when that something is a stunning fantasy series full of dragons, direwolves, ice zombies, and some of the best characters to ever grace the small screen. Alas, Game of Thrones has just two, abbreviated seasons left before the story comes to an end, and understandably, most fans are not OK with that. However, Arya Stark herself, Maisie Williams, is pro- Game of Thrones' shortened seasons, as it'll mean the show is ending on its own terms.
In an interview with Variety, Williams revealed she was totally fine with the shorter seasons and having an end date in sight. It's not because Williams doesn't love playing Arya — she is always protective of her character — but instead because she has seen good shows go bad when they are stretched past their expiration dates. Every TV fan has seen a favorite show fall into the trap of extending its run for monetary reasons instead of story ones, and it never ends well.
By focusing the story and putting an end date on Game of Thrones , HBO and showrunners D.B. Weiss and David Benioff are guaranteeing the show will end as it was always intended to end. Williams is just psyched to be part of a project where the creative needs of the story are put first. "Good things must come to an end or they're not good anymore," Williams told Variety. "It doesn't last forever and we've done what we came to do, it's time to wrap this up, and it will have the ending it was always supposed to have, and that's very special."
Williams is absolutely right. It is better to have two shorter seasons of Game of Thrones designed to finish out the story than to see a beloved series resort to padding the story to fill out extra episodes. Knowing Arya, Jaime, Jon, and the rest of the characters' journeys are almost over is hard, but it is also exciting.
How often does a TV show get to end on its own terms? Most shows are either unceremoniously cancelled or continue on past their logical conclusion. Game of Thrones won't fall into either of those camps. It will be a complete story with a beginning, middle, and end.
Williams has always been wise beyond her years, but she sounds even more eloquent than usual when reflecting on how Game of Thrones started and where it is today. Even though Weiss and Benioff have always known how the show would end, there was a time when the cast and crew did not know if they would get past a first season. As Williams told Variety, "David and Dan started writing this show knowing the end, not knowing that it might actually come around."
No one knew Game of Thrones would be a phenomenon when it started. Now it is quite possibly the most popular series in the world. Even though the show has a devoted following and is a major hit for HBO, it is still on the same track as it was in the beginning. In two years, fans will know how the Starks and Lannisters' stories will end, and though it might be hard to see it now, Williams is right — having an end date in sight is actually a gift.
Images: HBO; Giphy (2)