'Morgan' Could Come Back For More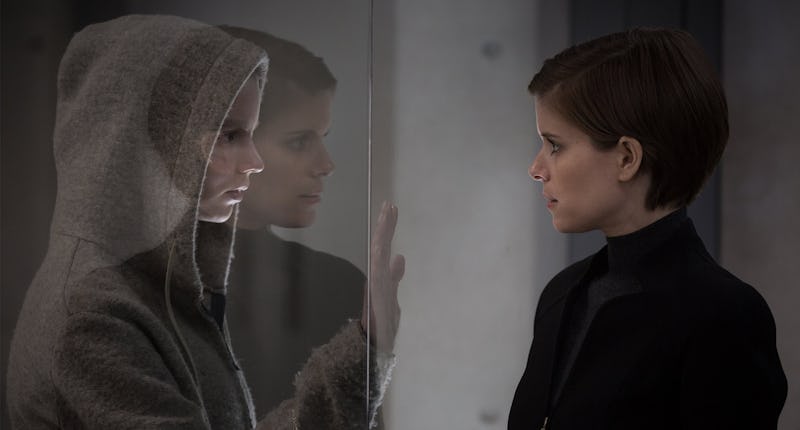 What happens when science becomes dangerous? It's a question science fiction has asked before, and likely will again. This month, it's being asked by Morgan , a creepy, sci-fi thriller starring Kate Mara and Anya Taylor-Joy. The movie is about artificial intelligence, Morgan (Taylor-Joy), a girl made from artificial DNA with extraordinary capabilities. (Think exceptionally strong and smart, not super-powered.) After an incident of violence, a consultant, Lee Weathers (Mara), is brought in to assess the situation and determine whether or not they should move forward with the experiment. In other words, she is tasked to determine whether or not they should kill Morgan. From the premise, it looks like Morgan was intended to be a singular feature, but you never know what movie can get a follow-up these days, and it's definitely possible that Morgan could have a sequel come out sometime in the future.
Morgan writer Seth W. Owen and director Luke Scott (son of Ridley Scott, who acted as producer) have remained tight lipped about the possibility of a sequel, and, for now, it doesn't look like there is a Morgan follow-up in the works. As Scott's first feature film, it makes sense that he would want to take on a contained story, without the pressures of having to set up a franchise. That said, just because Morgan appears to be a one-and-done deal doesn't mean the possibility for a sequel is gone for good.
For one thing, the action sequences in the movie required Mara to take up boxing, a sport she is still practicing, according to her interview with The Guardian . So, should she get a call for a Morgan 2, Mara should be up and ready to go. Another good sign for those hoping for a sequel is that the movie was made under Ridley Scott's Scott Free Productions — he helped develop the script with Owen before it was brought to Fox. So, if the Scotts want a sequel, it probably won't be too hard to get it off the ground.
Still, as with any other film, the fate of any sequel — theoretical or not — lies mainly with the box office success of the original film. If audiences want a Morgan sequel, then hopefully that desire will be reflected in huge box office success. As it stands now, with no Morgan sequel currently in development, it seems that only a huge profit will make a sequel a reality.
Morgan probably won't have a sequel, but that doesn't mean we shouldn't enjoy the movie while it's here.
Images: 20th Century Fox