Gene Wilder's Best Moments From 'Blazing Saddles'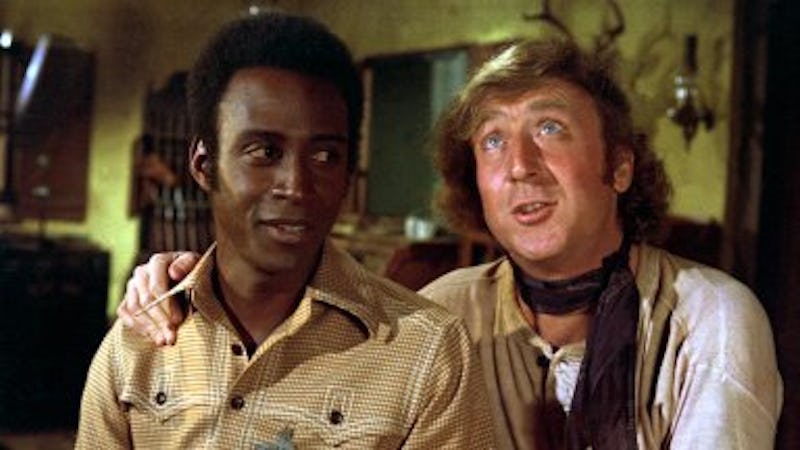 The film world is in mourning after the death of screen legend Gene Wilder on Monday, Aug. 29. Wilder passed away at the age of 83, due to complications from Alzheimer's disease, and though the knee-jerk reaction to this news is to feel sad, people should instead feel joyful. Not joyful that he's dead, obviously, but joyful that he provided so much great entertainment in his life. Wilder was a comedy genius, with iconic roles in films like Willy Wonka and the Chocolate Factory and Young Frankenstein. But if you ask me, Wilder's greatest contribution to comedy was Blazing Saddles .
Blazing Saddles is a bit of an odd beast, given that it's both ahead of its time and would also almost certainly not be made today. The 1974 Western parody about a black sheriff riding into a dusty town and causing a stir is actually a complex satire on racism and bigotry, but its use of offensive stereotypes to get its message across would likely cause it to be shelved in today's more sensitive cultural climate. Regardless of its societal message, though, Blazing Saddles is a comedy above all else — and Wilder is a big reason why it succeeds so much in that regard. Wilder portrays Jim, AKA the Waco Kid, and he has a number of scene-stealing moments. Take a look below at some of his best. It should go without saying, but there's a lot of language that could be considered offensive here.
"My Name Is Jim, But Most People Call Me... Jim."
There are too many stellar jokes to count in this lengthy scene with Cleavon Little's Sheriff Bart, and Wilder's dry and straight delivery of all of them are an absolute masterclass on comedic line readings.
The Waco Kid Proves His Worth
Once the fastest gun in the West (sorry, the world), the Waco Kid is now a drunken shell of his former self. But when his friend is in danger, he shows that maybe his skills aren't all that diminished after all. Providing the right mix of confidence and sly humor, I can't imagine anyone but Wilder in this role.
"You Know, Morons."
Little's laugh seems genuine in this scene, and can you blame him? Wilder tries to explain the racist behavior of the townsfolk by describing them as simple people of the land in a few different ways, before clarifying that they're actually just idiots.
"Hey, Boys!"
Wilder's vaguely flirtatious greeting to a couple of KKK members is such an oddly hilarious choice, I can't think of a line delivery in any movie that's quite like it.
His Physical Comedy
While his line deliveries receive the most praise, Wilder proves he's up to the task of a clever physical bit as well in this scene.
Gene Wilder may be gone, but he'll never be forgotten, thanks in large part to the comedic tour de force that is his performance in Blazing Saddles.
Images: Warner Bros. Pictures